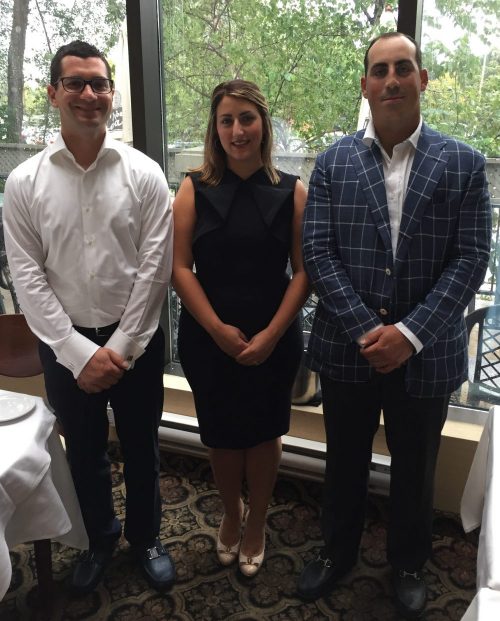 Healthcare practitioners and scholars will soon have the opportunity to turn their innovative ideas into reality, thanks to a generous gift from the Clerici family.
Recently, siblings Adam and Ashley Clerici and Ashley's husband Yianni Soumalias established the Healthy Generation Fund at the Institute of Health Policy, Management and Evaluation (IHPME). This new fund, which will be co-led by the Institute for Global Health Equity and Innovation (IGHEI), will support the creation of an annual competition calling for innovative ideas in health care. As well, each year, the winner of this competition (which will be open to all U of T students) will receive funding and mentorship to develop the proposed concept for change.
"We've always looked to impact the health system in a meaningful way through supporting innovation and providing opportunities to emerging leaders," explains Ashley Clerici. "The Healthy Generation Fund is unique in that we aren't simply investing financially in a proposal – we are providing young innovators with the skills and knowledge to get their ideas off the ground."
The Clerici family and IHPME both see the emergence of leaders and system innovation as crucial to establishing a more equitable, efficient and affordable health system.
"Our family has always focused on challenging the status quo in health care and developing new, safer and more cost effective ways of delivering care," said Soumalias, who is also the Director of Business Development at Closing the Gap Healthcare. "We understand that innovation can come in many forms. This new fund will support a range of new ideas and push for new ways of thinking."
In fact, in designing this new fund, the Clericis discussed the importance of considering diverse perspectives and ideas in bringing about system-wide change. The family is open to hearing about novel tools, programs, devices, applications, the creation of new communities, and other approaches that will advance the system.
"Growing up, the importance of giving back and thinking big was instilled in us early on," said Adam Clerici. "We're hoping to make the next generation a healthy one by imparting those values of philanthropy and out-of-the-box thinking through this fund."
The intent of the Healthy Generation Fund also parallels IGHEI's vision of creating a pandemic of health through social innovation.
"This fund will enable students to use their knowledge, ideas, creativity and passion to create and spread health through social innovation," said Dr. Alex Jadad, IGHEI Director. "It's a step towards creating a healthier population."
IHPME Director Adalsteinn Brown agreed and stressed the importance of encouraging innovation in health care.
"This gift truly speaks to the Clerici family's commitment to leadership and the overall betterment of health systems," said Brown. "Both institutes are looking forward to seeing the impact these innovative initiatives will bring to our health systems."
IHPME will continue to raise money for this exciting new initiative and hopes to attract other young and inspired philanthropists such as the Clerici family.
An RFP related to this fund will be available shortly. If you have questions about the fund, please email info@ighei.org. 

Sign up for IHPME Connect.
Keep up to date with IHPME's News & Research, Events & Program, Recognition, e-newsletter.
Get in Contact
---
Communications
TBD
Email Address: ihpme.communications@​utoronto.ca
Manages all IHPME-wide communications and marketing initiatives, including events and announcements.