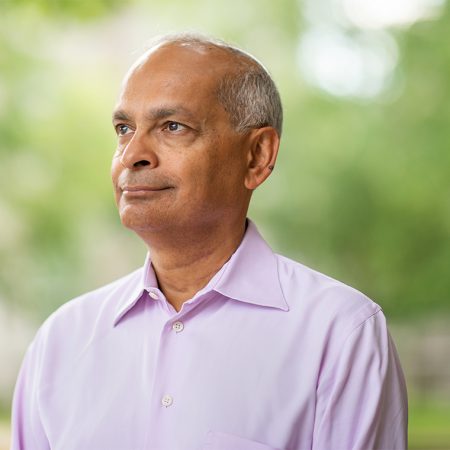 By  Geoffrey Vendeville
Vivek Goel, a renowned public health expert who served six years at the head of the University of Toronto's research division, is leaving U of T to become the University of Waterloo's seventh president and vice-chancellor.
Goel, a professor at the Dalla Lana School of Public Health, is currently helping to guide U of T's COVID-19 planning efforts as a special adviser to the president and the provost.
He will begin his five-year term at Waterloo on July 1.
"I have spent 35 years as a student and faculty member at U of T," Goel said. "It is sad to be leaving but I am excited by the opportunity and look forward to continuing to work with colleagues here as we promote the role of research-intensive institutions in our society as we recover from the pandemic."
U of T President Meric Gertler thanked Goel for his years of distinguished service and wished him well in his new role.
"On behalf of the entire University of Toronto community, I would like to congratulate Professor Vivek Goel on his appointment as president of the University of Waterloo," said President Gertler.
"Vivek has made extraordinary contributions to U of T's success, to higher education and advanced research more generally, and to public health and public policy. We are deeply grateful for his leadership and his friendship, and I look forward to collaborating with him as a fellow president of one Canada's U15 research universities."
Goel's long association with U of T began when he arrived to complete post-graduate medical training in community medicine after earning a medical degree from McGill University. He would later obtain a master's degree in community health from U of T and a master's degree in biostatistics from Harvard University.
Goel joined U of T's faculty in 1991 as an assistant professor in the department of preventive medicine and biostatistics before moving into a succession of progressively more senior leadership roles. That included a four-year stint as U of T's vice-president and provost from 2004 to 2008. He left to become the founding head of Public Health Ontario, which was formed in response to the 2003 SARS crisis, and also served as chief academic strategist for Coursera before returning to U of T as vice-president, research and innovation, in 2015.
As head of U of T's research division, Goel oversaw a number of significant milestones that cemented U of T's reputation as a world-class research institution. They include the creation of the Ted Rogers Centre for Heart Research, which was established thanks to a $130 million-gift from the Rogers family, and the establishment of Medicine by Design, an initiative supported by a $114 million federal investment to promote transformative research in regenerative medicine. Goel also played a key role in the creation of the Schwartz Reisman Innovation Centre and Institute for Technology and Society, a new 750,000-square-foot home for U of T's world-leading AI and biomedical researchers, entrepreneurs and startups that was made possible thanks to a $100-million investment by business leaders and philanthropistsGerald Schwartz and Heather Reisman.
Speaking to U of T News last year, Goel said he sought to harness U of T's expertise across disciplines to foster creativity and innovation.
"To me, what makes U of T unique is these broad interdisciplinary strengths that we can build on, the connection with our communities locally, nationally and globally, and the fact that we're open and accessible, which means that we get students from around the world who want to work on these really big problems," he said.
Other major initiatives Goel was involved with include U of T's School of Cities and, externally, the Vector Institute for Artificial Intelligence. He also helped build a growing entrepreneurship network that allowed U of T to become a North American leader in the creation of research-based companies.
Goel is a passionate advocate for promoting equity, diversity and inclusion. As head of U of T's research division, he struck a working group focused on the issue and put out a special call for Canada Research Chair nominations for researchers in underrepresented groups.
Goel stepped down from his role as vice-president, research and innovation, and strategic initiatives, this summer to become a special adviser to President Gertler and Vice-President and Provost Cheryl Regehr on COVID-19.
As an expert in public health, he told U of T News he saw the pandemic as a call to action.
"I'm just trying to do what I think is best for the university and the country, and spend my time where I can focus on big public health issues," he said in June.
As Goel helped U of T navigate the public health crisis, he also served on the federal government's COVID-19 Immunity Task Force – all the while hosting a podcast to provide the public with information about the coronavirus.
Goel said he was eager to take up a new challenge in Waterloo.
"Research-intensive institutions like Waterloo will create the biggest change and best solutions for our future, whether it is tackling public-health challenges, addressing anti-racism, dealing with the growing climate crisis or spurring economic recovery and growth," he said in a statement.
Cindy Forbes, chair of the University of Waterloo's board of governors, welcomed Goel to Waterloo.
"Dr. Goel has decades of experience and expertise as a university leader and as a champion of student experience, research and innovation," she said in a statement. "He is uniquely qualified to guide the institution and to bolster our strengths at the intersection of health, society and technology."

Sign up for IHPME Connect.
Keep up to date with IHPME's News & Research, Events & Program, Recognition, e-newsletter.
Get in Contact
---
Communications
TBD
Email Address: ihpme.communications@​utoronto.ca
Manages all IHPME-wide communications and marketing initiatives, including events and announcements.