MOONSHOT
EVENT
KEYNOTE & AWARD WINNERS
ANNOUNCED
Just a short walk from the Metro Toronto Convention Centre, and following Health Quality Transformation, the Moonshot Event is an opportunity to connect with your colleagues in the warm and relaxing setting of The Hall at Steam Whistle Brewing. Free brewery tours will be offered throughout the night. Catering brought to you by The Food Dudes!
BREAKING NEWS
Dr. Bob Bell, Deputy Minister, Ministry of Health and Long-Term Care has joined the program for the Moonshot Event, and will provide Reaction from an Ontario perspective to Dr. Shortell's Keynote Address.

HQO and IHPME Remarks by Dr. Joshua Tepper, President and CEO, Health Quality Ontario, Dr. Adalsteinn Brown Director, IHPME, and Ms. Jodeme Goldhar, President, IHPME Society of Graduates. Moderator Dr. Ross Baker, IHPME.
Keynote Speaker Stephen M. Shortell PhD, MPH, MBA, a legendary health system scholar and one of the leading thinkers on health system transformation in the U.S, Dr. Shortell is a professor and former Dean, University of California, Berkeley School of Public Health. He will share his insights on achieving more effective health services and the major implications of change.
We are pleased to be honouring the 2014 Award Recipients of Society of Graduates (SOG) Leadership, Innovation and Literary Awards. Congratulations Madelyn Law for winning the Leadership Award, Sid Stacey for winning the Innovative Leadership Award, and Christopher Klinger and Moriah Ellen for each winning the Literary Award!
---
Recharge & Connect with…
IHPME alumni, faculty, students and thought leaders
A Magnificent Evening of…
Dinner items & desserts, full bar
IHPME Alumni class recognition
SOG Awards and appreciation
Free Steam Whistle Brewery tours
General $100
Student $65 – Early Bird Tickets Sold Out
(Students are still encouraged to attend by registering as general)
REGISTRATION: Closed
Looking for group tickets? Please contact ihpme.events@utoronto.ca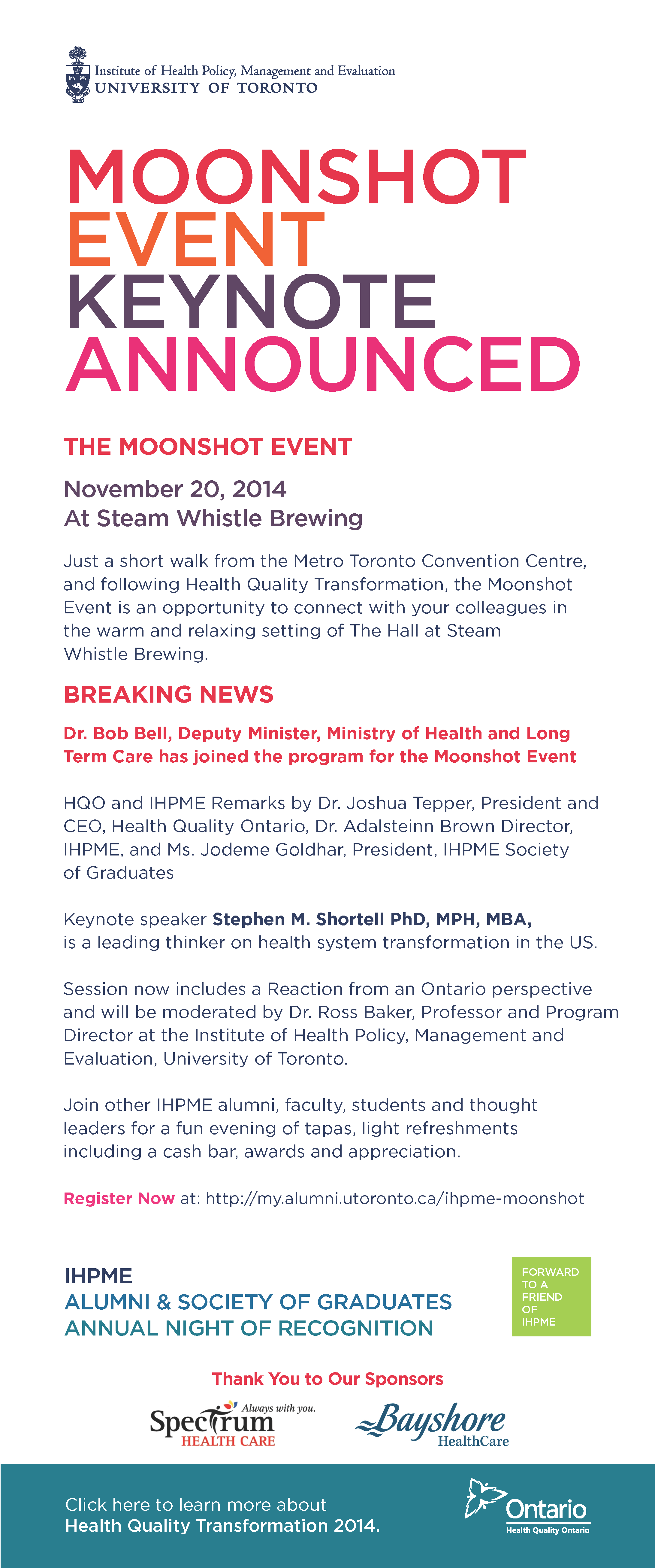 ---
Thank You to Our Sponsors
Spectrum Health Care
Bayshore HealthCare