By Nicole Bodnar, Director of Communications, DLSPH

Dr. Khaled Almilaji enrolls in Executive Master of Health Informatics Program
Dr. Khaled Almilaji, a Syrian physician affected by the Trump Administration's travel ban, arrived in Toronto on June 16 and will begin the Institute of Health Policy, Management and Evaluation's (IHPME) Executive Master of Health Informatics Program on June 20, 2017.
"Our School is committed to values that embrace human rights, equity, leadership, and the notion that global health is also local – we live in a world in which traditional borders have no meaning," said Howard Hu, Dean of the Dalla Lana School of Public Health, IHPME's home faculty.
"As a recognized humanitarian with extraordinary global public health experience, he will enrich the scholarship of our academic community."
In the fall of 2016, Dr. Almilaji began studies in the Master of Public Health program at Brown University in Providence, Rhode Island, on a student visa. On January 1, 2017, he flew to Turkey to attend a United Nations meeting related to his humanitarian work.  On January 18, he received word that his visa was revoked and while trying to renew it, the executive order was issued on January 27, indefinitely halting entry into the U.S. for citizens of seven mainly Muslim countries.
After weeks of advocacy by Brown's leaders and elected officials from Rhode Island proved unsuccessful in getting Dr. Almilaji's visa renewed, Dr. Terrie Fox Wetle, Dean of the Brown School of Public Health, contacted Dean Hu, a Brown University alumnus. She asked him to consider admitting Dr. Almilaji since it looked increasingly likely that he would be unable to return to the country to complete his degree.
"Once it became clear that his return would not be imminent, Dean Hu and I discussed options for Khaled to continue his graduate studies at the University of Toronto," said Dr. Wetle. "We have been honored to have Khaled in our MPH program and we wish him the very best of luck with his continued education."
As a humanitarian and public health advocate, Dr. Almilaji worked closely with the World Health Organization and United Nations to coordinate the delivery of vaccines to 1.4 million Syrian children to curtail an outbreak of polio in 2013. He is also a co-founder of the Canadian International Medical Relief Organization, a medical charity that has delivered health care in Syria during the six-year-long civil war.
"I am so grateful to U of T, and so glad to have the chance again to improve my knowledge, which will positively reflect on my ability to contribute later in rebuilding my county's health system," Dr. Almilaji wrote in an e-mail. "I hope that I can share my humble field experience with colleagues in the Dalla Lana School of Public Health."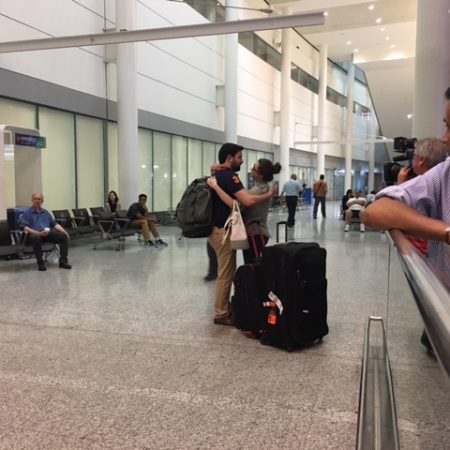 When he arrived in Toronto on June 16, Dr. Almilaji was reunited with his wife, Jehan, who stayed with friends in the U.S since January and is pregnant with the couple's first child.
This week, Dr. Almilaji will begin the Executive Master of Health Informatics program, which will enhance his expertise in health informatics and benefit a project he is working on with global relief agencies through the collection and analysis of Syrian primary care data.
"Khaled will be a tremendous asset to the program," said Julia Zarb, Master of Health Informatics Program Director. "The program will equip him with the information technology skills needed to help rebuild Syria's health care system, and his peers will learn from his global experience and in turn improve Canada's healthcare system."

Sign up for IHPME Connect.
Keep up to date with IHPME's News & Research, Events & Program, Recognition, e-newsletter.
Get in Contact
---
Communications
TBD
Email Address: ihpme.communications@​utoronto.ca
Manages all IHPME-wide communications and marketing initiatives, including events and announcements.