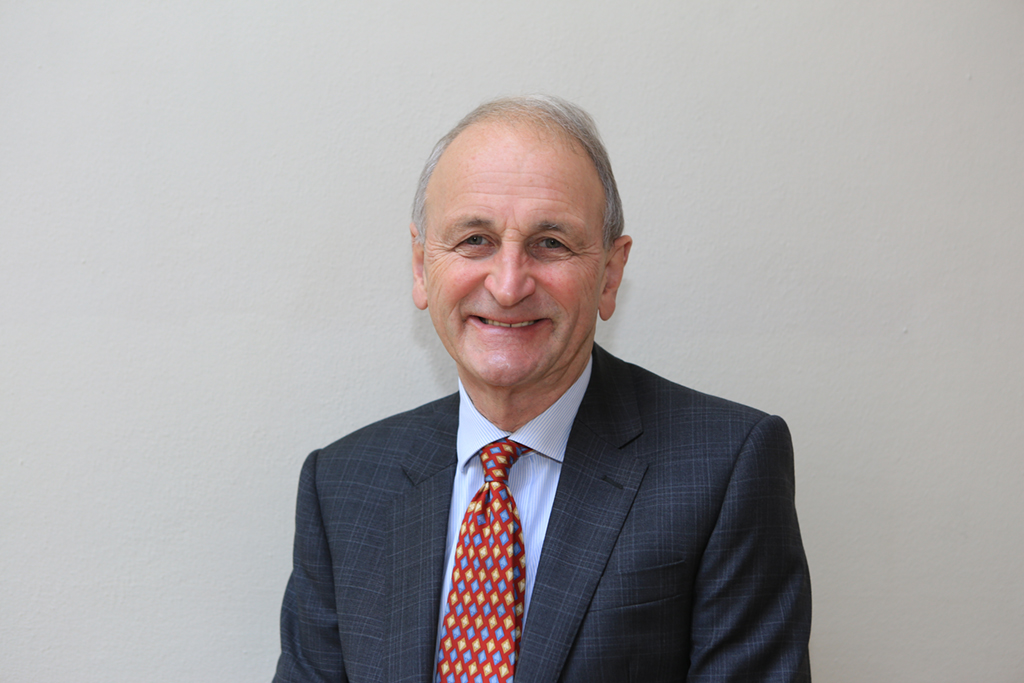 When Chris Ham first graduated with a degree in political science in 1972 he never thought he would one day be considered one of the most influential leaders in health services research.
Now as Chief Executive of the King's Fund, a charitable foundation committed to improving healthcare, Ham leads a team involved in research, analysis, leadership and organization development in the English National Health Service (NHS).
It is no surprise that with such leadership experience Ham has been named the 2017 recipient of the Institute of Health Policy, Management and Evaluation's Peggy Leatt Knowledge and Impact Award. This is the second year in which the award will recognize a recipient for their achievements in developing a transformative platform of evidence that improves healthcare and health care systems.
Like Peggy Leatt, who was a visionary in seeking innovative and interdisciplinary approaches to solve critical healthcare problems, Ham is committed to working in the middle ground between researchers and decision makers. His passion is to use research and evidence to improve health and quality of care which requires active and continuous engagement with health care leaders. The King's Fund is uniquely well placed to work in this way by 'speaking truth to power' and by working alongside leaders who are themselves committed to improving outcomes for the populations they serve.
Ham has worked in the field of health policy research for over forty years at the Universities of Leeds, Bristol and Birmingham, and as director of the strategy unit at the Department of Health from 2000 – 2004, before taking up his current role in 2010. While at the University of Birmingham, he was appointed to a chair in health policy and management in 1992 where he was in charge of the Health Services Management Centre. The Centre worked closely with leaders in the NHS who were undertaking post-graduate studies at the university and also conducted research based evaluations of major innovations in healthcare delivery. A further accomplishment was the establishment of a health economics unit, which was funded by the NHS and designed to analyze practical challenges within the health sector. It was during this period, that the media began to increasingly look to Ham as an expert on issues facing the NHS.
In the early 1990's Ham also worked as an advisor to the World Health Organization (WHO) and the World Bank, where he was able to contribute to the thinking of international health care agencies on healthcare reform. "In the 1990's the World Bank was strongly focused on promoting market oriented approaches to healthcare," said Ham "but we knew as health system researchers, that healthcare is very different from other sectors, there are always market failures, and such failures cannot be afforded in healthcare."
Ham's passion for health services research and his burgeoning career path within it, was a happy accident. During his post-graduate studies he landed an NHS funded post as a research assistant at the University of Leeds. His task was to write a history of hospital planning practices in Yorkshire which was published as his first book, Policy making in the National Health Service, in 1981. With his original training as a political scientist, Ham became fascinated with the issues he studied, "I realized that healthcare as a sector, was fertile ground for understanding the dynamics of power and influence in public services." Following his time at Leeds, he moved on to the University of Bristol where he was able to combine teaching and research on health policy and management, "by that stage," said Ham, "I'd gotten the bug and it has never left me."
In his current position as CEO of the King's Fund, Ham leads 125 staff in work designed to offer independent analysis and commentary on challenges facing the health sector, as well as provide support for health care leaders seeking to make improvements in care. The King's Fund dates from 1897 and is known and respected for its influential, evidence based reports on various aspects of healthcare funding and delivery. The Fund as a health care think tank, is committed to working with current and future leaders to transform care at regional and local levels. A team of communications specialists ensure that the Fund's messages are shared widely across publications, digital platforms, and a program of seminars and conferences, making it a trusted source of information and analysis.
With its office in the heart of London, the Fund has become a sought after meeting place for people from across the health sector, who value the opportunity to debate the challenges that face the NHS and social care. A particular challenge that Ham and the Fund have been working on is health system integration. Integration in this respect, encompasses primary and secondary care, health and social care, and physical and mental health care.
"There is mounting evidence of the benefits of integration as populations continue to age and the burden of disease shifts to chronic medical conditions like diabetes and heart disease," said Ham. The Fund has been successful in influencing government policy to support integration and is working with leaders in the NHS and local government to bring about improvements in care in different areas of England. "Our role is to go beyond Whitehall and Westminster to support the implementation of new care models centered on the needs of patients and populations," he adds.
Another priority for the Fund involves work on prevention and population health. In the early stages of his career, the Lalonde report on a new perspective of health for Canadians, was influential in shaping Ham's thinking on prevention. "All health systems face demographic pressures and financial constraints that affect their current methods of treatment and care," said Ham. "Those factors affecting the NHS and the Canadian health system are a result of an aging population, changing lifestyles and the broader social and economic determinants of health."
Ham references The Expert Patient Program as an example of an initiative to bring about a shift in managing long-term chronic diseases. "The expert patient program provides support to people, giving them the confidence they need in order to understand how to manage their symptoms, take certain medications, or adapt their lifestyle to suit their health needs," said Ham. Supporting individuals in maintaining their independence is beneficial not just for the patient but also the health system as a whole.
Local governments in the UK, such as those in the Northwest of England, have also taken action to promote population health. In one area they have begun to work with teachers and pupils to implement a program called the "daily mile." This program creates time within the school curriculum to encourage students to walk or run one mile every day. "This early adoption of a healthy lifestyle will go a long way towards improving health and well-being in our communities in the longer term," said Ham, "and this is something that is being done outside of the health system, as a result of better education and information being provided to the public."
Recently, the Fund hosted a major national conference with over 400 leaders from across England, including the Fund's president Prince Charles, on the topic of social prescribing, an approach that involves offering people options and advice on exercise, diet and nutrition, as well as providing them with access to the arts, and opportunities to tackle loneliness and isolation. It is this type of commitment to change and reform that leaves Ham hopeful for the future of the NHS and health systems in countries like Canada.
While he is optimistic about the future, Ham argues that it is necessary for politicians, health care leaders, and the public to ensure that these systems continue to strive for universality and equity. "My main hope is that the public and politicians do not forget how precious health systems are in countries like the UK and Canada," says Ham. "Current generations may take these fundamental principles of equity and universal coverage for granted, having never known anything else, but it wasn't always this way."
And truly, nothing is forever. We are in a time of great global challenges and financial pressures that put these very principles at risk. "Strong leadership is needed, in order to ensure that we secure adequate funding, and continue to reform and improve our health systems to meet the changing needs of the population," said Ham. Moving toward equity of access and equity of outcomes is a tall order, but Ham is hopeful that those in charge will choose to remember the words of Joni Mitchell's 1970 classic Big Yellow Taxi, "you don't know what you've got till it's gone."
Chris Ham will be honored at The Peggy Leatt Knowledge and Impact Award reception hosted by the Institute of Health Policy, Management and Evaluation on September 7, 2017 at the University of Toronto's Faculty Club in Toronto, Ontario. For more details about the event and to register, please visit our event page.

Sign up for IHPME Connect.
Keep up to date with IHPME's News & Research, Events & Program, Recognition, e-newsletter.
Get in Contact
---
Communications
TBD
Email Address: ihpme.communications@​utoronto.ca
Manages all IHPME-wide communications and marketing initiatives, including events and announcements.