"I've always had an interest in technology as a means of delivering innovative health care," says Lauren Bell, a graduate of the Masters of Health Informatics program at IHPME, "I've also seen how technology can be used as a vehicle to solve complex challenges in the health care system."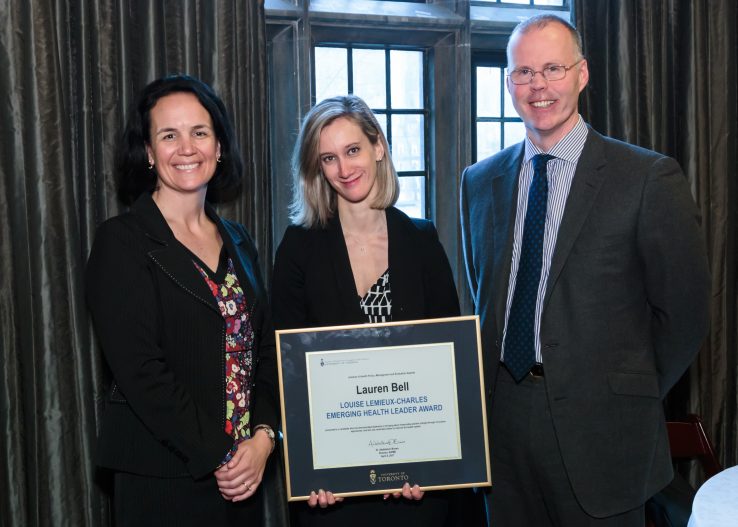 Bell is the Institute of Health Policy, Management and Evaluation's 2017 recipient of the Louise Lemieux-Charles award, honouring emerging health systems leaders. Her dedication to advancing changes in the health system was paramount in her previous role working for the Ministry of Health and Long-Term Care. As a lead for the Health Strategy and Investment Branch (now Digital Health Program Branch), of the ministry, she was involved in supporting the development of a digital health strategy for the province of Ontario.
"We were primarily focused on hospital information system (HIS) renewal, because there was a critical mass of hospitals who needed to upgrade their current HIS to a newer platform," says Bell.
The goal of the strategy was to find a way to support hospital's in making these upgrades in a coordinated manner that also considered a broader vision for the future. That included managing these critical systems, on
a provincial scale to support integrated care for patients. Working with an internal team, as well as consultants from the PwC and stakeholders, Bell supported the province's Hospital Information Systems Renewal Advisory Panel through an intensive six month process in order to develop recommendations for the province. Upon completion of their work, the panel had recommendations in hand spanning the areas of partnership, procurement, clinical adoption and outcomes.
"Before the recommendations were even released we had begun to see hospitals taking deliberate action as a result of the clear commitment to this topic by the panel and the ministry," says Bell, "in particular, hospital
clusters were forming and more joint purchasing decisions were being explored."
Bell continued to support auctioning early recommendations, one of which supports the ability of hospitals to leverage existing technology as part of a cluster model vs. returning to market for new technology, and therefore maximizing the value of existing investments. When asked how she came to be interested in health informatics, Bell notes it was shortly after she finished her undergraduate degree and was working at St. Michael's Hospital that she first became aware of where her career path might take her.
"I was working on a community based research project involving the deployment of electronic medical record information technology for marginalized populations," says Bell, "and I found the impact of our efforts quite fascinating, having not previously had the opportunity to be exposed to the discipline of health informatics."
Bell enrolled in the MHI program at IHPME when it was only in its second year of operation, which she feels was in fact quite beneficial.
"I think the earlier cohorts were really able to help shape the direction of the program, as health informatics was emerging as a recognized profession" says Bell, "and we continue to be mentors for the newer students
as they embark on their own career paths."
Now in her new role at Health Quality Ontario, Bell is looking forward to continuing her role as an emerging leader and focusing on the quality agenda with her digital health strategy expertise in hand.
"I am excited about the opportunities that are now available to collaborate on the digital health agenda, and inject some of my prior knowledge and experience into new implementation contexts," she says.
The Louise Lemieux-Charles Award recognizes leaders like Lauren Bell, because of their passion and dedication in improving healthcare decision making and management.
"It is an honour to receive this award," says Bell, "and it is wonderful that there is a commitment to recognize emerging leaders, and foster their growth. I hope to continue to use my informatics knowledge to pursue leadership roles in the health sector, while continuing to support others who are just beginning their careers."

Sign up for IHPME Connect.
Keep up to date with IHPME's News & Research, Events & Program, Recognition, e-newsletter.
Get in Contact
---
Communications
TBD
Email Address: ihpme.communications@​utoronto.ca
Manages all IHPME-wide communications and marketing initiatives, including events and announcements.