The 2017 Robert Wood Johnson award winner from the University of Toronto, is recent MHSc graduate Craig Thompson, who was presented with the award at a reception hosted by the Canadian College of Health Leaders (CCHL) on June 12 in Vancouver, Canada.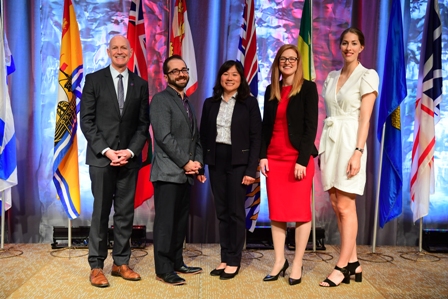 The Robert Wood Johnson awards were established in 1956 by Johnson & Johnson Medical Inc. and are presented annually to six deserving students at Canadian universities who are pursuing a Masters in Health Administration.
Each student who receives the award is anticipated to make a valuable contribution to the health services industry, and Craig is already taking significant steps and is well on his way to becoming an influential leader in health systems management.
Thompson followed an unconventional path into the health services industry having originally graduated with a degree in civil engineering. After practicing engineering for 10 years, Thompson shifted his focus and career to new media and digital communications at the time when the World Wide Web and the Internet was making its debut.  Thompson's diverse work in the private sector as a digital strategist and his volunteer efforts as a patient advocate positioned him well to take on the role of Director of Digital Communications at Women's College Hospital in 2012. For over five years he led a team of communications specialists in the development and implementation of integrated digital communications initiatives. In 2015, Thompson made another significant career decision to pursue the MHSc degree with the Institute of Health Policy, Management and Evaluation at the University of Toronto. "I knew I needed to better understand the business of healthcare in Ontario if I was going to be successful at bringing about system change for the benefit of patients and families," said Thompson.
Throughout the program, Thompson maintained his interest in patient advocacy, so when it came time to find a placement as part of his practicum, he was eager to work at Patient Ombudsman, a brand new organization that works as a champion for fairness in Ontario's healthcare system. The Patient Ombudsman's office was opened to the public in 2016, as a place for patients and caregivers to voice their concerns and complaints regarding the quality of care and their experiences at a hospital, long-term care home or with home care services. Having worked for start-ups in the past, Thompson was immediately attracted to the idea of developing strategies to help bring the patient voice to the forefront of shaping policy and improving healthcare experiences for all Ontarians. "When I arrived to begin my practicum, I was encouraged to apply my skills and experience in digital communications and strategic planning," said Thompson. "I was also able to help with the launch of a new, more patient-centered website which included an easy-to-use online complaint form."
Patient Ombudsman, with its focus on influencing positive change in Ontario's healthcare system, was exactly the place in which Thompson felt his passion and experience could flourish and where he felt he could also help make a difference for patients and families. With his experience, determination, and commitment to help find workable ways to tackle system-wide issues, it makes sense that Thompson, who graduated in June, ultimately won the opportunity to become the organization's new Executive Director. "It is a dream come true," said Thompson of his new role, "it's a privilege to be recognized for my leadership skills and diverse experiences, including my ability to reinforce the patient perspective in the everyday operations of the office. I'm also looking forward to helping advance the organization's position as a supportive bridge between patients, caregivers, and the health sector organizations under the office's jurisdiction."
Being adaptable and open to working as a change agent is exactly why Thompson is a deserving winner of the Robert Wood Johnson award. He is keen to be a part of the transformation underway to help improve the lives of patients and caregivers. "It is truly an honour," said Thompson, "to be recognized in this way by the Institute's distinguished faculty."

Sign up for IHPME Connect.
Keep up to date with IHPME's News & Research, Events & Program, Recognition, e-newsletter.
Get in Contact
---
Communications
TBD
Email Address: ihpme.communications@​utoronto.ca
Manages all IHPME-wide communications and marketing initiatives, including events and announcements.