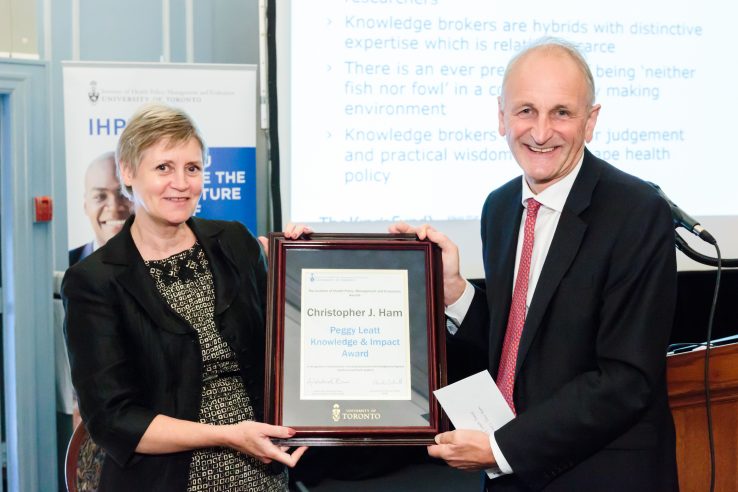 Surrounded by leaders from the Ontario health system community, the Institute of Health Policy, Management and Evaluation honoured Christopher Ham, CEO of the King's Fund, on September 7 at the Peggy Leatt Knowledge and Impact Award reception.
This is the second year in which the IHPME community has selected a leader in health policy innovation as a recipient of this award, named for former director Peggy Leatt, who was an effective and persuasive leader, always advocating for an interdisciplinary approach to solving critical health care problems. The King's Fund, a charitable organization committed to improving healthcare, is at the forefront of using this interdisciplinary approach in analyzing, researching and providing leadership in the English National Health Service (NHS).
"We were delighted to honour Chris Ham as this year's recipient of the Peggy Leatt Knowledge and Impact Award," said Acting Director Rhonda Cockerill. "His message about the importance of Knowledge Brokers who can link evidence to practice was well received by the IHPME community. As a multi-disciplinary Institute with a mandate for applied research, research that is implemented and leads to system improvement, there were important lessons in Chris's overview of The King's Fund and their strategies to "get the message".
In order to have the greatest impact, The King's Fund relies heavily on its communications team as a means of disseminating their research and analyses, and conveying "truth to power," through evidence-based reporting. They consistently follow the motto of "rigorous, relevant and timely," to ensure the greatest impact of their reports and research, as well as to maintain any indirect influence they may have on shaping politicians and policy makers' understanding of the issues and challenges facing the NHS.
Christopher Ham has worked in the field of health policy research for over forty years at the Universities of Leeds, Bristol and Birmingham, and as director of the strategy unit at the Department of Health from 2000 – 2004, before taking up his current role in 2010 with The King's Fund.
As part of his interdisciplinary approach to finding solutions to challenges facing the National Health System, Ham remains committed to working in the middle ground between researchers and decision makers. He is passionate about using research and evidence to improve health and quality of care which requires active and continuous engagement with health care leaders.
For more information about The King's Fund visit https://www.kingsfund.org.uk/

Sign up for IHPME Connect.
Keep up to date with IHPME's News & Research, Events & Program, Recognition, e-newsletter.
Get in Contact
---
Communications
TBD
Email Address: ihpme.communications@​utoronto.ca
Manages all IHPME-wide communications and marketing initiatives, including events and announcements.