Created in 2013, and generously funded by the Barford Family Foundation, the Barford Advanced Practice Nursing Scholarship allows CAMH registered nurses the opportunity to pursue a Master's degree in nursing, health administration or health informatics. IHPME is pleased to announce that EMHI student Tsega Eyasu is a recipient of this prestigious award, that will allow her to pursue further education without the financial constraints that often accompany graduate studies. The scholarship funds a six month paid internship through CAMH, allowing nurses to draw upon their graduate learning experience and apply it directly into the field. Recipients are also paired with a mentor who provides them with educational and professional guidance throughout their graduate studies.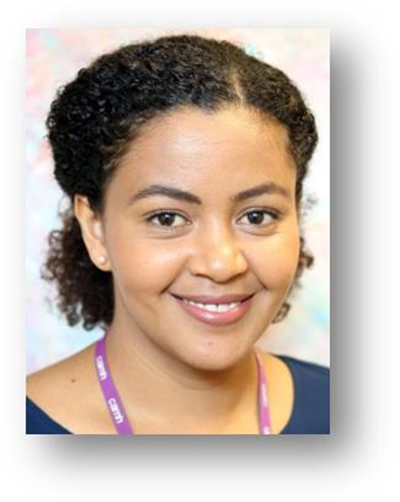 Tsega Eyasu has been a registered nurse at CAMH since January 2013. Her decision to pursue nursing in the area of mental health is one she says, began at an early stage in her career during nursing school placements. Working in hospitals and group homes for individuals with chronic mental illness, she was drawn to the fact that nursing in mental health care, incorporated science and technology as a means of helping the most vulnerable patients in our health system.
As an undergraduate nursing student, Eyasu was exposed to a variety of clinical placements where the transition between paper and electronic documentation was still ongoing, sparking her interest in the use of technology in the health care field. "I was already witnessing the large scale benefits of electronic documentation and wanting to know more about these advantages, I decided to take an introductory course in health informatics to better understand the principles and foundations of the discipline," said Eyasu.  While completing her graduate placement at CAMH, Eyasu was involved in the Centre's major transition to an electronic system, making her realize that pursuing further education in the field of health informatics would be beneficial not only to her career, but to the patients she works with. "During the transition, I was involved in some of the working groups that were looking at improving workflow and optimizing the system to best fit the specialty of mental health care services," said Eyasu, "I realized that pursuing a degree in health informatics would allow me to contribute to improving patient care in mental health."
Upon completion of the EMHI, Eyasu is looking forward to becoming an Advanced Practice Nurse with a clinical informatics specialty, using her work experience in acute and complex mental health care to improve patient care and outcomes. "There is a great potential in using technology to improve front line care as well as using collected data to improve the overall healthcare system, " said Eyasu, "the EMHI equips me with the ability to understand how to improve quality of care for mental health care patients by focusing on ongoing assessment tools, managing data flow, and developing integrated technology within mental health care nursing."

Sign up for IHPME Connect.
Keep up to date with IHPME's News & Research, Events & Program, Recognition, e-newsletter.
Get in Contact
---
Communications
TBD
Email Address: ihpme.communications@​utoronto.ca
Manages all IHPME-wide communications and marketing initiatives, including events and announcements.