Research powered by data, is a statement that Dr. Walter Wodchis, Professor at IHPME, lives and works by. It is also one of the ways in which health system change is implemented, a goal that Wodchis eagerly works towards in just about every aspect of his evaluative research.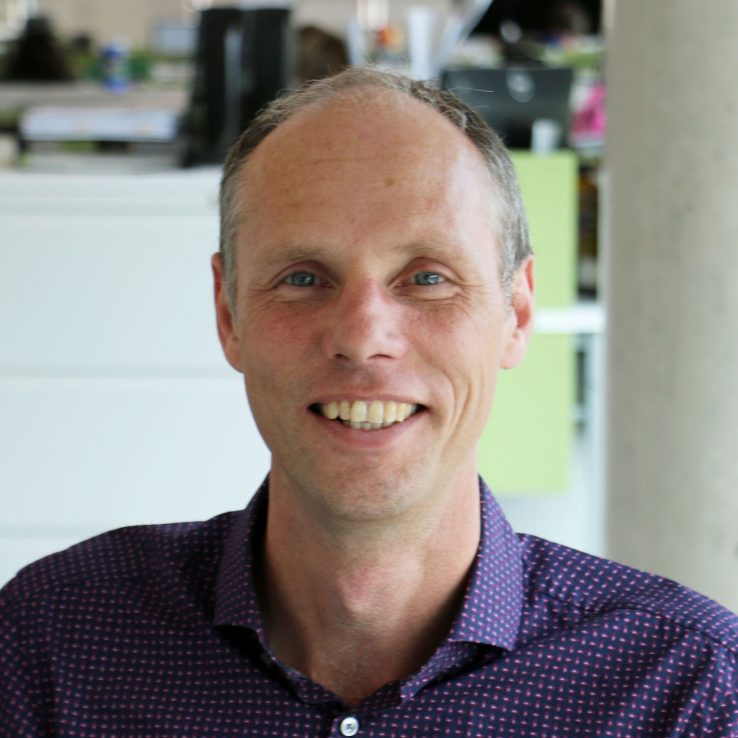 It is no wonder then, that Wodchis has been appointed to be the inaugural Research Chair in Implementation and Evaluation Science at Trillium Health Partners' Institute for Better Health (IBH). His expertise and knowledge as a leading researcher in the areas of health economics, integrated care and health system evaluation, will benefit the ongoing research being undertaken by IBH, as it works to develop innovative solutions that improve the health care journey for patients and families in Ontario.
Launched in 2014, the Institute of Better Health was created as a research hub within Trillium Health Partners with a mission to seek out innovative solutions that improve health and quality of care for patients and the community. Recruiting Research Chairs in Implementation and Evaluation Science is the next step being undertaken by IBH as a means of enhancing their research capacity and providing an increased ability to test and evaluate measures that will improve the way health systems function. This is also a major milestone in helping to build Trillium Health Partners into a learning health system.
For Wodchis, this appointment is an opportunity he is eager be a part of, where he will be able to bring data to the forefront of IBH's research projects, as well as build upon both institutions shared priorities such as bundled care, complex integrated care, and applied learning opportunities for graduate students. The Research Chair role also offers Wodchis the ability to work on focused iterative cycles of implementation, evaluation and research, something he isn't always able to accomplish in evaluations of pilot projects. Dr. Wodchis has recently lead evaluations of The Change Foundation's Partners for Advancing Transitions in Healthcare, Health Links across Ontario, and the Integrated Funding Model pilot study. In these activities, he works to influence the design of Ontario's health care system, examining integrated care options and resource utilization patterns. "Implementing health system change, does not occur quickly," notes Wodchis, "and although my time will be divided, taking on this role will bring a sense of consolidation to my work, knowing that I will have the ability to remain engaged with a program through more than one cycle of evaluation."
As Research Chair, Wodchis will take the lead in developing a program that will evaluate new models of health care organization and delivery that will improve care for patients in the community. Areas within the health system that Wodchis and IBH will be focusing on with respect to health system functionality include coordinated care, bundled care funding options, and integrated care for patients with complex health needs.
The gap in coordinated care, particularly with respect to elderly populations is a growing concern. Recently, Wodchis worked on the evaluation of a pilot project involving bundled care funding for the Ministry of Health, as it has become a strong area of interest for improving coordinated care. "Bundled funding is one really important way to improve coordination of care across the care episode," says Wodchis. "If not solve, then certainly make a considerable improvement upon. It creates a single accountability, from treatment and acute care to the moment when a patient is stabilized." Alongside evaluating bundled care options, he will also be working on evaluating integrated care programs across the care continuum within the health system, a strategic direction that both Trillium Health Partners and IHPME are working towards.
Affecting health system change as Wodchis says, takes considerable time, and many cycles of evaluation, but methods of evaluation that researchers like Wodchis use, are key to obtaining the data that will power innovation and change. "First, we look at how well a program is being enacted, which is referred to as implementation," says Wodchis, "then we look at the experience of patients and caregivers, always keeping this at the forefront and collecting this data on an ongoing basis. We also look at self-monitoring data, which is again rapid cycle and provides real-time feedback about the impact of the program. And finally, we conduct rigorous and robust evaluation, which takes more time, but allows us to investigate whether the program has achieved intended outcomes."
This type of data gathering is something that Wodchis sees as the real driver behind not only system change, but the creation of a learning health system. "Creating a learning health system requires partnership, trust, effective communication of data, and a sense of fearlessness… because sometimes interventions fail. Not harming people, but also not improving patient experience or outcomes" says Wodchis. In his role as Research Chair, Wodchis will be using his approach to evaluation to improve programs and systems while they are in process, working in an iterative cycle and able to see change built into a system/program as it grows and is developed, powered as always by data. "I have become a bit fatigued by the single cycle quality improvement approach of plan, do, study, act," says Wodchis. "These evaluation processes are intended to be iterative, yet it is rare to undertake a second cycle of revision, implementation and evaluation."
While working through a series of evaluation cycles is something that Wodchis looks forward to in his role with IBH, he is also hopeful that the Mississauga/Halton system will soon be transformed into a learning health system, and its partnership with IHPME at the University of Toronto, will help bring the system one step closer to this aim. An applied learning program for IHPME graduate student researchers will be led by Wodchis and will allow students to gain knowledge transition skills and a broader learning experience that will benefit them as they move into the work force. "We know that the majority of our PhD students will not remain in an insular academic setting," says Wodchis, "as an educational institution, it is our responsibility to provide them with the capability to be able to go out and work in a health system setting from the moment they graduate, equipped with the skills and knowledge to foster and develop health system change."

Sign up for IHPME Connect.
Keep up to date with IHPME's News & Research, Events & Program, Recognition, e-newsletter.
Get in Contact
---
Communications
TBD
Email Address: ihpme.communications@​utoronto.ca
Manages all IHPME-wide communications and marketing initiatives, including events and announcements.