If there is anything you need to know about IHPME's history over the past 70 years, Leslie Boehm is just the person you should speak to. An alumni of IHPME and current faculty member, Leslie or Les as many may know him, has taken on the daunting task of documenting the seventy year journey of the Institute of Health Policy, Management and Evaluation in a book titled Toward the Health of a Nation: The Institute of Health Policy, Management and Evaluation – The First 70 Years. The 250 page book is set for release in early 2018.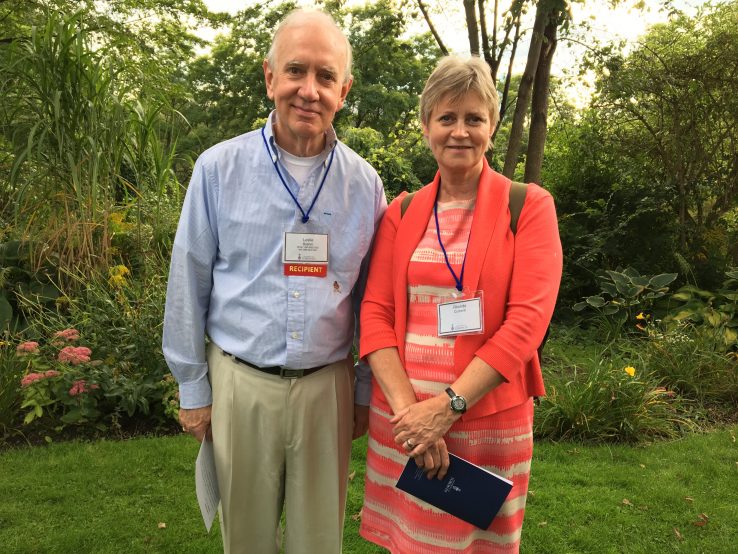 Boehm has voluntarily siphoned through archives, images, and more while in the dark and dusty corners of libraries around the University of Toronto campus. "There is no substitute for primary materials," says Boehm, "I have spent a lot of time in the U of T archives, the Thomas Fisher Rare Book Library and the Gerstein Library, but nothing compares to talking to people, like former faculty and alumni." The idea to write a book about IHPME first came along as Boehm was working on a manuscript for another book. While rifling through archives, Boehm continued to stumble upon connections to IHPME, making him wonder if perhaps he should be pursuing an entirely different manuscript all together.
In March of 2017, Adalsteinn Brown, then Director of IHPME, approached Boehm with an interesting request, asking if Boehm would be willing to write a history of IHPME's past seventy years. "At first, when Steini asked whether I would like to take on this project, I originally thought my plate was much too full, but it's a book that needs to get done. There is a story to be told here," said Boehm.
Boehm graduated from IHPME in June 1980. "When I heard about the program in health administration at the University of Toronto, it was my first choice, and I have never regretted it," said Boehm. The Department of Health Administration as it was then known, was one of the few graduate health administration programs providing connections directly within the field for its students. It was also steadily increasing its research capacity to respond to the ever growing health system in Ontario an aspect that Boehm says continues to draw students and researchers from across the nation.
Throughout his work on the book, Boehm discovered that IHPME has evolved alongside the health system from its early inception. Beginning as a diploma program in health administration, the Institute has grown to include MSc, PhD, MHI, and MHSc degrees, with a variety of program streams and concentrations relative to the complex nature of the health system.
"One thing that stood out for me while I was researching, were the tapes I uncovered of people like Dr. F Burns Roth, or Dr. Andrew Rhodes debating the way in which they wanted to educate people, between a theoretical and practical focus" said Boehm, "it was truly fascinating." By situating itself within the School of Hygiene, the Department of Health Administration was able to draw on the connections that people like Dr. Burns Roth, Dr. Rhodes and the first director Dr. Harvey Agnew, had across the country. "Just two years after its inception, the department was operating on a national stage, drawing people and students from across Canada and the United States," said Boehm.
There was a seamless interaction between academia and the field that was necessary in order to provide the highest quality of education to students. In the 1970's the department began to push for a greater focus on research and was beginning to move towards implementing professional degrees that would allow students to work and pursue further education at the same time. While in the 90's and 2000's, there was a move beyond just management and a greater concentration on policy and evaluation which led to the current moniker for the department – The Institute of Health Policy, Management and Evaluation.
All this and more is highlighted in great detail in Boehm's upcoming book, and the extraordinary amount of work he has put into this project has not gone unnoticed. Boehm was recently honoured at the University of Toronto Arbor Awards on September 14 at President Meric Gertler's official residence, for his voluntary work on this chronicle history of IHPME. The symbol of the Arbor award is an oak leaf, signifying growth, learning, and leadership, all qualities that Boehm possesses as a graduate and faculty member of the department.
"I have always found IHPME tends to know more about a student's capabilities before they have discovered them on their own," said Boehm, "IHPME faculty have a willingness to provide help and support which is integral to building an alumni community and successful leaders in the health system."
Boehm is set to wrap up writing on his manuscript next month, perfect timing as IHPME will be celebrating its 70th anniversary on October 24 at its annual Moonshot celebration. "It is hard to let go of this book, but I know I have to," said Boehm, "there is just such a rich history of great minds coming together to make healthcare for Canadians better, I'm truly privileged to be able to tell this story."

Sign up for IHPME Connect.
Keep up to date with IHPME's News & Research, Events & Program, Recognition, e-newsletter.
Get in Contact
---
Communications
TBD
Email Address: ihpme.communications@​utoronto.ca
Manages all IHPME-wide communications and marketing initiatives, including events and announcements.