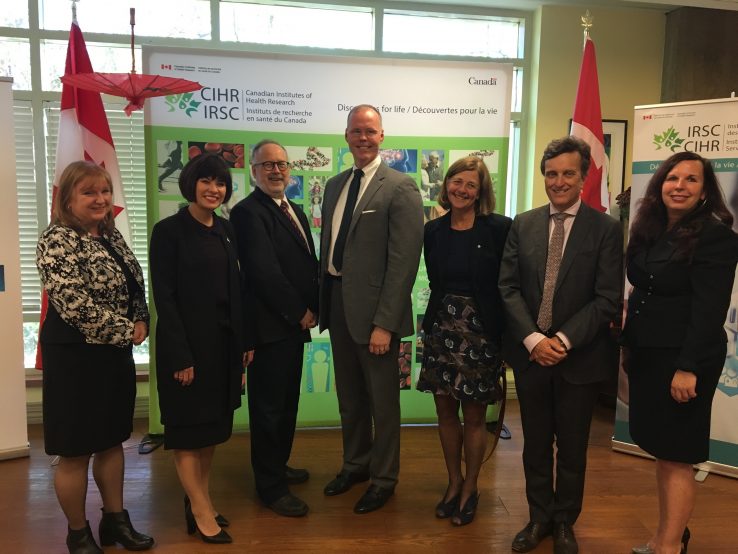 Today, the Honourable Ginette Petitpas Taylor, Minister of Health announced a $5.8 million investment in Health System Impact Fellowships and Training Modernization Start-Up grants, a new training model for health services researchers that provides post-doctoral fellows with the opportunity to take part in experiential learning. The Canadian Institutes of Health Research Institute for Health Services and Policy Research (CIHR-IHSPR), and the Canadian Health Services and Policy Research Alliance developed the programming and are offering  46 Health System Impact Fellowships to help prepare academics for careers within health system organizations.
"When I was in job interviews after completing my PhD, I found I was often pigeon-holed as a researcher, and as someone with little "real world," experience yet I wanted to use the skills and knowledge I had learned during my doctorate, to analyze, evaluate and make an impact on the health system," said Frances Morton-Chang, a post-doc at IHPME and Health System Impact fellow with AdvantAge Ontario, a not-for-profit organization advancing long-term care, housing and services for seniors.
The CIHR – IHSPR launched the Health System Impact Fellowships to address this challenge faced by new PhD graduates and post-doctoral fellows. As part of a training modernization strategy, the fellowships allow host organizations within the health system, such as AdvantAge Ontario, the Ministry of Health and Long-Term Care, and others, to provide a "hands on" learning experience for new graduates. It also seeks to retain new Canadian investigators who are just beginning their careers, while allowing organizations to benefit from their expertise.
"Within my first week, I have attended long-term care funding symposiums, been paired with Dan Buchanan, the Director of Financial Policy as my host supervisor, and have had multiple opportunities for interdisciplinary learning with senior leadership members," said Morton-Chang. Choosing to pursue this fellowship, she knew that it would provide her with renewed networks, highlight her strengths, and allow her to build productive relationships.
The announcement took place at the Rekai Centre, one of Toronto's long-term care facilities on National Seniors Day. Morton-Chang's research has already proven to be an asset for the health system. With the ongoing shortage of beds in long-term care facilities her work with AdvantAge Ontario is geared toward finding better ways at providing support for seniors and vulnerable individuals who require integrated care, such as with campus care models.
"The work that Frances proposes has the potential to not only afford insights regarding the potential impact of campuses of care that are of particular interest to AdvantAge Ontario, but also to inform industry decision-making on a topic that is of interest nationally," said Whitney Berta, Associate Professor at IHPME, and academic supervisor for Frances Morton-Chang.
At just age fourteen, Morton-Chang already knew she wanted to work with seniors. Roaming in and out of neighbour's houses, she would sit with seniors eager to talk with them, and enjoy some juice and cookies. "At that age I had also begun to draw out what I thought a senior's care home should look like, and they looked similar to a village of care," said Morton-Chang. She completed her Bachelor's degree in Gerontology at McMaster University, and continued to pursue graduate studies in IHPME's  MHSc and PhD programs.
Seeking innovative solutions in integrated care for seniors and vulnerable members of the population is both an academic and professional passion for Morton-Chang, and the Health System Impact Fellowship is helping her channel this passion into impact while advancing her career.
"Our investment in the program represents one of our Government's efforts to both train and keep our best and brightest researchers right here at home. It will help rethink the traditional model of workplace integration for PhD students across the country. It will no doubt have an effect on improving health services for Canadians in the future," said the Honourable Ginette Petitpas Taylor, Minister of Health.
For Morton-Chang this opportunity will allow her to see the real life implications of the research she is conducting and will help inform her future work. "I want to see a positive change in the health system that offers people a degree of choice in how and where they live in their vulnerable years. Having a foot in both the academic and the "real" world is going to help me make that kind of a lasting impact on our health system."

Sign up for IHPME Connect.
Keep up to date with IHPME's News & Research, Events & Program, Recognition, e-newsletter.
Get in Contact
---
Communications
TBD
Email Address: ihpme.communications@​utoronto.ca
Manages all IHPME-wide communications and marketing initiatives, including events and announcements.