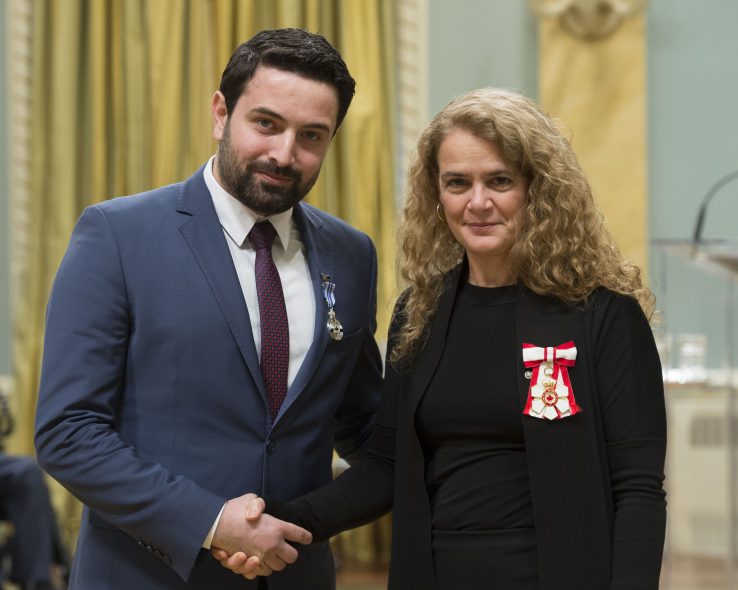 On December 12 in Ottawa's Rideau Hall, Dr. Khaled Almilaji a Master of Health Informatics student at the Institute of Health Policy, Management and Evaluation (IHPME), was awarded the Meritorious Service Medal by the Right Honourable Governor General Julie Payette. He, along with Dr. Jay Dahman and former paramedic Mark Cameron were recognized for their civilian efforts in providing medical relief and educational training to disaster stricken areas around the globe, particularly Syria.
"I'm excited and honoured to have won this award," said Dr. Almilaji, who is also a Syrian physician. "Everyone who has helped in this effort and who continues to work on the ground in Syria deserves this award."
The ceremony honoured 23 recipients of the Meritorious Service Medal many of whom have found innovative solutions to challenges facing their communities or country.
In 2014, Dr. Almilaji and his colleagues, Dr. Dahman and Mr. Cameron, founded the Canadian International Medical Relief Organization (CIMRO) in order to provide much needed medical supplies – such as the life-saving drug tranexamic acid which stops bleeding in those who are critically injured – and training to other front line health care workers, often at great risk to their own lives.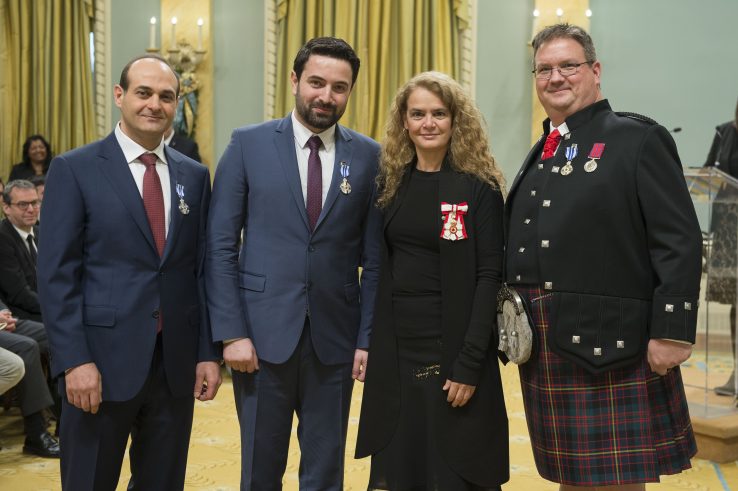 Originally a specialist in otolaryngology (ear, nose and throat conditions), Dr. Almilaji quickly found himself in the role of a trauma physician tending to wounded civilians as the crisis in Syria worsened. In 2013 a polio outbreak spread throughout the country, rampant in areas where poor health conditions and government bans on the vaccination had been in place. In response, Dr. Almilaji spearheaded a polio vaccination program with the help of CIMRO, inoculating over 1.4 million children in a door to door campaign that involved over 8, 500 health care workers on the ground.
"We lost a lot of colleagues to the shelling going on in the area," said Almilaji, "so managing this vaccine program was certainly a collective effort. Without every person on the ground, going into these neighbourhoods and more isolated regions, we would not have been as successful."
This past June, after being caught in the throes of a U.S. travel ban on Syrian citizens, Dr. Almilaji joined the Institute of Health Policy, Management and Evaluation in the Dalla Lana School of Public Health to complete the Executive Master of Health Informatics degree.
"I was proud to see Khaled's work being honoured in the company of highly contributing Canadians," said Julia Zarb, Director of the Health Informatics program. "Working alongside his Canadian humanitarian partners – and also, in part, via his Master of Health Informatics program here at U of T – Khaled is helping to ensure that focused assistance is delivered where and when needed within the ongoing Syrian crisis."
Dr. Almilaji's work with CIMRO will continue as the group shifts their focus to monitoring and reporting on infectious diseases in Syria while he also pursues his EMHI degree at U of T. "I hope that all of my colleagues at IHPME and in the Dalla Lana School of Public Health, remember to focus on global issues and challenges," said Almilaji. "It is important that we find innovative ways to approach and solve these challenges especially in health care."

Sign up for IHPME Connect.
Keep up to date with IHPME's News & Research, Events & Program, Recognition, e-newsletter.
Get in Contact
---
Communications
TBD
Email Address: ihpme.communications@​utoronto.ca
Manages all IHPME-wide communications and marketing initiatives, including events and announcements.