Almost a decade after making a $20-million gift to establish the Dalla Lana School of Public Health at the University of Toronto, Paul and Alessandra Dalla Lana are doubling down on their investment.
Today, the couple announced they are making an additional $20-million gift to the school, located in the heart of Toronto's innovation and health district.
"It's been amazing to watch the school grow and to see the impact its research is already having on critically important but often overlooked public health and health system issues across Canada and globally," said Paul Dalla Lana, founder of NorthWest Healthcare Properties REIT, the largest private owner and manager of medical buildings in Canada.
"This funding will enable the school to expand this work to improve the quality of life for us all."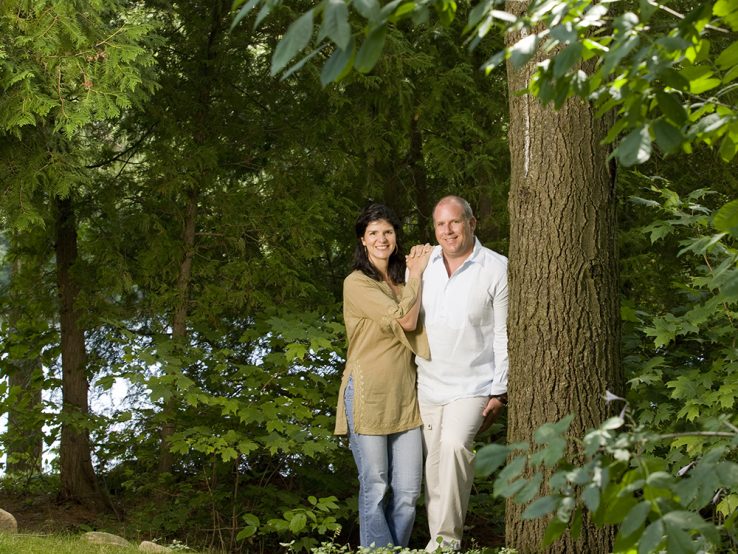 In the years since the couple's original donation — the largest gift ever given to public health in Canada — the school has grown into a global leader in public health, health policy and health systems education, research and service, known for research like Professor Prabhat Jha's innovative Million Death Study. Jha is the endowed chair in disease control at DLSPH, funded by Dalla Lana's original gift.
Read more about Jha and his research
Research at the School tackles critical issues in public health and health systems. These include health promotion and disease prevention to control and reduce the surging incidence of chronic diseases like diabetes; new ways to ensure the safety and effectiveness of hospital and home care; the most effective way to pay for our health system; and even ways to enhance the role of social services and education in promoting health.
"This remarkable new gift brings Paul's and Alessandra's total support of the Dalla Lana School to $40 million," said U of T President Meric Gertler. "This is an unprecedented level of support for public health in this country. Its impact on the next generation of public health leaders, on public health research and policy, and on the health of individuals will be felt around the world."
In addition to four endowed chairs, scholarships and dean's fund created with the original gift, the new donation will provide funding for new initiatives in health system improvement and policy innovation, and funding for projects to create healthier communities and improve quality across the health system.
"We are extraordinarily grateful for Paul and Alessandra's transformative gift, which will strengthen our academic excellence and enhance the Dalla Lana School's tradition of building stronger health systems and healthier communities," said Adalsteinn Brown, interim dean of the Dalla Lana School of Public Health and Dalla Lana Chair in Public Health Policy.
"This gift will have an impact on all of our health and on our shared vision of leadership in education, research and service in public health and health systems in Toronto and beyond."
The School is home to close to 1,000 students, including Dr. Daniel Pincus, a PhD candidate in Clinical Epidemiology who studies wait times and health outcomes for patients who have hip surgery and the deadly consequences of motorcycle crashes. It's also home to a diverse range of faculty, including Laura Rosella, Canada Research Chair in Population Health Analytics, who studies the impact of factors ranging from food insecurity to poverty on life expectancy and Suzanne Stewart, director of the Waakebiness-Bryce Institute for Indigenous Health at the School.
Read more about Stewart and her research
Students and faculty at the school tend to be deeply involved in the community and across our health care system. Many students hold down jobs as clinicians and managers while completing their studies. Last year, students created healthy menus for more than 25 drop-in centres across the city and just last weekend, the School hosted 130 students from universities across Ontario for a public health case competition tackling air quality and health.
The gift also recognizes the long history of public health and health systems work at the University of Toronto. Last year was the 100th anniversary of the Connaught Laboratories, a UofT innovation that brought life-saving vaccines, anti-toxins, and even insulin within reach of the entire population. The success of the Laboratories led the Rockefeller Foundation to fund the creation of a School of Public Health at UofT in 1927, one of only three universities along with Harvard and Johns Hopkins to receive these landmark investments. And last year also marked the 70th anniversary of the School's Institute of Health Policy, Management and Evaluation.
By the 1970s, Connaught Laboratories was privatized, communicable diseases seemed vanquished by antibiotics and U of T turned the school into a community health department in the Faculty of Medicine.  This shift served as a launching pad for the development of specialized graduate programs to train public health and healthcare professionals and researchers for practice across Canada and beyond.
Several public health crises, including the SARS epidemic of 2003, spurred a resurgent interest in public health in Canada. The school was reborn in 2008. Its launch coincided with the announcement of Dalla Lana's first gift of $20 million, in honour of which the Dalla Lana School was named.
In 2013, the School became U of T's first new Faculty in 15 years and in 2014, the Institute of Health Policy, Management and Evaluation joined the School. Uniting public health and health systems experts allowed the School to achieve a broader collective impact on health at the clinical, policy, community, individual and system levels, Brown said.
"With our broad scope and unique inter-disciplinary nature, the School has some of the strongest connections across disciplines and faculties of any public health school in the world," said Brown. "The initial gift from Paul and Alessandra allowed our School to emerge as a research, teaching and service powerhouse with impact locally and globally. Now, with public health and health systems experts working together in innovative ways, integration between services and professionals will result in dramatic improvements in population health and health system sustainability."

Sign up for IHPME Connect.
Keep up to date with IHPME's News & Research, Events & Program, Recognition, e-newsletter.
Get in Contact
---
Communications
TBD
Email Address: ihpme.communications@​utoronto.ca
Manages all IHPME-wide communications and marketing initiatives, including events and announcements.