It is no secret that, when compared to our neighbour's south of the border, the Canadian health care system gives us a sense of reverence and pride. But how many of us actually understand how our health system functions, how it is similar and different to how other countries do it and how it might be improved?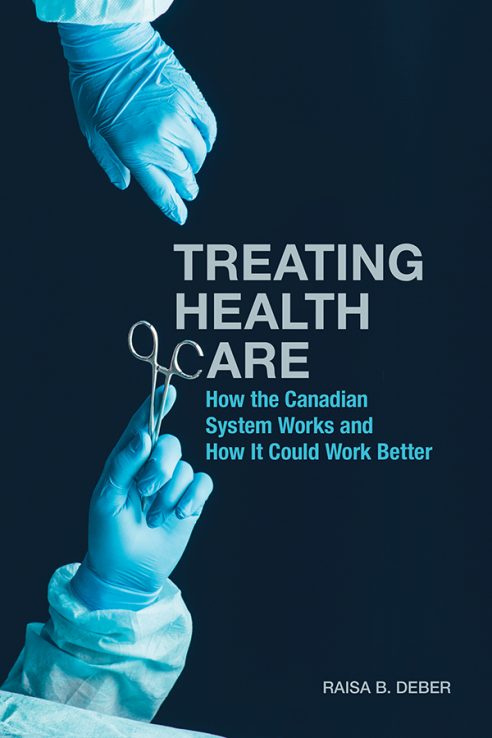 "There is a lot of misinformation out there, and I wanted to give people the option to understand our system and which reforms might be useful, and which would not be, by providing readers with a brief tool kit" said Raisa Deber, author of Treating Health Care, How the Canadian System Works and How it Could Work Better.
Part of the University of Toronto Press Insight Series, "Treating Health Care," is an easily digestible book for the non-health policy expert. In it Deber covers a range of factors that impact the health system, including determinants of health, how health care systems are organized and financed, health economics, health ethics, and the roles and responsibilities of different stakeholders.
Deber who is a professor at the Institute of Health Policy, Management and Evaluation reflects on some of the content in her book, and why she chose to address particular topics for the average Canadian reader.
Do you feel the Canadian system lives up to such an idealized comparison with the U.S. health system?
The U.S. system seems to exist to make everyone else look good. The U.S. manages to spend a lot more on healthcare than we do, and still end up with more people without insurance. They also end up with worse outcomes. Overall it doesn't seem like great model, so it isn't hard for it to appear as though Canada has it all figured out.
One of the biggest misconceptions out there is that there is a singular Canadian system – but there isn't one. Healthcare is not considered a federal responsibility but a provincial one, and the mode of delivery we have opted for is private, albeit often not-for-profit. For example, doctors, and people who work in our hospitals, are not civil servants. Though the services they provide are paid for by the government, they are not government workers. The federal government does require a minimum level of coverage for all Canadian residents (which is defined as all medically required hospital and physician services) if the provinces wish to receive federal funds, but each province also has the option to decide how they will manage care, and which other services will be publicly insured. And while there are some services that could probably be better managed at the national level (such as joint purchasing for certain pharmaceuticals), other things vary considerably at the local level.  There is not really a one size fits all.
Your own research over the years has focused on health policy and health economics covering many factors. Is there a particular factor that you feel is most pressing?
Health promotion is an important factor. Helping people stay healthy is a big win-win for both the population and the health system, since we can both save money and achieve better outcomes.  But there are so many social determinants of health that we need to address, such as adequate housing, which are not within the scope of health care. Why do we have people sleeping on the street? There are also a number of potential reforms within healthcare that can, ideally, give us both better outcomes and lower costs.
In your book, you include a chapter on "pressing issues," in today's health system. Is there a particular issue that you feel readers should pay close attention too?
I don't think we can really claim that one issue is the most pressing, as there are many aspects that affect how health care is provided. One important issue to recognize is that 'necessary' health care is not really a consumer good, since it's a function of need rather than demand. If I don't need to receive a certain treatment, I should probably not receive it (and, with proper information, should not want it), since the harms may greatly exceed the benefits. In turn, this puts some real limitations on how economic principles apply. Another important issue relates to what is often called service integration, which deals with making sure that people don't fall through the cracks.
However, while I make reference to this and other issues, my book focuses on analysis rather than advocacy.
What are you hoping readers will take away from this outlook on health care in Canada?
My main goal was to give readers the ability to understand health care and health policy. It is important to recognize that issues change over time. In that connection, rather than advocate for particular policies, I tried to give the reader a toolkit that could be used to understand the system, and see what proposed changes might be helpful and which would not. My target audience was an intelligent general reader who was not necessarily an expert on the topics covered. That is what I have tried to set out, and have hopefully achieved in these chapters.  I very much thank my test readers, who helped me greatly in ensuring that the material was clear.

Sign up for IHPME Connect.
Keep up to date with IHPME's News & Research, Events & Program, Recognition, e-newsletter.
Get in Contact
---
Communications
TBD
Email Address: ihpme.communications@​utoronto.ca
Manages all IHPME-wide communications and marketing initiatives, including events and announcements.