On May 22, 2018, the City of Toronto unanimously passed the Toronto Seniors Strategy 2.0, which articulates 27 high-impact recommendations to improve the health, wellness and quality of life of seniors in our city.
"These are deep recommendations that will require more funding and some organizational commitment," said Dr. Samir Sinha, an associate professor at the Institute of Health Policy, Management and Evaluation and Director of Geriatrics at Toronto's Sinai Health System and University Health Network. "It is an indication that changes are needed to fill the current gap in services for older adults."
Dr. Sinha is the Co-Chair of the Toronto Seniors Strategy Accountability Table, which has put forward this second iteration of a senior focused strategy. Its members include among others, researchers from the University of Toronto, the United Way, the Wellesley Institute, Age Well NCE, the Toronto Central LHIN, and most importantly seniors and caregivers.
The lead recommendation from the new strategy acknowledges that while there are over 47 services available to Toronto's seniors there is no coordination of these services or municipal division to oversee them. They remain in silos across the five local health integration networks (LHIN) and as a result amplify additional vulnerabilities such as – age, gender, sexual orientation, status and income – that older Torontonians face.
"Think about trying to navigate all of these silos when you are low income, don't speak English, and are socially isolated. It would be nearly impossible," said Andrea Austen, a policy development officer at the City of Toronto and the lead on the implementation of the City of Toronto's Senior Strategy.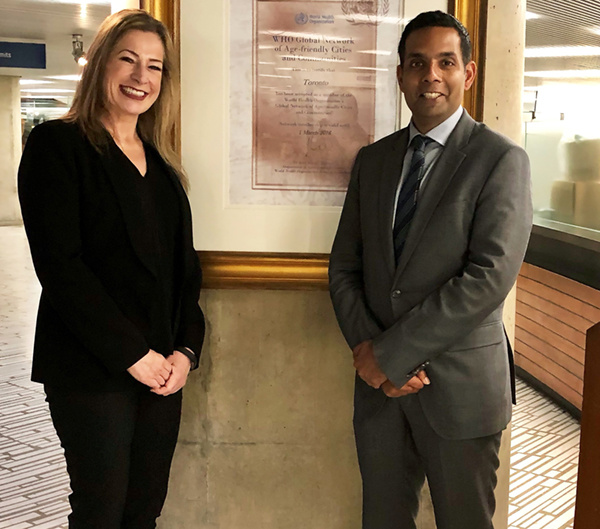 For Dr. Sinha, Austen and their partners, Toronto's aging demographic is something they collectively promote as a triumph and not a tsunami to be avoided. Since 2012, they have worked together on a consultation process to engage the community and develop the first iteration of the strategy known as version1.0. that would move Toronto in the direction of becoming a truly "age-friendly," city.
"We understood that we were operating in an environment with a limited budget, so we wanted the first version of this strategy to address low-hanging fruit," said Dr. Sinha.
Of the first 91 recommendations, 90 were fully or partially implemented by the City, and these included a focus on safe streets, access to public spaces, addressing hostile infrastructure such as park benches that didn't support people with mobility limitations, and improving housing for seniors.
The City also implemented a community paramedicine program that identified seniors in low income areas who were frequent callers of 911. Paramedics would check in on them help them overcome barriers they may have faced in accessing the care and services they need.
"We found that we could reduce calls by 49% and ER visits by 60% just by providing this resource that our paramedics were uniquely positioned to provide," said Dr. Sinha. "This keeps our seniors out of hospital, reducing health care costs, while helping them to lead a healthy life in their communities."
In 2013, the World Health Organization awarded the City of Toronto its designation as an Age-Friendly City, a considerable acknowledgement.
Moving towards age-inclusivity was the next big step.
"Inclusivity is about recognizing ageism," said Austen. "Seniors will tell you a lot about ageism and the social isolation that comes from it. The current way our City organizes and delivers seniors services does not work and will only get worse over the next 10-15 years if we do not move quickly and seize this opportunity."
Prior to the creation of version 2.0, an extensive community engagement survey was conducted. Over 10,000 people were consulted, including seniors from every ward, those in women's shelters, and members of the 519 and Senior Pride Network, who helped identify prevalent issues for LGBTQ2S seniors. This was considered an unprecedented level of engagement at the municipal level.
Access to housing and being able to live independently for longer were one of the primary concerns for seniors that came out of the consultations and survey, along with providing more services in other languages. "Overwhelmingly, seniors told us that the government could be doing more to enable them to remain living independently in their neighbourhoods, and out of long-term care," said Austen.
Services provided by the City, such as snow shoveling, yard work, and programs that fund the installation of grab bars in bathrooms and other health and safety modifications, would all help achieve this goal, but they need to be accessible to all seniors and currently they are not.
"A coordinated and integrated system approach to these services would help mitigate this issue of access," said Austen. "These services help people age in place, and they are also much more cost-efficient for the City," she added.
The Toronto Senior Strategy 2.0 has set a new standard for what is possible in terms of advocacy, action and implementation, and the accountability needed to make real changes to support Toronto's aging population.
"Taking a communitarian approach to support our seniors living independently will benefit society as a whole," said Dr. Sinha. "We are all eventually going to be older Torontonians, and it is in the best interest of all of us, that we take action now."

Sign up for IHPME Connect.
Keep up to date with IHPME's News & Research, Events & Program, Recognition, e-newsletter.
Get in Contact
---
Communications
TBD
Email Address: ihpme.communications@​utoronto.ca
Manages all IHPME-wide communications and marketing initiatives, including events and announcements.