University of Toronto faculty, students and staff are mourning Prof. Jack Tu, an internationally-renowned cardiologist and professor in both the Department of Medicine and the Institute of Health Policy, Management and Evaluation, who passed away on May 30.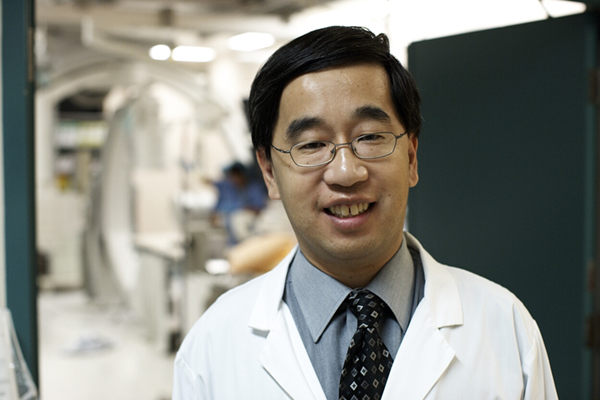 "The University of Toronto has lost a dedicated mentor and friend," says Trevor Young, Dean of the Faculty of Medicine. "A tireless researcher and clinician scientist, Jack made significant contributions to measuring and improving the health and quality of care for Canadians with cardiovascular diseases."
Tu was a world expert in medical epidemiology and health services research. His research advanced knowledge in critical areas of healthcare and had a tremendous impact on the healthcare system and patients.
"It is because of his research that we now know that where someone lives can have an impact on their cardiovascular health," says Andy Smith, President and CEO of Sunnybrook Health Sciences Centre where Tu was a staff physician and senior scientist. "It is because of his research that we now know that 'good' cholesterol is not an effective marker for heart health. It is because of his research that there is now a tool to predict mortality in patients who present with heart failure in the emergency room."
In 1996, Dr. Tu was appointed assistant professor in the Department of Medicine at University of Toronto, the same year he joined Sunnybrook as a staff physician in the division of internal medicine. He became a scientist in Evaluative Clinical Sciences and the Schulich Heart Program in 1999. He joined the Institute for Clinical Evaluative Sciences (ICES) as a scientist in 2000, where he led the cardiovascular and diagnostic imaging research program.
In 2004, he was promoted to professor in both the Department of Medicine and at the Institute of Health Policy, Management and Evaluation at U of T and to senior scientist at ICES. Two years later, in 2006, he became a staff physician in Sunnybrook's Schulich Heart Centre. Across all these years and as an integral, highly respected member of all these families, he enriched many lives as a physician, researcher, mentor, colleague and friend.
"Jack was a giant in health services research, and a great teacher and mentor to our students," says Adalsteinn Brown, Interim Dean of the Dalla Lana School of Public Health and Dalla Lana Chair in Public Health Policy. "He was constantly searching for innovative ways to improve the health system and the quality of health care for Canadians. His dedication to our field and his scholarship will be greatly missed."
"Jack's dedication to his work and contributions to the research community and the health outcomes of Canadians is undeniable," adds Gillian Hawker, Chair of the Department of Medicine at U of T.
Tu held a Tier 1 Canada Research Chair in Health Systems Research and published over 300 peer-reviewed journal articles in several highly ranked publications including The New England Journal of Medicine, Journal of the American Medical Association and Annual of Internal Medicine. A prolific researcher, he published more than 130 articles in peer-reviewed journals in the last five years alone.
Tu held several research grants from Canadian Institutes of Health Research and the Heart and Stroke Foundation and was the team leader of the CIHR-funded Canadian Cardiovascular Outcomes Research Team (CCORT), which links a network of over 30 leading cardiac outcomes researchers across the country. In 2015 Tu received Department of Medicine Researcher of the Year Award. In addition to his extensive research activities, Tu also supervised students at all levels of training and lectures extensively across the world.
With files from Sunnybrook Health Sciences Centre

Sign up for IHPME Connect.
Keep up to date with IHPME's News & Research, Events & Program, Recognition, e-newsletter.
Get in Contact
---
Communications
TBD
Email Address: ihpme.communications@​utoronto.ca
Manages all IHPME-wide communications and marketing initiatives, including events and announcements.