Maria Cusimano, a Master's student in the Institute of Health Policy, Management and Evaluation's Clinical Epidemiology program, is a recipient of the 2018-19 Women's Health Scholars Award presented by the Council of Ontario Universities, recognizing research that promotes a stronger health system for women in Ontario.
Cusimano's research will explore the health outcomes of women with BRCA1 or BRCA2 genetic mutations who have had an oophorectomy, the surgical removal of their ovaries. Women who test positive for BRCA1/2 mutations have a high risk of developing ovarian cancer, a deadly disease. As a result, many are advised to have a preventative oophorectomy.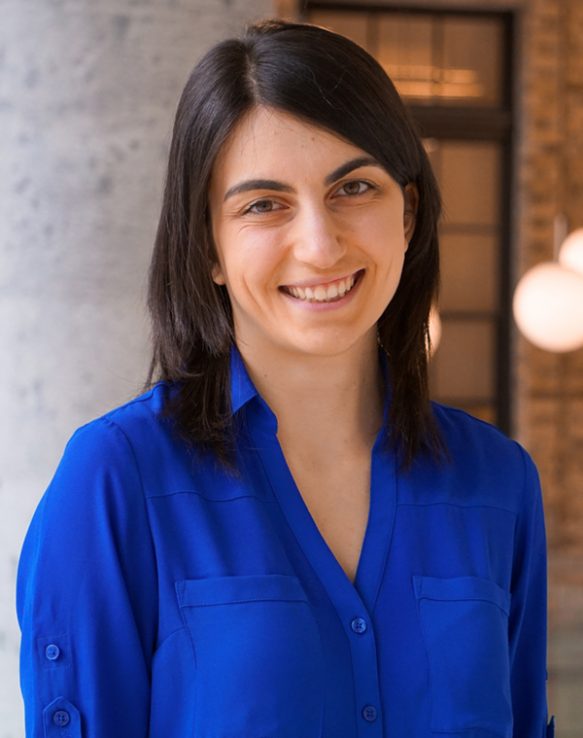 "This procedure may take place early in a woman's lifetime, sometimes at 35 to 40 years of age," said Cusimano, (pictured right) who is also a resident physician in U of T's Department of Obstetrics and Gynecology. "Early removal of the ovaries triggers early menopause, and in some studies this has been linked to health problems later in life. We want to explore that in more depth, specifically in women with BRCA mutations."
Cusimano is particularly interested in looking at non-cancer health outcomes following an oophorectomy, and the impact of this surgery on the heart, brain and bones, which can lead to heart disease, osteoporosis, and neurodegenerative diseases like Alzheimer's.
"It is important that we try and piece together the entire picture by looking at what happens after we remove the ovaries," said Cusimano. "Heart disease is another leading cause of death in women, and if women who have had an oophorectomy are susceptible to this, we need to consider prevention strategies."
Cusimano is one of 10 distinguished researchers to receive this scholarship funded by the Ontario government, which aims to support transformative research that will improve the health and well-being of women.
"It is an honour to be chosen for this particular award," said Cusimano. "It brings together my clinical work with patients and my research, which makes it especially meaningful and motivating."
For Cusimano, this award is also a testament to the support of her residency program, her research mentors, and her supervisor Dr. Nancy Baxter, who have all encouraged her pursuit of graduate research at the Institute of Health Policy, Management and Evaluation.
Cusimano adds, "I love what I do on the clinical side in obstetrics and gynecology, but I also want to go beyond that and advance the care of my patients on a larger scale. To me, that means developing the research skills I need to become an established investigator in this field."
"Dr. Cusimano is a brilliant student, with tremendous potential as a future scientist," said supervisor Dr. Baxter. "She is committed to improving the health of women both clinically as a gynecologist and as a health services researcher."
Cusimano's study will include data from over 17,000 women from across Ontario who have had BRCA1/2 genetic testing in the last decade. It will also provide crucial information that will help to inform earlier monitoring and prevention strategies for many of these women, helping to ensure that an oophorectomy does not lead to further complications. On a broader scale, there is also hope that this study will advance our understanding of the effects of early menopause and its role in other diseases affecting women.

Sign up for IHPME Connect.
Keep up to date with IHPME's News & Research, Events & Program, Recognition, e-newsletter.
Get in Contact
---
Communications
TBD
Email Address: ihpme.communications@​utoronto.ca
Manages all IHPME-wide communications and marketing initiatives, including events and announcements.