by Francoise Mbenoun-Makanda, Communications Officer, DLSPH
"I think I flatter myself in saying that I can spot good organizations," Leslie Boehm said reverently.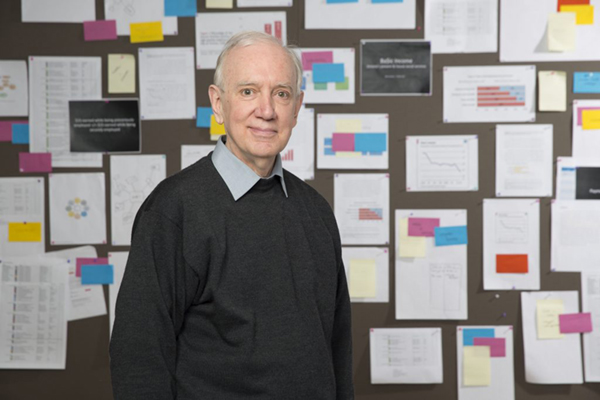 "I've worked in great and big hospitals all of my career and been associated with others and you learn to spot the good organizations. When I say Dalla Lana and IHPME are good, they are really good. Each is world class."
Now, Boehm is giving back to the place that trained him. A generous gift that will allow DLSPH to reach a wider audience.
He's been an active member of the IHPME and the University of Toronto community for more than 38 years. First, as a student who graduated with a MHSc and then as a faculty member.
"I believe very strongly in universities and public institutions and their power to do good, and that universities need to do more public outreach," said Boehm.
With the donation, the DLSPH renamed its signature leadership lecture series to "The Boehm Lectures on Public Health and Healthcare." It aims to foster a dialogue and engage the public health and health system communities on significant issues facing the health of Canadians.
"As the DLSPH continues to build on its history, tradition and culture by creating a global model of engaged public health and health systems research, Les' generous gift will put a spotlight on the transformative possibilities within the public health and health systems," said Adalsteinn Brown, Dean of the DLSPH.
"We are grateful for his donation and we look forward to honouring his wishes by engaging global leaders in public health with faculty and researchers to speak about the most pressing needs in Canada and serve as a beacon of innovation and excellence."
The November 29 lecture will explore innovative options to transform Ontario's health system — including better integration of hospital and community-based care — as well as the role of physicians, financing, policy levers, and measuring the impact of care integration on patient outcomes. The response has been phenomenal with the fall event selling out within its first week.
Although he is eager to see more of his colleagues donate, he encourages everyone to give.
"I want anybody to give, that's the first thing. Dalla Lana is focusing on an area which doesn't really receive the same amount of attention. Public health does not have the same profile as it's not as dramatic as curing illness."
"Anyone who gives to DLSPH is furthering an extremely valuable legacy. This School, and the public health departments of Toronto, Ontario, and Canada have worked together throughout their histories. And in this, the imprint of the School of Hygiene and Dalla Lana is indelible. They have fascinating histories, incredible accomplishments. This is what you are giving toward."
Those interested in the lecture are encouraged to sign-up to DLSPH's bulletin to be the first to receive information on the Spring 2019 lecture or watch the event on DLSPH's YouTube page on the day of the event.

Sign up for IHPME Connect.
Keep up to date with IHPME's News & Research, Events & Program, Recognition, e-newsletter.
Get in Contact
---
Communications
Alisa Kim
Email Address: ihpme.communications@​utoronto.ca
Manages all IHPME-wide communications and marketing initiatives, including events and announcements