On November 14 -16th in Washington D.C. four IHPME faculty members, Geoffrey Anderson, Onil Bhattacharyya, Samir Sinha, and Walter Wodchis, joined policy experts, government officials and health ministers from eleven different countries to present their work on innovative integrated care programs for high-need high-cost populations.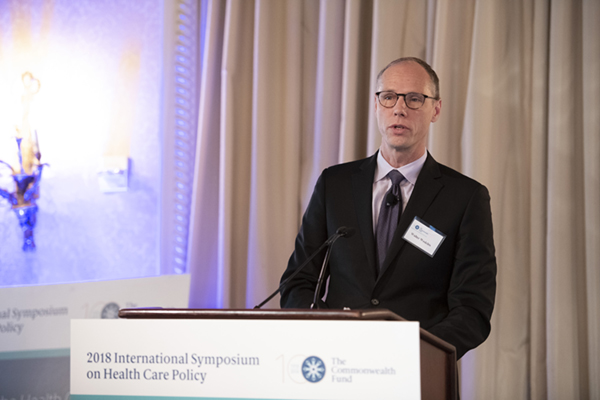 The Commonwealth Fund's International Symposium, "Transforming the Health Care System for Patients with Complex Health and Social Care Needs," provided an opportunity for high level policy discussion and dialogue around what these countries could learn from each other about creating high performing health care systems for patients with complex health and social care needs.
Anderson, Bhattacharyya and Wodchis presented the results of a survey done in collaboration with IHPME faculty member James Shaw, on the design features and policy context for 30 innovative programs from the eleven countries attending the Symposium.  Following that, innovators from each country talked in detail about programs that they had created. Sinha spoke at a session on care for frail older adults about his work on the Acute Care for Elders (ACE) model, which he developed and implemented at Mount Sinai Hospital in Toronto, and which is currently being scaled up in different sites across Canada.
"IHPME is a world leader in research on integrated health and social care for high-need high-cost patients and it was terrific to have the opportunity to speak at such an important international meeting about our research, and to highlight the innovations that our faculty lead," said Anderson.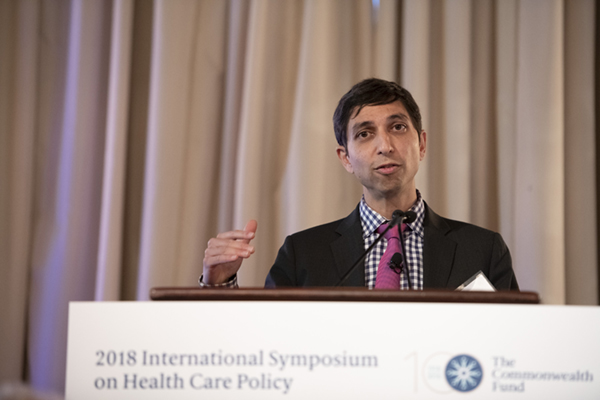 The IHPME team is continuing to work with the Commonwealth Fund on a digital dashboard that will be used to share insights from their work and that of researchers in the eleven countries on a series of publications and grant proposals.
The Commonwealth Fund established in 1918, is a private foundation based in New York with a mission to promote high performing health care systems that achieve better access, improved quality, and greater efficiency, particularly for society's most vulnerable. The Fund's international program in health policy funds Harkness Fellows in the eleven participating countries, and their annual International Symposium attracts high-ranking government officials as well as leading researchers from around the world.

Sign up for IHPME Connect.
Keep up to date with IHPME's News & Research, Events & Program, Recognition, e-newsletter.
Get in Contact
---
Communications
TBD
Email Address: ihpme.communications@​utoronto.ca
Manages all IHPME-wide communications and marketing initiatives, including events and announcements.