Digital health initiatives are a growing field within our health care system and for Master of Health Informatics student Kevin Leung, practicum opportunities that inspire research in this area and help develop his skills as an emerging health professional, are key to fostering innovation.
Leung and IHPME faculty member Gillian Strudwick along with PhD student Lydia Sequeira, recently presented at Harvard Medical School's Technology in Psychiatry Summit, and since then, Leung has also successfully been awarded a CIHR grant that will allow him to travel to Victoria B.C. in 2019 for the Information Technology & Communications in Health (ITCH) conference.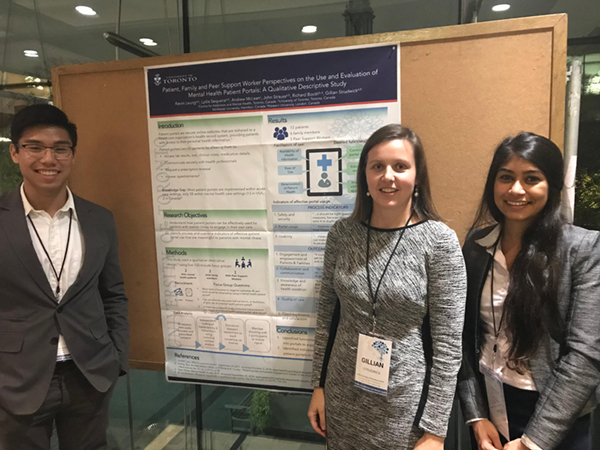 For his research, Leung has been examining the access and barriers to patient portals specifically within a mental health care setting. Patient portals are a technology system that allow patients and family members access to their own medical notes and health records including diagnostics and lab results. As part of their research, Strudwick and Leung have also been examining methods of engaging patients more broadly for both digital and health informatics projects.
"By providing this access the anticipated outcome is that patients and their family members will be more educated and empowered in their own health and health care," said Leung.
While patient portals are usually available in acute care hospitals, the adoption of this technology has been less prevalent within the mental healthcare setting. As part of the project, Leung and the team put together patient and family advisory committees, who were able to weigh in on aspects of the study, such as the type of language and visuals used in the materials, signifying that their input was crucial.
Following the project, Leung found that there were mixed perspectives on the use of patient portals that highlighted the risks of using this kind of technology in mental health care. One included the potential of eliciting a negative response from patients or family members when they viewed their medical notes on their own.
While conducting their research Leung also found that a fair amount of patient reluctance was directly related to privacy and access concerns as well as barriers to technology usage. Not all patients have easy access to computers or smart phones, and confidentiality about who has access to their medical notes, and obtaining consent, were all additional important factors.
"With the continued integration of disruptive technologies in health care, proper and meaningful use of patient and health information will be a concern and challenge going forward," said Leung.
He also points to the risks embedded in the development and implementation of technology including properly engaging the end user, the patient.  Yet Leung still sees the tremendous potential that these types of technologies have to transform care, and with patient portal specifically, the opportunity to enhance communication between providers.
"Working on this practicum has allowed me to develop skills as an emerging professional in health informatics. It took me away from being in front of a computer, and gave me the opportunity to talk to people about their experiences navigating the health care system," said Leung.

Sign up for IHPME Connect.
Keep up to date with IHPME's News & Research, Events & Program, Recognition, e-newsletter.
Get in Contact
---
Communications
TBD
Email Address: ihpme.communications@​utoronto.ca
Manages all IHPME-wide communications and marketing initiatives, including events and announcements.