On January 17, IHPME students Nida Shahid and Tim Rappon were celebrated among the winners of U of T Libraries inaugural Graduate Student Exhibit competition, Showcase Your Work for their creative display and use of the University's library resources in their literature review on artificial neural networks (ANN) in health care settings.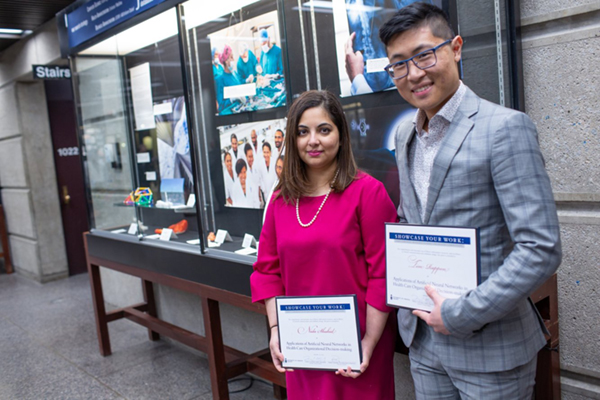 "With the exhibit, we wanted to emphasize the applicability of using ANN's in making decisions across all levels of the health care system from clinical decision making right down to the organizational level," said Shahid, a PhD student in the health services research program and lead author of the review.
"We spent a lot of time working with IHPME's faculty librarian, Vincci Lui, because we didn't just want to capture health care databases in our research, we were seeking a truly interdisciplinary approach looking at data from computer sciences, engineering, and business administration literature as well," added Rappon who is also a PhD student in the health services research program.
Both students were encouraged to pitch their work to the showcase by IHPME Professor Whitney Berta. Under her guidance, the pair considered this an opportunity to de-mystify something as complex as ANN's and turn their research into a means of highlighting the importance and relevance of U of T library resources for graduate work.
Creating the display for the exhibit also provided a fantastic opportunity for Shahid and Rappon to exercise their artistic skill set and help them share their research with the wider university community. At the MADLab Gerstein Library, Shahid trained to print 3D models of the Toronto skyline and a hospital building, while Rappon built an abstract model of a "neural network," using simple building blocks. They also relied on the support of colleagues and friends, like biomedical engineering MD/PhD student Amy Khan, to provide them with some interesting visuals.
"Amy helped us put this exhibit together by donating 3D models of human organs that surgeons use to practice on," said Rappon. "Also called phantoms, these models helped to illustrate how our review encompassed the application of neural networks within aspects of cardiology, while the other displays aimed to provide a sense of the big picture application at the city and population levels."
It was Shahid's decision to focus on ANN's after she became interested in artificial neural networks a few years ago largely because of their ability to examine complex relationships and recognize patterns. With a background in Psychology, Shahid was naturally attracted to the idea of technological solutions that are inspired by the biological function of the brain. ANN's, a form of AI, mimic the way a human brain is set to function including its ability to learn.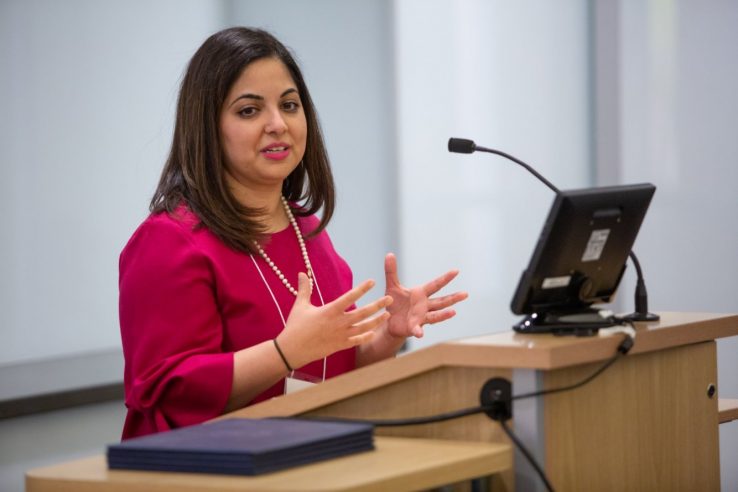 Many neural networks use something called supervised data sets in which manually input data trains the network to recognize the difference for example, in images such as x-rays that show pneumonia and x-rays that are normal. The more often the network is told when it has correctly identified a diagnosis for pneumonia, the more likely it will come to that conclusion accurately again following a similar pathway. At the same time, the network also learns from its mistakes, marking paths to be removed or blocked when it makes an incorrect call.
"Our review describes how vast and versatile applications of neural networks really are, the challenges that can arise, and what we as decision-makers in the health care system can do about it," said Shahid.
"Another reason we decided to focus on ANN's compared to other techniques in the realm of AI is that they are very commonly used for medical applications. We wanted to compare these different types of networks and see what their level of accuracy was and how they were trained," said Rappon.
Having leveraged much of the resources and advice available to them from U of T Libraries, including the online chat tool AskMe when sourcing last-minute article requests, Shahid and Rappon are very pleased with the outcome of their research, and this opportunity to have it on display for the (university) world to see.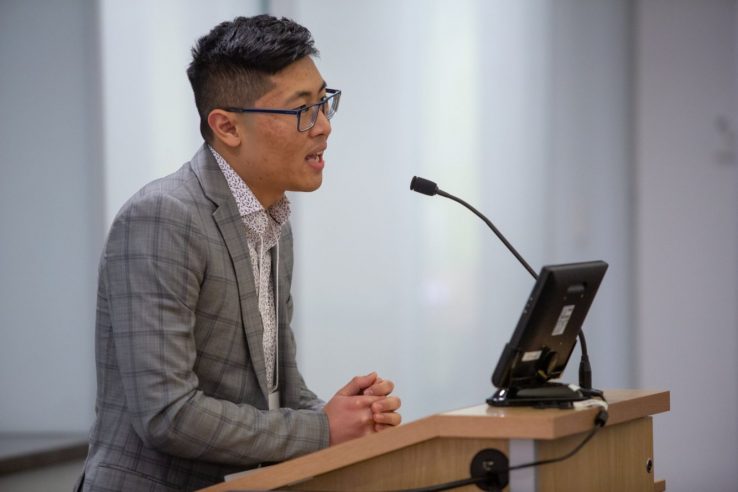 "Thousands of students walk through Robarts library on any given day, it is wonderful to think that may be they will learn something from our display or develop an interest in the field," said Rappon. "We are also both really good friends, so it was a privilege to work together on this and I'm so happy we had this chance."
For Shahid, the exhibit acknowledges the countless hours that many graduate students put into their work, but also their ingenuity. "We have the opportunity to connect and collaborate with an audience with different backgrounds, and different levels of expertise," said Shahid. "This has reinforced the notion of knowledge translation for me – we need to think of ways to make our research practical and effective for others to benefit from."
The Show Your Work exhibit is on display on the first floor of Robarts Library until the end of February.

Sign up for IHPME Connect.
Keep up to date with IHPME's News & Research, Events & Program, Recognition, e-newsletter.
Get in Contact
---
Communications
TBD
Email Address: ihpme.communications@​utoronto.ca
Manages all IHPME-wide communications and marketing initiatives, including events and announcements.