The Institute of Health Policy, Management and Evaluation community joins the family of Harry Perlstein in mourning his recent passing at the age of 100.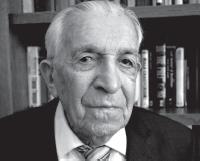 Harry Perlstein was a staunch supporter of improving patient safety and reducing adverse events in geriatric care and in long-term or post-acute care hospitals across Ontario. Following the death of his beloved wife Rose due to a preventable adverse event, Perlstein made a generous donation to the Institute of Health Policy, Management and Evaluation to support students who were studying how to reduce the likelihood of such events within the health care system.
In 2012, the Harry and Rose Perlstein Award was created, also named in honour of his wife, and is given each year to a graduating student from the Quality Improvement and Patient Safety Master's program (MSc QIPS).
"His generosity has supported our efforts to provide patient safety and quality improvement education to a new generation of clinicians and leaders in the system," said Ross Baker, professor at IHPME and the program lead for the MSc QIPS.
Recent winners of the Harry and Rose Perlstein award are recognized for their outstanding work on a project or study they have completed that seeks to improve patient safety and quality of care. These include individuals like Dr. Shaan Chugh, whose project sought to shift the way physicians think about enhanced care for the elderly population leading to a reduction in orders for urine culture tests and unnecessary antibiotic treatment, and registered nurse Rene Turner, who focused on creating a pain assessment strategy for dementia patients to reduce stress and negative behaviours.
Born in Poland, Perlstein survived two years in a Nazi detention camp before successfully escaping, hiding in forests and on farms across the Ukrainian countryside with fellow Jewish and Russian partisans. The generosity he encountered from others during this time, including from those who helped mend his wounded arm, gave him places to sleep, and supplied him with a job, helped to inspire his philanthropic spirit later in life.
"Mr. Perlstein's donation continues to play a powerful role in helping our students change health for the better," said Interim Director Rhonda Cockerill, "recognizing the impact of their research and projects is just one of the ways we can move towards improving health care."

Sign up for IHPME Connect.
Keep up to date with IHPME's News & Research, Events & Program, Recognition, e-newsletter.
Get in Contact
---
Communications
TBD
Email Address: ihpme.communications@​utoronto.ca
Manages all IHPME-wide communications and marketing initiatives, including events and announcements.