The trend towards consumer driven health, whether it be mobile apps, wearable devices, or easy access to electronic health records, is changing the landscape of our health care system and the way we think about care.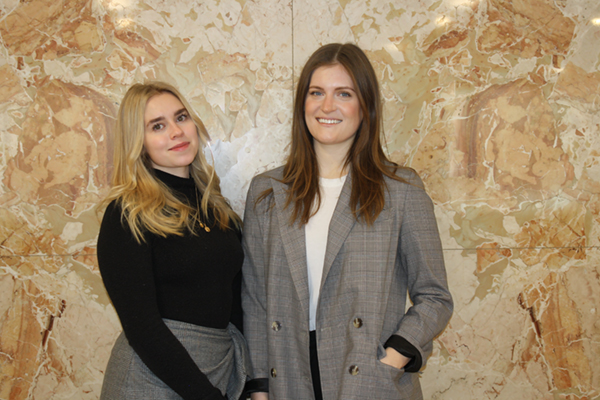 "Even though many of us feel young and healthy now, we are all going to be consumers in this health system eventually, if we aren't already. What this consumerism looks like is changing, and it is important to understand how the health system will need change to accommodate these shifts among patients," said Lauren Tessier, a third year PhD student and co-chair of IHPME Research Day 2019. Tessier's own research, while not technology focused, is exploring an under researched area in health care looking at the relationship between multiple chronic conditions in the older adult population and subsequent risk of incident dementia in Ontario. Co-chair Jill Furzer, who is also a PhD student, is working on a dissertation examining diagnostic decision making and misdiagnoses particularly in relation to child mental health. Both co-chairs believe that the theme for this year's annual student-led conference,
The
Consumer Driven System: The Future of Healthcare
, will reach students across all disciplines at the Institute. Those interested in pursuing academic careers might even be inspired to consider the importance of consumer driven systems in their future research. "While at first glance, the topic this year seems very technology focused, there are a lot of meaty issues that will be explored, particularly through our expert panel, where we are bringing in perspectives from patients, health law, and ethics to examine the unintended consequences of this massive change," said Furzer. Keynote speaker Justin Barnes, a health innovation strategist and co-founder of Health Innovation Think Tank, will provide yet another integral perspective focused on the ways in which we can scale up and implement evidence-based changes in health care technology on a global scale. Having testified before Congress on more than twenty occasions delivering statements on virtual care, alternative payment methods, consumerism, connected health and the globalization of healthcare, Barnes will also provide some important thought leadership for students eager to learn more about transforming innovative concepts from ideas into actions.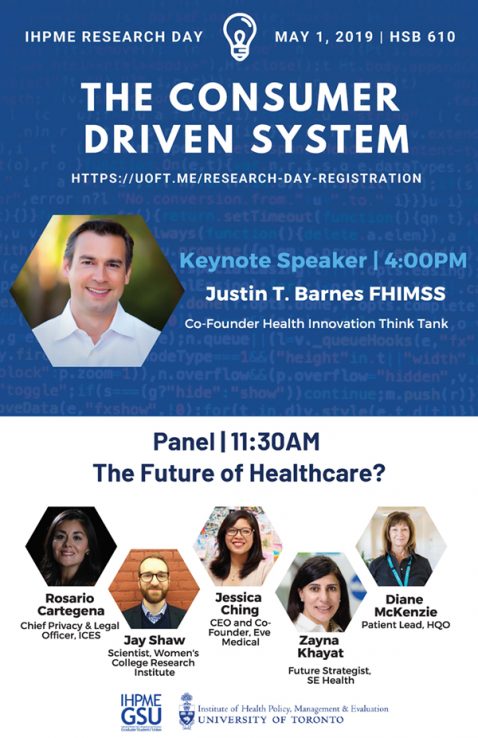 "There is a lot of great things happening at this year's IHPME Research Day and as co-chairs we have been dedicated to incorporating the feedback received from students into our programming," said Tessier. "This included searching for a more diverse expert panel, and a keynote speaker who could dive just a bit deeper into the topic of the day." Having both been involved in previous Research Day's at IHPME, as committee members and as presenters, Furzer and Tessier encourage all IHPME students to take the time to get involved, submit an abstract or just attend. "The supportive environment that Research Day provides in the form of feedback from faculty judges and your peers can really help to expand your research in ways that you don't anticipate," said Furzer. She and Tessier jointly presented at Research Day 2017 and won for best oral presentation in their group. It was their first time presenting on their paper on breast cancer screening and following their win, they went on to present at three more conferences. Their work is now about to be published in the Journal of National Cancer Institute (JNCI). "There is almost no loss in participating, whether it is via a poster or oral presentation. You could even use the opportunity to help move along your dissertation," said Tessier. "It's the perfect space to showcase your work and get feedback from experts in the field which, especially for people just starting out, is really valuable and good practice." Abstracts for IHPME Research Day can be submitted until April 8.

Sign up for IHPME Connect.
Keep up to date with IHPME's News & Research, Events & Program, Recognition, e-newsletter.
Get in Contact
---
Communications
Alisa Kim
Email Address: ihpme.communications@​utoronto.ca
Manages all IHPME-wide communications and marketing initiatives, including events and announcements