Medical student and MSc SLI student Lucshman Raveendran has been awarded a ten-week fellowship this summer through the American Urological Association, a fund that seeks to cultivate the interests of driven medical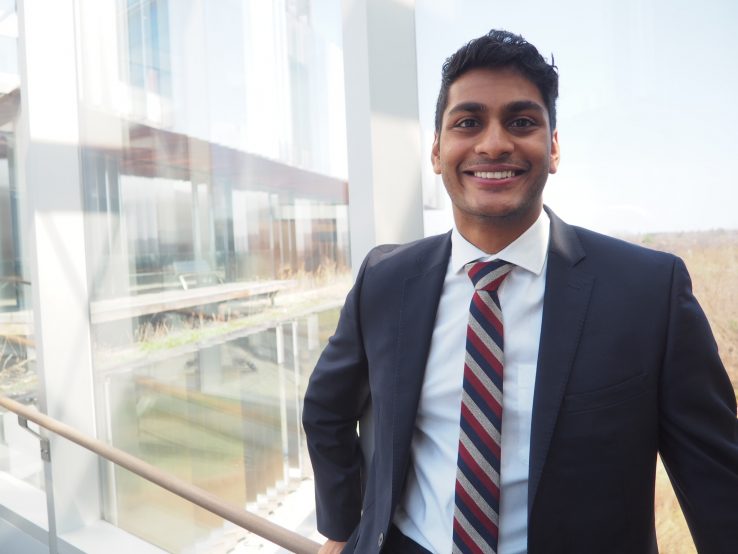 students in advancing urological research.
Raveendran is currently working in the area of pediatric urology at Sick Kids Hospital.
"My mentor Dr. Martin Koyle, Chief of Pediatric Urology at SickKids and professor at IHPME and the Department of Surgery at the University of Toronto, has been instrumental in helping me draw connections between the concepts of value based healthcare and cost-analysis. These are concepts we are learning in the SLI program and the field of quality improvement research in urology," said Raveendran. "Developing a framework for tackling these system issues is important, because when I think about some of the biggest issues in healthcare they are far more often about getting the right patient the right care in the right place, for the right cost."
Raveendran believes that effective, patient centered care and institutional efficiency can be improved concomitantly, without one compromising the other.
Through his research, Raveendran has been analyzing the management pathways for VUR or Vesicoureteral Reflux, a common disorder involving the retrograde flow of urine from the bladder back into the upper urinary tract that occurs in 1% of children. Despite its frequency, Raveendran has found this disorder to be unique because of the many different management options for the healthcare team in the unit to consider.
"Depending on the type of VUR and patient characteristics, surgeons could choose to just observe and see if the condition resolves spontaneously, prescribe prophylactic antibiotics and do the same, or consider several surgical options to correct the retrograde flow," said Raveendran. "We felt that adding the institutional cost of each management option as a data point may help with clinical-decision-making."
Part of Raveendran's process will involve creating an algorithm to identify the type of patients with VUR and their characteristics as well as the various steps involved in choosing the appropriate management pathway and subsequent costs for each option. While the project won't necessarily be completed in the ten weeks of the summer fellowship from the AUA, it will definitely build momentum for Raveendran to further his research with an end goal of providing recommendations based off of his findings to SickKids.
"Pediatric urology is very unique in that it provides a micro-environment to apply a value based health care lens with a small subset of patients and their conditions. Sick Kids is one of the few places that provides care in this field. The environment they create for students and researchers is very welcoming and supportive which helps to build on new initiatives," said Raveendran.
When speaking about his interest in medicine more broadly, Raveendran has found that his current draw towards the field of urology has been inspired by the procedures and tools involved which he finds fascinating, the professionals in the specialty who generate a terrific culture, and the patient population who are diverse and great to work with.
With the AUA's recognition of his project, especially given the highly competitive nature of the award, Raveendran also sees this as a great success for the SLI program as a whole and the concepts it continues to teach to physicians and surgeons in training, not only about leadership, but about quality improvement, change management and value-based healthcare.
"It's exciting that my research has drawn the interest of the AUA, and indicates that the MSc SLI is doing something right," said Raveendran. "As a young person just emerging onto my career path, this is more than encouraging."

Sign up for IHPME Connect.
Keep up to date with IHPME's News & Research, Events & Program, Recognition, e-newsletter.
Get in Contact
---
Communications
TBD
Email Address: ihpme.communications@​utoronto.ca
Manages all IHPME-wide communications and marketing initiatives, including events and announcements.