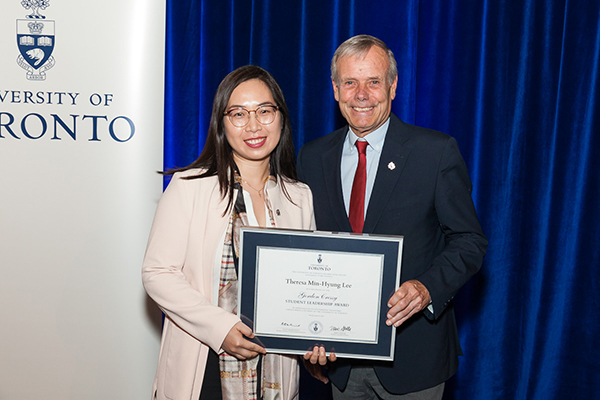 On April 22, IHPME's Theresa Lee joined over 200 winners of the Gordon Cressy Student Leadership Award at a special ceremony in their honour, also attended by Gordon Cressy himself.
The awards, first established by the U of T Alumni Association and Division of University Advancement in 1994 recognize outstanding extracurricular contributions to a faculty, school or the University as a whole, and for Lee, this has been exemplified in her role as the president of the IHPME Graduate Students' Union for two years.
"Throughout my time as president, I tried to help other students fulfill their role as leaders too," said Lee who is a PhD student in the Health Systems Research program. "Students at IHPME put a lot of time and energy into making themselves and the Institute better, any time someone had an idea, I tried to help them spearhead that initiative."
One such initiative was the peer support program, originally created to support health services research students and encourage them to meet up, talk about their research, and any issues they were experiencing.
"It can be very isolating to work on your research project where you might spend a lot of time alone or feel the ups and downs as your motivation wanes," said Lee, "mental health concerns are a big problem among graduate students, and to be able to have peer support from other students who have gone through similar struggles, and understand the pressures of being a graduate student is invaluable."
The peer support program has since expanded with its new administrative and financial support from the Institute, illustrating the lasting impact of Lee's leadership. In addition to this work, her tenure as president also included a desire to reach across the many diverse streams of academic and professional degrees here at the Institute, something Lee was well-equipped to handle.
Originally having graduated from the Master of Health Informatics program, Lee wanted to have her interest in eHealth and health informatics evolve to include a focus on population health and primary care. She decided to pursue a PhD in the Health Systems Research program, which in turn gave her a greater understanding of the challenges and experiences that exist for research and professional degree students.
"It made it a lot easier for me see how we needed to be more inclusive at the student level, whether that was through events like our Lunch & Learns, socials,, or by getting more representation on the IHPME-Graduate Students' Union from across the programs," said Lee.
By ensuring that these kinds of opportunities were available to students to further their leadership building, Lee has helped to create a platform for IHPME students to enhance their experience.
"I would encourage anyone to participate in the IHPME-Graduate Students' Union, you are given a very invaluable skill set that can be applied now during your time as a student, but also in your future research or career," said Lee.

Sign up for IHPME Connect.
Keep up to date with IHPME's News & Research, Events & Program, Recognition, e-newsletter.
Get in Contact
---
Communications
TBD
Email Address: ihpme.communications@​utoronto.ca
Manages all IHPME-wide communications and marketing initiatives, including events and announcements.