By Rebecca Biason
Two years ago, Khaled Almilaji a Syrian physician and humanitarian, was caught the throes of a U.S. travel ban, unable to return to his studies in public health at Brown University or to his pregnant wife Jehan still residing in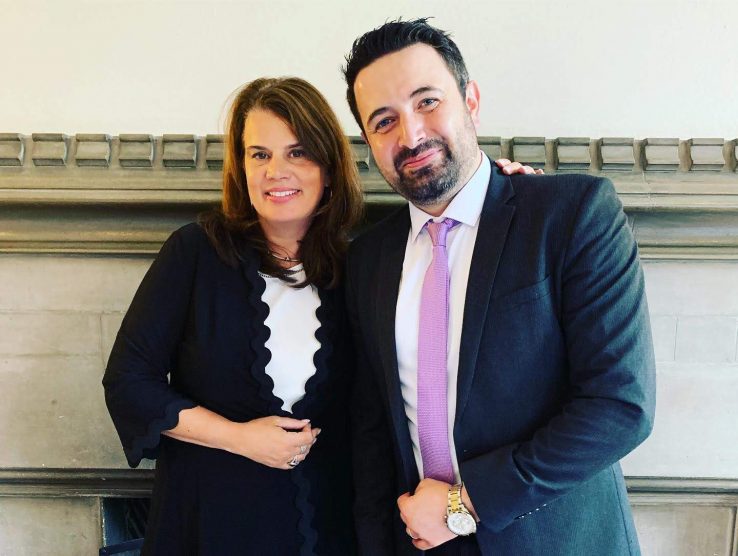 the United States. With the help of external donors Almilaji was able to come to Canada and was accepted into the Executive Master of Health Informatics (EMHI) at the Institute of Health Policy Management and Evaluation (IHPME).  This June he graduated with an international health informatics project under his belt, and a second project well underway.
"I feel so lucky and happy, almost like it was meant to happen," said Almilaji over the phone from his Toronto home. "I was able to change my focus from general public health, into a focus on health informatics, which has helped me create a meaningful and helpful system for the health system in Syria."
In 2014, Almilaji along with colleagues Dr. Dahman and Mr. Cameron, founded the Canadian International Medical Relief Organization (CIMRO), an organization that provided medical supplies and training to health care workers on the front lines of Syria's conflict zone. While Almilaji and his colleagues have already received the Governor General's Meritorious Service Medal for their outstanding efforts, Almilaji wanted to continue his work in Syria while completing his degree.
As part of the EMHI program, students are required to complete a capstone project that consists of over 400 hours of work and is supervised by an IHPME faculty member. Almilaji's project spanned international borders with a goal of implementing an online health information system for hospitals in Syria's war zone.
"I wanted to customize a cloud system tool for a Syrian context and bring together stakeholders from the crisis in Syria who are working to deliver health care services, for their input and approval, as well as to show them that a solution was possible," said Almilaji.
With the collapsed health care system in Syria's northern region, many health care services are now being provided by non-governmental organizations (NGO)'s.  Almilaji wanted his tool to be able to empower these care providers by allowing them to coordinate better service with a central hub for patient information.
The cloud tool that Almilaji has customized allows patient data to be uploaded into a shared online system easily accessible by NGO's across the region. In this way patient records and important health data is protected, particularly when either the NGO's or patient's themselves, are required to relocate quickly or come under fire during attacks.
"The tool is also intended to help care providers extract data quickly, which is often needed in crisis situations and war zones," said Almilaji.
To move the project forward, Almilaji received funding from the World Health Organization which has allowed him to implement the project as a pilot in 18 different hospitals across the region, while also providing training for staff to use the tool.
"Khaled's project embodies the value of health informatics within international health systems, and particularly within humanitarian contexts," says Julia Zarb, EMHI program director and Almilaji's project supervisor. "Because of Khaled's deep knowledge of the barriers and opportunities related to managing patient data within the conflict-challenged Syrian health system, he has been able to maximize the usefulness of his digital intervention while requiring the least change necessary for effectiveness."
In addition to his program project, using the basis of his first online information system, Almilaji has set his sights on building a second module that will track immunization data in Syria, a project close to his heart. In 2013, during a polio outbreak that spread across Syria, Almilaji, along with his colleagues at CIMRO, led a successful vaccination program to inoculate over 1.4 million children.
Now, instead of scattered paper sheets or simple excel files, the new system will help cover more children, ensuring better vaccination rates.
"So far this second project has been a success. We want to improve access to vaccines for children in the area, and an online system will help us collect data from multiple organizations and for multiple infectious diseases," said Alimilaji.
While continuing to work on this project, Alimalji and his family have now made Toronto their home. Eager to gain some hands on experience in health care institutions within Ontario, Almilaji is also keen to put his cherished experience in the program and his knowledge in health informatics to work.
"I have gained such a tremendous amount of knowledge from the EMHI program and my peers," said Almilaji. "I wish all of my cohort the very best, we have done an amazing job in our efforts to improve health care."

Sign up for IHPME Connect.
Keep up to date with IHPME's News & Research, Events & Program, Recognition, e-newsletter.
Get in Contact
---
Communications
TBD
Email Address: ihpme.communications@​utoronto.ca
Manages all IHPME-wide communications and marketing initiatives, including events and announcements.