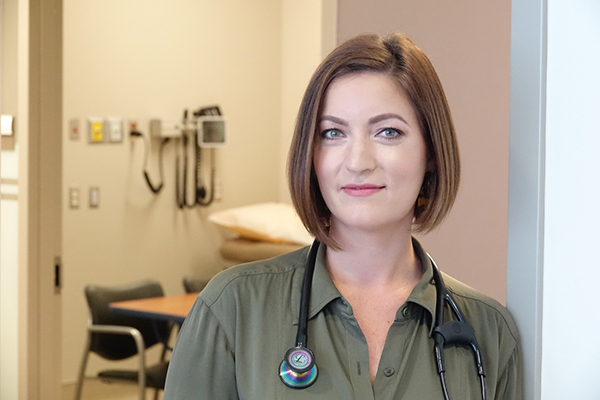 As a family doctor, scholar, author and health system and policy advocate, Danielle Martin has made a significant impact in shaping health system change both here at home and internationally. It is why the Institute of Health Policy, Management and Evaluation is proud to name her as the 2019 recipient of the Peggy Leatt Knowledge and Impact award.
Given out annually and named in honour of former Director of the Institute Peggy Leatt, the award acknowledges those who efforts have created a key platform of evidence that has shaped health system change.
Martin's work has including co-founding the Women's College Hospital Institute for Health Systems Solutions and Virtual Care, her impactful work with Canadian Doctors for Medicare, and extensive publication on health system issues. Her book Better Now: Six Big Ideas to Improve Health Care for All Canadians, is a national best seller.
IHPME's communications lead Rebecca Biason spoke with Martin about her views on Canadian Medicare as well as experiences that have shaped her career so far, and her thoughts on some aspects for the future of Canadian health care.
You have been passionate about advocating for Canada's universal Medicare system, why is it so important to you?
To me it is important that any health system is built on a strong foundation of values. Here in Canada one of those values is that access to care should be based on need, not ability to pay. However, that does not make me an apologist for the many faults in our systems. As a clinician, one of the things that has kept me honest is that I have to navigate those faults, just as all patients and clinicians do. That is why we all work hard to constantly improve the system with concrete initiatives.
Are some of those initiatives part of your work with the Women's College Hospital Institute for Health Systems Solutions and Virtual Care (WIHV)?
I have to give credit for WIHV to Dr. Sacha Bhatia who is the Director, but the Institute is something I believe in very strongly and I feel I have played an important role as the executive sponsor of this amazing group. One of the things we are trying to do at WIHV is test out new models of care that can reduce wait times, reduce emergency department visits, and keep people out of hospital.
Everyone is aware that virtualization has occurred in many sectors from the economy in ways that make life more convenient, but in health care, but we need to hold ourselves to a higher standard, and that is by evaluating which innovations actually improve health. No matter how cool or neat an app or device is, or even how much it might increase convenience of access for a single person with a single disease, we must ask whether that translates into something valuable for the people in our communities who need care the most.
Because of the mission of Women's College Hospital, we are interested in working at this intersection where technology performs in service of equity rather than inadvertently exacerbating health gaps.
What are some other areas of health services research and the Canadian health system you feel require more attention?
I think that we have had a real focus on access to care in Canada, such as research on reducing wait times and improving access to care in rural communities. But we've also seen the emergence of a focus on appropriate use of health care services and reducing low value care and harmful care, especially through the Choosing Wisely Campaign.
I am interested in understanding whether or how we can have both of these conversations at once.  Is it a tradeoff, such that if we manage to reduce inappropriate care that actually leads to freeing up resources for vulnerable groups? Or do we inadvertently redirect those resources to use in other forms of low value care?
I'm very interested in seeing how, over the next 5-10 years, these two conversations converge with each other as we learn how equity and access are inter-related with concepts of low-value and high-value care.
You've had an amazing career so far both as a physician and scholar, and as an author and teacher, what have been some of the highlights for you so far?
The best decision I ever made was to become a family doctor. I feel incredibly lucky to be able to maintain ongoing relationships with my patients and accompany them through moments of vulnerability as well as moments of joy in their own lives.
Because I have a system-oriented approach to my work, I am also able to actively try and find ways to improve care for them, and to stretch myself. Early in my career this was focused on my work with Canadian Doctors for Medicare. In recent years it has been as a senior leader at Women's College Hospital and through my work with other not-for-profit organizations and special projects with governments, such as the external review I conducted along with PG Forest last year of the federally-funded health organizations.
Another highlight for me was my 2017 book tour, in that it allowed me to learn more about and engage with people who are not health policy wonks like myself, but Canadians from all kinds of sectors and walks of life.
The book was an attempt to engage these individuals and communities in health system reform as citizens, rather than solely as patients. In academia, we can conduct research and important work relating to health policy reform, but unless it is coupled with demand from the public for the kind of change we to make, then we risk widening the gap between academia and the front lines of health care.
The Peggy Leatt Knowledge and Impact Award will be presented to Dr. Danielle Martin on September 5, 2019 at the University of Toronto Faculty Club where she will also give a key note presentation. This event is open to all, to register please visit: https://ihpme.utoronto.ca/events/peggy-leatt-knowledge-and-impact-award-2019/

Sign up for IHPME Connect.
Keep up to date with IHPME's News & Research, Events & Program, Recognition, e-newsletter.
Get in Contact
---
Communications
TBD
Email Address: ihpme.communications@​utoronto.ca
Manages all IHPME-wide communications and marketing initiatives, including events and announcements.