By Peter Coyte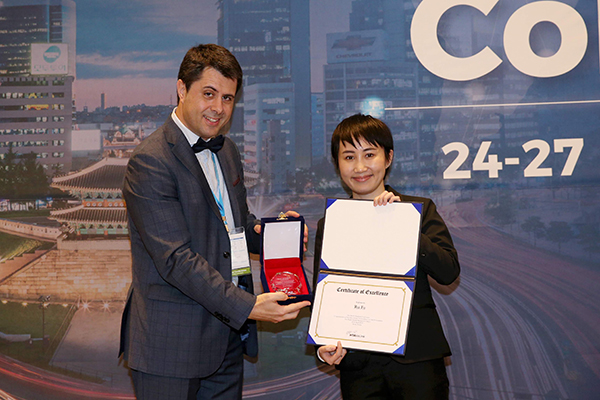 Ms. Rui (Ray) Fu, doctoral candidate under the supervision of Dr. Peter C. Coyte, at the Institute of Health Policy and Management (IHPME) was awarded the top prize for an oral presentation in the area of Health System Research at the 8th Annual HTAsiaLink conference in Seoul, Korea in April, 2019. Her talk, co-authored by IHPME Professors Audrey Laporte and Peter Coyte, examined the use of e-cigarettes among cigarette smoking Canadians who failed in their attempts to quit smoking.
The study found that the prevalence of e-cigarette use among young smokers was high but that their motivation for the use of such cigarettes appears to be unrelated to smoking cessation. The study highlights the importance of age restrictions on sales of e-cigarettes and regulations to limit advertising to younger Canadians. The strong association between e-cigarette use and the consumption of other tobacco products (and recreational drugs) warrants future joint efforts towards harm reduction. The findings will inform debate over proposed legislation and public health policies aimed at regulating access to and use of e-cigarettes.
E-cigarettes are battery-operated devices that heat a liquid to create an aerosol for inhalation. The liquid contains propylene glycol or/and glycerol, flavours, additives, and may also include nicotine.  It was invented by a Chinese pharmacist, Hon Lik, in the early 2000s, and since it first entered the North American marketplace in 2006 worldwide sales have proliferated.

Sign up for IHPME Connect.
Keep up to date with IHPME's News & Research, Events & Program, Recognition, e-newsletter.
Get in Contact
---
Communications
TBD
Email Address: ihpme.communications@​utoronto.ca
Manages all IHPME-wide communications and marketing initiatives, including events and announcements.