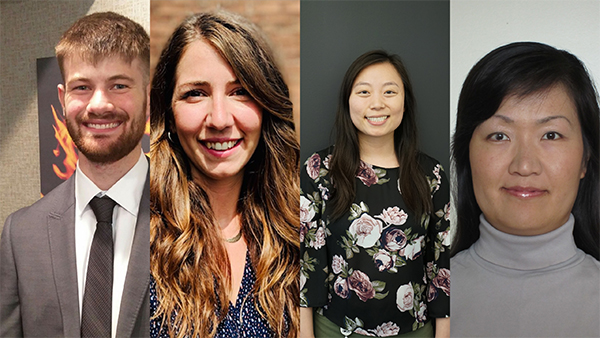 The inaugural recipients of the 2019-20 Vector Scholarships in AI have been announced, and four of these talented top students are also incoming students of the Institute of Health Policy, Management and Evaluation as part of the Master and Executive Master of Health Informatics programs (MHI and EMHI).
Michael De Wit, Rachelle Perron, An-Qi Shen and Jamie Wang were nominated by program director Julia Zarb for their vision and drive in their efforts to support AI development across Canada and within the health system.
"It has been a goal of our relationship with Vector, which recognizes our program as producing AI-ready graduates, to build a bridge for professional opportunities for our students," said Zarb. "These scholarships reflect the value of this connection, and the depth of talent we are bringing in to both the MHI and Executive MHI programs."
As an ER nurse, Michael De Wit has witnessed a gap emerging between the amount of data being collected from patients and how it is being translated into improving efficiency in the care that hospitals provide. Within the ER itself, De Wit cares for patients who have chronic conditions or comorbidities, which are often exacerbated by housing insecurity and poverty.
"I think to myself, what if we could deal with these issues ahead of time," said De Wit, "AI has the potential to analyze large community data sets, and see what groups are at risk of poor health outcomes. Using AI we could potentially target these groups with upstream interventions."
Having been nominated for and receiving this scholarship is something De Wit takes great pride in, and his excitement to join the MHI program and work in this emerging field is clear.
"AI is beginning to permeate all aspects of society and I think we need investment in these emerging technologies in order to manage the challenges that will also arise," he said.
Rachelle Perron is also a registered nurse though her experience has provided her with insight into the health inequities and geographical isolation of communities in Canada's North like the territory of the Yukon. Nurses are often the sole care providers in these more rural communities, and Perron could see that technology was not being optimally used to serve patients.
While working as a primary care nurse in Vancouver, Rachelle was inspired to create digital tools that improve care for marginalized and complex patients experiencing overlapping chronic conditions, substance use, mental health and social challenges. "Through my work, I've become very interested in quality improvement and system redesign including work flow and processes," said Perron, "When I have tried to query EMR data I've found that it isn't as easy as it seems, and as a provider getting useful information about the populations we serve is often difficult."
She wants to ensure the needs of both patients and providers are met when it comes to the development of systems and platforms.  "One of my goals is to help bring the voices of providers and patients into the development and implementation arena and empower them to take part in the design of technologies they will use," said Perron, "I want to be that bridge."
As a new student in the EMHI program Perron is looking to further her interest in data and health informatics from a public health lens, exploring how the analysis of large, cross-sectoral data sets can help us understand the determinants of health and predict patterns of risk, ultimately leading to more informed and effective services, public health interventions and policies.
"I want to see whether we can improve the interoperability of information and the system so that patients don't have to repeat their story over and over again at each provider or each institution they receive care from," said An-Qi Shen, a senior clinical quality specialist at Think Research, registered nurse, and an incoming student of the EMHI program.
Shen has been working with hospitals and other care facilities by helping them to adopt and implement technologies and data analytics that aid in quality improvement initiatives. Improving the way information is transferred is one way in which Shen believes that AI could be especially impactful on health care.
"We need a better way to help practitioners at the point of care make sense of all the data we have on patients, and to make sure that the information is accurate when it comes from other care providers or institutions," said Shen. "There is so much potential with AI to help us bridge that gap."
AI and machine learning have always seemed interesting to Jamie Wang, but since receiving the Vector Institute Scholarship, she is putting even more of her focus in this area and wants to conduct an AI related project as part of her program requirement for EMHI.
"I have a couple of ideas already, one is to look at ways to break down barriers to implementation faced by clinicians in their day to day work and another is to consider ways to leverage the ocean of data that is available from people using wearable devices that might be beneficial to the general public," said Wang.
As a project manager for a CIHR funded program hosted by the University of Toronto Practice-based Research Network (UTOPIAN), Wang already has a great deal of experience working on EMR and eHealth focused projects, including using EMR data to promote safe deprescription elderly patients living with polypharmacy in primary care.
"I've been out of school for quite a few years, but I'm excited to be a part of this program, and have this opportunity to learn and explore the potential to improve population health using AI, I'm really hoping I succeed."
The four IHPME winners will join their fellow scholars at a celebration in their honour this fall. For more information about the Vector Scholarships in Artificial Intelligence, and the AI-related Master's program visit: https://vectorinstitute.ai/aimasters/#scholarships

Sign up for IHPME Connect.
Keep up to date with IHPME's News & Research, Events & Program, Recognition, e-newsletter.
Get in Contact
---
Communications
TBD
Email Address: ihpme.communications@​utoronto.ca
Manages all IHPME-wide communications and marketing initiatives, including events and announcements.