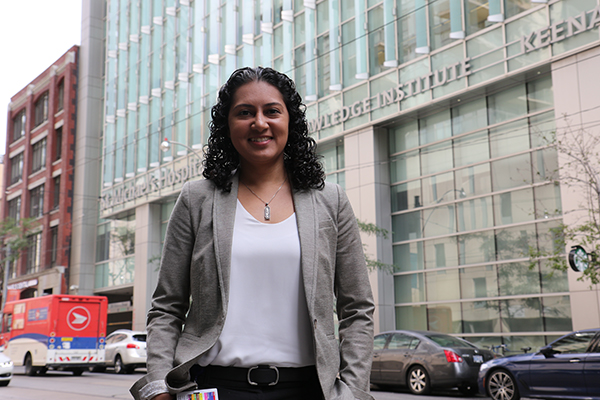 For much of her time at U of T's Institute of Health Policy, Management and Evaluation (IHPME), Fahima Dossa's research has sought to understand the health care decisions that women make, specifically those who undergo genetic testing for the BRCA1 and BRCA2 mutations, to determine their risk of breast and ovarian cancer.
Surprisingly, 10% of these women will have what is known as a variant of uncertain significance, an inconclusive result. It is this often-unstudied population that Dossa has been researching, to understand how decisions about their care, including whether to have their breasts and ovaries removed, or continue with annual high-risk screening (mammograms and MRIs) are influenced and how they utilize different resources in their care.
Her timely research has earned her the prestigious Royal Society of Canada Alice Wilson Award, named in honour of the first woman elected to the Royal Society in 1931 and given to three women researchers from across Canada. The award recognizes Dossa's outstanding academic achievement and her continued work as a postdoctoral researcher on issues facing women's healthcare.
"As a researcher who also studies issues of gender equity in medicine, I'm extremely pleased that the Royal Society of Canada makes an active effort to acknowledge the contributions of women to research in Canada, and I'm honoured to be among these trailblazing women," says Dossa. "Despite the progress that has been made over the last several decades, women in academia continue to face significant barriers to progress. And yet, looking at the list of past award winners is a reminder of the incredibly talented women who are doing ground-breaking work across Canada."
From the early stages of her doctoral studies at IHPME, Dossa has been making significant contributions of her own to this field in women's health. Joining other researchers, she helped compile data on one of the largest cohorts of women, over 16,000, who have undergone genetic testing for the BRCA1 and BRCA2 mutations as part of her ongoing research. But her most significant contribution has been her focus on the small group of women who receive inconclusive results. They are under researched, and as Dossa explains there will likely be more of them with the continued trend towards precision medicine.
"For the 10% of women who are found to have a genetic variant of uncertain significance, they have some form of mutation, but we don't know if that increases their risk of these cancers or not," explains Dossa. "With the increase in genetic panel testing, which includes testing multiple genes at once, the likelihood that we will see more individuals with these inconclusive results is high."
So how do these women make that life altering decision about how to manage their risk and undergo removal of their breasts and ovaries?
Current guidelines are in place to help women with positive results who have a higher risk of cancer, make decisions about how to move forward, but there is very little to assist women who receive inconclusive results. Part of the challenge is that physicians don't yet know whether women with variants of uncertain significance benefit from the cancer prevention strategies that are recommended for women with positive test results. For now, guidelines recommend individualized care.
"In our research we have found that what this kind of care looks like can vary from physician to physician, with some treating it like a positive result, and others a negative result," says Dossa. "This is why it is important and timely that we study the implications of these differences, and why I try to understand how women make decisions about their care."

Sign up for IHPME Connect.
Keep up to date with IHPME's News & Research, Events & Program, Recognition, e-newsletter.
Get in Contact
---
Communications
TBD
Email Address: ihpme.communications@​utoronto.ca
Manages all IHPME-wide communications and marketing initiatives, including events and announcements.