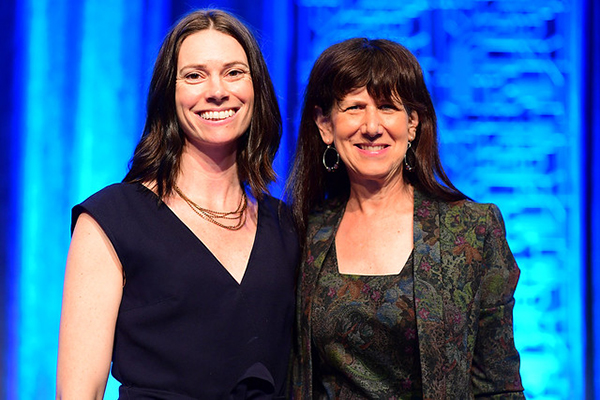 Each year a deserving graduate of IHPME's Master of Health Science in Health Administration (MHSc) program is selected as one of six Canadian students to receive the Robert Wood Johnson Award. Given to those who have made promising contributions to health services management and look to continue to do so, our 2019 winner Marnie Howe was the perfect fit.
As a physician, Howe has made it her goal to advocate for palliative care supports for patients at their most vulnerable. During her first rotations in family medicine residency, a focus on palliative care for patients was emphasized as part of the care provider's role, which inspired Howe to consider this line of work as part of her career.  She felt strongly the need to provide patients with the best care when they need it most, something that could be better achieved by caring for patients in their homes and community, where they want to stay.
Howe became the home care lead physician for the Temmy Latner Centre for Palliative Care based out of Sinai Health System. In the early stages of her role, she was involved in a pilot project with the TC-LHIN (at that time the Toronto Central CCAC), which formed integrated care teams in the community for palliative patients.
"Part of what really inspired me about this project was the collaborative care model it imbued and the way it demonstrated to me how care should be delivered to all patients," said Howe. "We worked closely with the Toronto Central LHIN and our team, with huddles each morning to discuss urgent patient issues, and figure out how we might expand this pilot to other LHINs, which we did end up achieving."
The Temmy Latner Centre provides care and services to patients who want to die or live at home and has recently progressed to include caring for some patients with chronic conditions such as heart or renal failure. With the centre's operating and overhead costs largely dependent on donations, Howe wanted to gain more knowledge around the concept of health care management, and the MHSc program at IHPME beckoned.
"I think that the program has helped me to see different perspectives, to understand health care through an economic lens," said Howe. "We would talk about cost-savings in class, and with the Centre, I could see how we were saving health care dollars by making sure patients aren't being admitted to hospital, but now I'm more appreciative of the complexities involved in managing funding for programs like these."
Howe acknowledges that the need for palliative care is being recognized across hospitals and the LHINs, but she still feels that there is a lack of awareness about what is needed in terms of funding to keep people at home longer. So, Howe is going to use her recognition through the Robert Wood Johnson award as additional motivation.
"I want to continue to use my voice and passion to improve the health care system, especially with respect to the transition of care and coordinated care in the community. It's something I will no doubt continue to do," said Howe. 'I'm also humbled to have won this award, my classmates were some unbelievably talented people, equally as passionate about improving healthcare, and I have learned so much from them."
While Howe will continue her clinical work in palliative care, she is now also the physician lead for special projects within Medical Affairs at Sinai Health Systems, thanks in part to her practicum placement during MHSc program. Her work will allow her to make changes on a broader scope and improve transitions for patients and their care when and where they need it.

Sign up for IHPME Connect.
Keep up to date with IHPME's News & Research, Events & Program, Recognition, e-newsletter.
Get in Contact
---
Communications
TBD
Email Address: ihpme.communications@​utoronto.ca
Manages all IHPME-wide communications and marketing initiatives, including events and announcements.