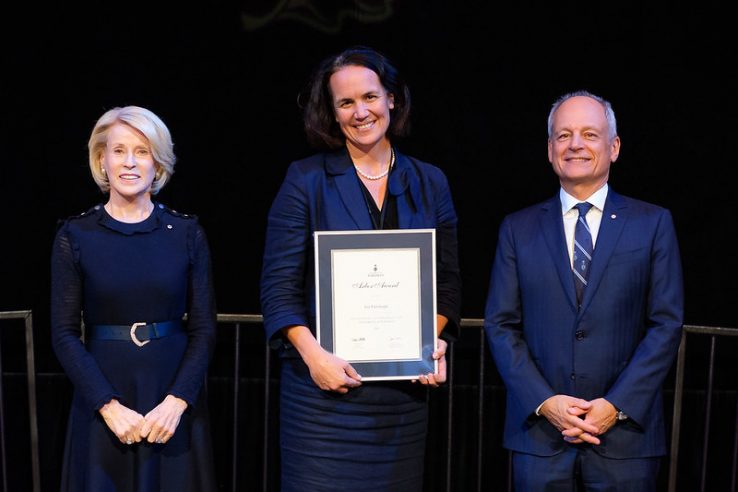 On October 10, University of Toronto President Meric Gertler presented over 100 volunteers with the U of T Arbor Award, a prize given to individuals who are exemplary in their dedication and service to the community. IHPME alumnus Lee Fairclough was among this year's recipients, illustrating that her years of work in service to the IHPME community has not gone unnoticed.
A graduate of the Master of Health Science in Health Administration program, Fairclough was the VP of Quality and Improvement at Health Quality Ontario and as of January 2020 will be joining St. Mary's General Hospital as President. Yet despite her demanding career, she has still found the time to volunteer and give back to the Institute.
"I think that the way I stay most involved is as a real champion of the all the programs offered at IHPME," said Fairclough. "This is a great place for people who have an interest in policy and leadership, and I hope that the Institute and the wider Dalla Lana School of Public Health know they can always count on alumni like me as an ambassador."
Fairclough has helped to direct prospective students to IHPME's professional and graduate degree programs including the MSc in Quality Improvement and Patient Safety, the Master of Health Informatics and Master of Health Science in Health Administration. She has also been an avid supporter of the academic work being done within IHPME programs, supporting grants, providing input on research, and helping to disseminate results.
From 2015-2018 Fairclough served as President of IHPME's long standing Alumni Association.  During this time, she helped to spearhead networking opportunities for alumni like the annual Moonshot event, now in its 6th year, and encouraged fellow alumni to give back through mentorship, something Fairclough says has continued to inspire her own commitment to remain active after graduation.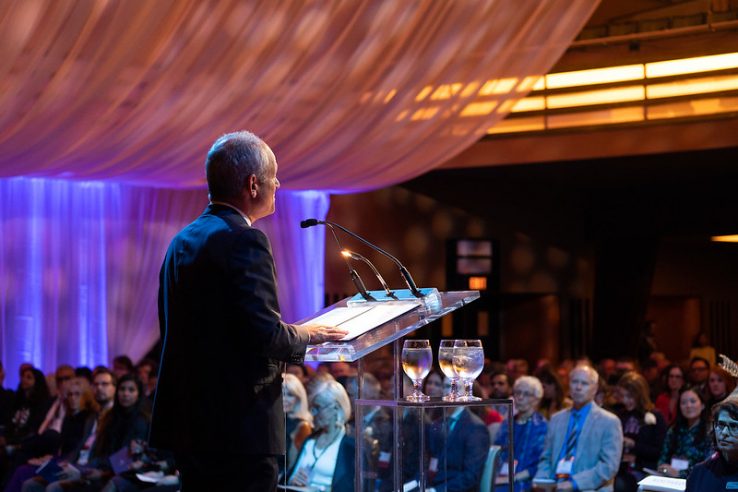 "Alumni are integrated into the courses and teaching within IHPME, and as a student you get a sense that it's important to maintain a sense of connection," said Fairclough, "you soon realize this foundational training and network is often what will help you most in your career."
Fairclough's ability to act as a mentor and preceptor for students in the MHSc program is something she considers a highlight of time as an active alumnus. During their work placements, students who have joined Fairclough at HQO have been offered enhanced support through one on one mentorship and conversations around leadership and their own career paths. She also enjoys learning a lot from them particularly at a time when they are immersed in their study of health systems and policy.
At the Arbor Award ceremony U of T President Meric Gertler thanked this year's recipients for having "chosen to give us your most precious non-renewable resource – your time." And this invaluable gift from alumni like Fairclough is what helps IHPME and its future students remain successful.
When asked what her message would be to future alumni, Fairclough had this to say.
"Stay involved. Stay connected. You'll see that some of the best foundations you've gotten for your career have come from this School and this Institute because alumni give of their time," said Fairclough. "Part of what makes IHPME great is this extensive network of graduates."

Sign up for IHPME Connect.
Keep up to date with IHPME's News & Research, Events & Program, Recognition, e-newsletter.
Get in Contact
---
Communications
TBD
Email Address: ihpme.communications@​utoronto.ca
Manages all IHPME-wide communications and marketing initiatives, including events and announcements.