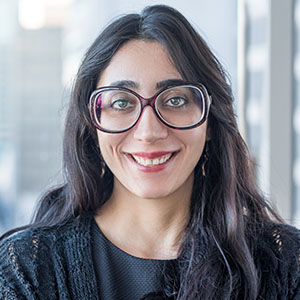 As a caregiver herself and staunch advocate for caregiver support across the health care system, IHPME PhD candidate Sara Shearkhani has been awarded the 2019 Canadian Frailty Network (CFN) Interdisciplinary Program Award, recognizing her work as a researcher seeking to improve care for older adults living with frailty.
"The Interdisciplinary Fellowship Program is an amazing opportunity to learn about frailty from different perspectives; it provides me with a unique opportunity of working with trainees and mentors from different disciplines from pharmacy to nursing to economics; it's a great opportunity to further develop my professional network. Additionally, with funding from this award and support from CFN,  my research can be seen more broadly with a greater chance at impact," said Shearkhani.
Shearkhani's dissertation under the supervision of Prof. Walter Wodchis, has centered on formal costs of informal caregiving. Shearkhani explains that costs attributed to caregiving are commonly classified as indirect costs, meaning that they are incurred or paid for by others outside of the healthcare system. Yet for her dissertation, Shearkhani aims to tell a different story.
"I'm looking at caregiving costs from an entirely different perspective, one that suggests caregiving could be costly to the healthcare system and that caregiving costs should be categorized as direct costs in economic and health services research," says Shearkhani who is also a trainee with the Health System Performance Research Network (HSPRN).
She cites the reason behind this direct cost could be directly tied to the decline of a caregiver's health over time, a condition correlating to the burden of caregiving, which could have two main consequences for the health system.
"The ailing caregiver could become a user or frequent user of the health care system," says Shearkhani, "and as a result they may also not be able to effectively provide care any longer, leading to the care recipient's institutionalization in a long-term care home or hospital."
She notes that these changes in the utilization of health care services would by definition be direct costs to the health care system and another reason that preventative approaches are required to ensure caregivers stay healthy.
"I believe it is important that we invest in interventions that target caregivers health or better said reallocate resources toward interventions and policies that target caregiver's health and wellness," said Shearkhani, "and I am hopeful that my work will help to bring that to fruition."

Sign up for IHPME Connect.
Keep up to date with IHPME's News & Research, Events & Program, Recognition, e-newsletter.
Get in Contact
---
Communications
TBD
Email Address: ihpme.communications@​utoronto.ca
Manages all IHPME-wide communications and marketing initiatives, including events and announcements.