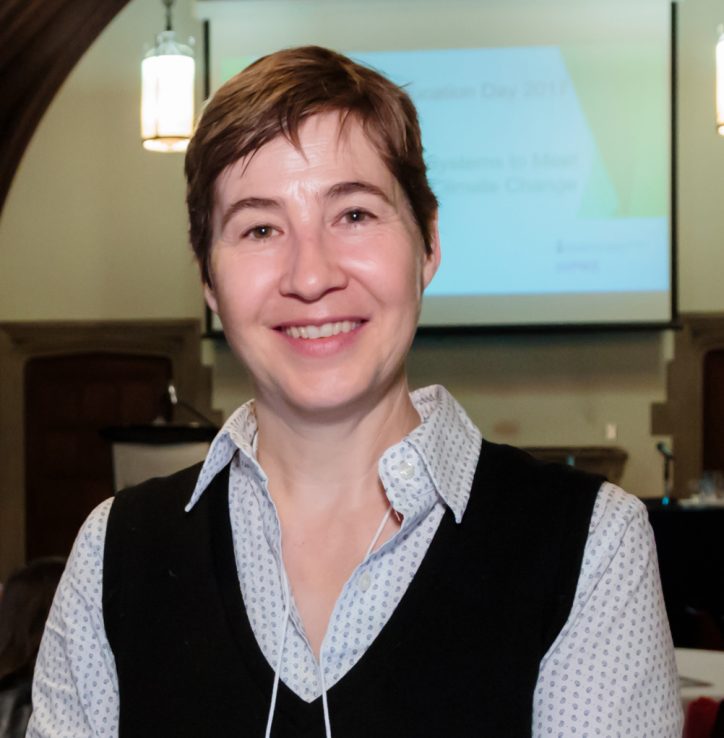 Climate change is happening, and it threatens our health. More than 5% of Canada's overall carbon footprint is generated by the health care system, and for Fiona Miller, a professor at the Institute of Health Policy, Management and Evaluation (IHPME), the irony of being part of the business of promoting health while producing harm has become the catalyst for the launch of the Centre for Sustainable Health Systems at U of T.
"Once you see sustainability as a dimension of quality it shifts thinking among health system professionals and encourages mobilization. I wanted to infuse that energy into what already exists here at IHPME, which is this constant drive to improve our health system," said Miller.
While the public health community has been active in advancing our understanding of the ecological determinants of health, and of ways to foster community adaptation and resilience, less has been done by our community to address the environmental impact of health care.
To explain further why sustainable health care is important, Miller spoke with IHPME communications lead Rebecca Biason and discussed how the Centre for Sustainable Health Systems aims to become a vehicle for change.
What is sustainable health care and why should the public consider it important in our fight against climate change?
At its most basic, sustainable health care is about supporting health through care today in ways that don't compromise our ability to support health through care in the future. That means delivering high quality care to the population and improving public health and health equity without exhausting natural resources or causing damage to our environment. Quite a lot of work has been done to reduce the environmental harms of health care but we need to do much more. As the climate crisis accelerates and the risks to our health and health systems grow, there is an increasing need for a decisive, visible and collective response by the health care community.
Part of what is needed is a systematic reduction in health care-associated greenhouse gas emissions. A recent report from US-based Healthcare Without Harm pointed out that, if the global health care sector were a country, it would be the fifth largest emitter of greenhouse gases on the planet. In addition, the health care community needs to adapt and ensure resilience in the face of growing climate risks, given shifting patterns of disease, climate related disturbances and threats to the medical supply chain.
Health systems need to engage communities in the climate change conversation. Universal health coverage is a bellwether of a healthy society; it represents our best selves. Embracing sustainability as part of our commitment to high quality, accessible and equitable care has the potential to both improve care and leverage this collective social project in support of a transition to sustainability.
What is the main goal of the Centre for Sustainable Health Systems?
As a Centre, our goal is to work in collaboration with a growing number of clinician leaders, healthcare managers and health researchers who are concerned about these issues, and through partnerships with organizations in the health sector, to encourage and support sustainable health system change, through education, research, and service-oriented action.
We have been inspired by The Centre for Sustainable Health Care in the UK, with their focus on sustainable quality improvement and sustainable clinical care. Their work reminds us that sustainable care is – fundamentally – about care. So, conversations about sustainability need to engage patients, clinicians, staff, managers and more. We at IHPME have a wealth of expertise to inform these conversations, and to leverage evidence to support change.
How does the Centre hope to change the status quo in health care and its impact on the environment?
Continuing education and professional development are key areas of focus as is applied research. If a primary care team approaches us looking for ways to improve the sustainability of their practice, we want to work with them on that but also gather data and help them to publish on how these changes are taking shape.
We have started with a series of webinars and educational opportunities including our recently successful Masterclass in Sustainable Healthcare, which brought together clinical and health system leaders from many different organizations.
Right now, we don't have a top ten list of things we can ask people to consider to address sustainable health care. We need more in the way of data, exemplars, and published research, so that we can motivate actionable change and scale it beyond local areas or one-page case studies.
As a university-based Centre with expertise in health and social care, I think we are well placed to support health sector partners in decarbonizing health care and making our systems more sustainable. Through education, research and partnerships, we can help cross a chasm between what we believe we need to do and what we know about how to get there.
To learn more about the Centre for Sustainable Health Systems, visit their website: https://www.sustainablehealthsystems.ca/

Sign up for IHPME Connect.
Keep up to date with IHPME's News & Research, Events & Program, Recognition, e-newsletter.
Get in Contact
---
Communications
TBD
Email Address: ihpme.communications@​utoronto.ca
Manages all IHPME-wide communications and marketing initiatives, including events and announcements.