The Institute of Health Policy, Management and Evaluation is pleased to announce that Professor Audrey Laporte has been appointed President-Elect by members of one of the world's largest and most prestigious health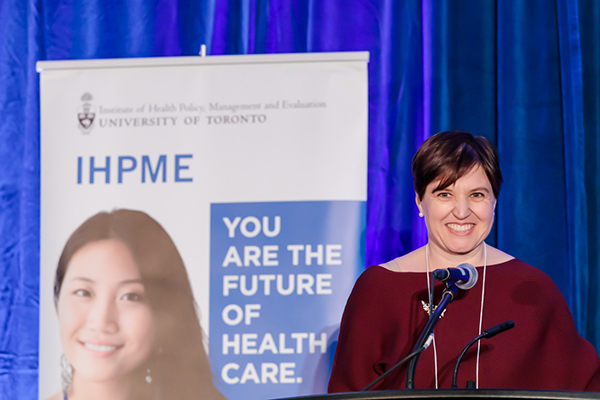 economics organizations, The International Health Economics Association (iHEA).
The iHEA, created in 1994, represents health economists worldwide, and has sought to increase communication among its members while fostering a higher standard of debate around the application of economics for health care systems globally. The organization is also well known for its prestigious Arrow Award, named after Nobel Prize winner Kenneth J. Arrow while its biennial conferences often feature Nobel Prize winners as keynote speakers.
Professor Laporte, who will assume the role from Dr. Winnie Yip of the Harvard T.H. Chan School of Public Health, is one of only a few female president-elect's to be chosen by her peers at the iHEA, and she is also, the first Canadian.
For Prof. Laporte, this signals that a Canadian perspective in health economics is a valued one among the international community, and it also signifies the stature of IHPME and the Dalla Lana School of Public Health among the ranks of other high-profile institutions, through this global recognition of its work in the field of economic analysis.
"To me it shows that insights from the Canadian policy environment are contributing to a broader international discussion and is a reflection of the high-quality analysis being done in a multi-disciplinary environment such as IHPME," said Laporte.
Prof. Laporte's own work has included research into the socio-economic determinants of health and demand for addictive commodities, as well as theoretical models of uncertainty in investments in health.
As the new President-Elect Laporte has a few goals in mind to enhance the association's global outreach, by increasing capacity and representation of members from low and middle-income countries, and by increasing awareness among policy makers of the importance of economic analysis and its impact on decision making in health systems.
"Economics is a technical field and often the value of its work for the policy environment is not as clear, but I am hoping to make it a part of the discussion that shows its importance in terms of impacting success," said Laporte.
As Director of the Canadian Centre for Health Economics and having worked to develop the graduate health services research emphasis in health economics here at IHPME, Prof. Laporte has also had the opportunity to work with colleagues and teach  students from a wide range of backgrounds about the ways in which formal economics can apply to their own research. Her experience in such a multidisciplinary environment has positioned her well to be a conduit for change and make a case for issues in health care that are common across many health systems world-wide, including equity, access and sustainability.

Sign up for IHPME Connect.
Keep up to date with IHPME's News & Research, Events & Program, Recognition, e-newsletter.
Get in Contact
---
Communications
TBD
Email Address: ihpme.communications@​utoronto.ca
Manages all IHPME-wide communications and marketing initiatives, including events and announcements.