By: Arlinda Ruco, President, IHPME Graduate Student Union I know that when I or any of my peers signed up to serve on the IHPME Graduate Student Union (GSU) for the 2019-2020 academic term, none of us would have imagined leading in a time of a global pandemic. My excitement and anticipation in leading the GSU were accompanied with ideas about what we could do collectively to continue to serve and engage students while fostering a sense of support and community. These thoughts constantly permeated my free time. However, what pervades my thoughts now is the response of our students and committee to these unprecedented times. It gives me a great deal of pride to reflect on the many accomplishments our team can boast about during this term. Before the academic year began, many of our executives were already hard at work planning a myriad of orientation activities and lunch and learns. A key priority of the executive this year was to formalize our commitment to health and wellness, a topic that is increasingly receiving a lot of attention across U of T and many other institutions. In this respect, the committee swiftly moved forward to create a new role on the GSU, the Health and Wellness Lead.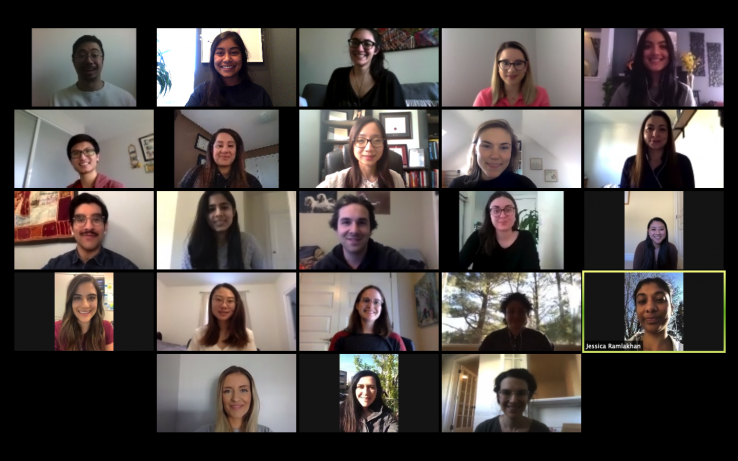 In hindsight, I couldn't have imagined how even more fitting this commitment would be given the current climate. Through this new role, the GSU was able to train 16 students to act as peer-to-peer contacts who in their capacity could support other students in navigating health and wellness resources within and outside the walls of the University. We also created concrete plans for the inaugural IHPME Mental Health Day. Although this initiative to build capacity has been postponed, many of our other initiatives have been adapted to fit this new virtual reality. The resilience of our committee and student population was not unexpected, but it is impressive. In collaboration with the IHPME Department and Administration, the GSU was able to contribute to academic continuity plans to ensure that the student perspective was taken into account. In addition, a COVID-19 student survey was launched where students could ask any questions they may have during this difficult time and could also request a virtual check-in. Committee meetings were quickly changed to teleconferences or Zoom calls, and virtual socials seemed to be intuitive. Holding virtual socials as a way to engage the student population proved to be a new and different way of connecting that the GSU had not utilized in the past. Leveraging platforms like Zoom, our committee was even able to have virtual icebreakers utilizing the screen sharing, drawing and marking functions of these platforms. I anticipate that a mixed-model of online and in-person engagement will continue to serve the GSU well and that these will become a staple in the offerings of the committee in the future. In a time like this, it becomes even more fitting to be able to provide recognition to student leaders for their service and commitment to improving the student experience. This year, with support from the IHPME Administration, we were able to launch the inaugural IHPME-GSU Outstanding Leadership Award to recognize two outstanding student leaders. Although it is easy to talk about the brilliant accomplishments our team had this year, the biggest lesson of being a student leader during the pandemic is that of community. With the change to online learning and engagement, everyone became a little more patient, empathetic, and compassionate.  Let's not lose sight of how strong our community is and how resilient we can be, for this will continue to remain our biggest strength.

Sign up for IHPME Connect.
Keep up to date with IHPME's News & Research, Events & Program, Recognition, e-newsletter.
Get in Contact
---
Communications
TBD
Email Address: ihpme.communications@​utoronto.ca
Manages all IHPME-wide communications and marketing initiatives, including events and announcements.