By Victoria Haldane, Anna Cooper Reed and Danielle Toccalino on behalf of ELESH
If the health sector were a country it would be the fifth largest emitter of greenhouse gases on the planet. Yet in health services research, there is little awareness or education about the environmental impact of our health systems.
This is problematic given that our health systems and health professionals are first responders to the climate crisis. From asthma, to heat stroke, to diseases of zoonotic origin such as COVID-19, we see the effects of a changing climate in our hospitals. While there have been efforts to build curricula and educational reform within specific disciplines, there have been few interdisciplinary efforts, which will be necessary for systems transformation.
To address this gap, a group of students from various health faculties across U of T formed the Emerging Leaders for Environmental Sustainability in Healthcare (ELESH) in the Fall of 2019. As a group, ELESH seeks to encourage interdisciplinary learning and action to address issues of environmental sustainability across the many disciplines and professions that deliver healthcare.
Driven by a passionate and innovative U of T community, ELESH's inaugural year was a great success. ELESH was awarded the University of Toronto Environmental Resource Network's (UTERN) Kristle Calisto-Tavares award, which recognizes a group's significant contribution to the environmental community at U of T.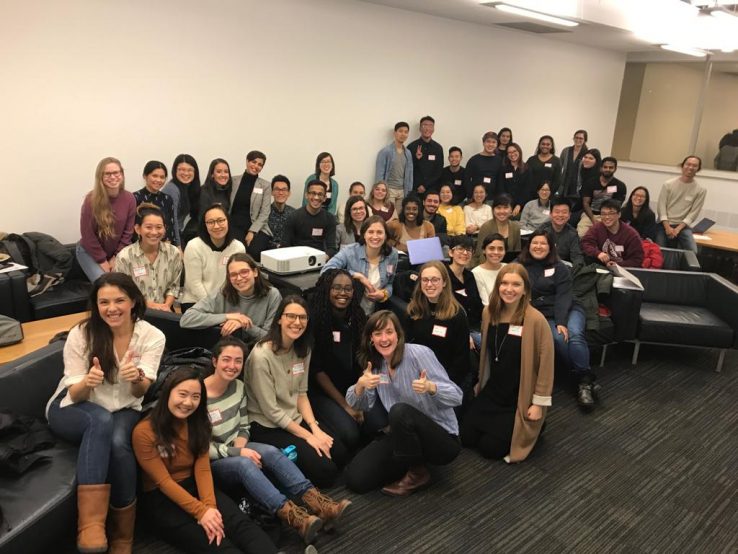 Anna Cooper Reed, founding President and IHPME HSR PhD student, received an honourable mention for the U of T Student Life 'Executive of the Year' and ELESH was awarded the UofT Student Life 'Program of the Year Award' for the Greening Healthcare Case Challenge Showcase. The Showcase featured the work of 13 interdisciplinary teams of students from 15 departments or faculties across all three campuses who proposed ideas towards environmentally sustainable healthcare. The winning team included three IHPME students: two Master of Health Informatics candidates, Irfan Hakim and Sandi Johnson, and a Health Systems Research program Master's student, Aravind Rajendran. In addition to placing first with the judging panel, they also won the audience choice award for their project on green burials titled 'Sustainable Passings.'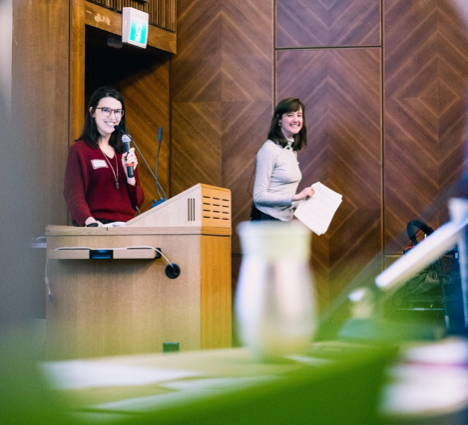 As part of the UTERN 'Ecofest' event in March, ELESH brought together a panel of experts, including DLSPH Professor Blake Poland, Dr. Tomislav Svoboda from the Canadian Association of Physicians for the Environment and Lisa Vanlint from University Health Network, to speak on Systems Change for Health in the Climate Crisis.
This past spring, the ELESH executive presented at the Conference on Health Advocacy Toronto (CHAT) and Co-President and IHPME HSR PhD student, Victoria Haldane, engaged the wider Toronto community at the Design Meets Climate Crisis event. Victoria spoke on the need to transform health systems towards more environmentally sustainable practices, from a user experience perspective.
In May, the executive co-authored an op-ed led by ELESH's Strategy Director and IHPME Clin Epi PhD student, Colin Sue-Chue-Lam. Published in Healthy Debate, the op-ed argues that now is the time for hospitals to divest from fossil fuels.
Finally, ELESH was excited to announce IHPME health services research student Danielle Toccalino as Outreach Director, and medical student Anson Cheung as Finance Director, as the newest members of its executive.
Recognizing that addressing the environmental impact of the health care sector is an interdisciplinary effort, ELESH has forged partnerships with the Centre for Sustainable Health Systems at IHPME, the UTERN Environmental Working Group, the Canadian Federation of Medical Students Climate Health and Environment Adaptive Task Force (CFMS/HEART) and the U of T Planetary Health Alliance Campus Ambassadors.
"We are tremendously proud to have played some small part in helping ELESH to emerge and grow. The group's success is a reflection of the dedication, energy and determination of the students involved, as well as the critical importance of the issues they are advancing. We expect great things!" said Professor Fiona Miller, Director of the Centre for Sustainable Health Systems.
A message from the 2020-2021 ELESH Executive:
"As executive members, we have been motivated by the energy and passion in our community towards transforming our health system to be environmentally sustainable. As we've moved online during the pandemic, we've seen ongoing engagement and interest from students across University of Toronto.
Now more than ever, we feel emerging leaders are seeking to connect with others and to work together to transform the way care is accessed and delivered. The time is now to address the environmental determinants of health and evaluate how our health systems contribute to the crises we must in turn respond to.
We encourage students, staff, and faculty to reach out to us! From a student town hall, to our next case challenge, we have plenty of opportunities to get involved and we'd love to hear your ideas. Together we can transform the health system to one that supports the health and well-being of both people and the planet."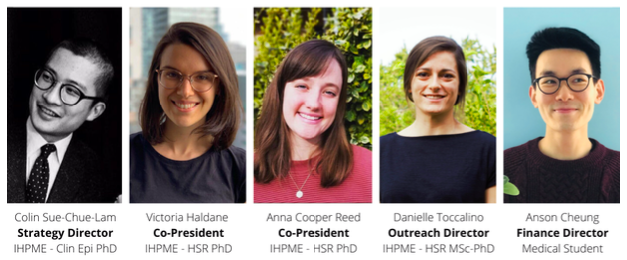 Connect with ELESH:
Email: eleshtoronto@gmail.com
Twitter: @ELESHToronto
Facebook: www.facebook.com/ELESHToronto
Instagram: @elesh_uoft
Website: http://elesh.sa.utoronto.ca/

Sign up for IHPME Connect.
Keep up to date with IHPME's News & Research, Events & Program, Recognition, e-newsletter.
Get in Contact
---
Communications
TBD
Email Address: ihpme.communications@​utoronto.ca
Manages all IHPME-wide communications and marketing initiatives, including events and announcements.