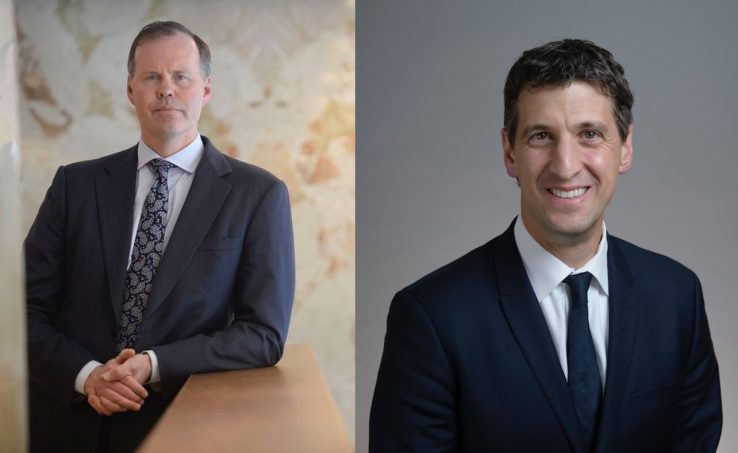 By Alisa Kim
Hazards related to climate change have significant implications for human health and health systems. Rising atmospheric and oceanic temperatures, for instance, are linked to more frequent and severe storms, floods, wildfires, heat waves and infectious diseases that damage infrastructure and reduce access to resources. Weakened hospital infrastructure and interrupted supply chains in turn endanger health care providers, users and their caregivers. Moreover, poor air quality worsens the condition of people with respiratory illnesses, putting further pressure on our already strained health system. Despite their mission to support well-being, health systems contribute to the greenhouse gas emissions that are fueling the climate crisis.
Recognizing the urgent need to reduce health care-related greenhouse gas emissions, leaders from the 12 hospital systems that comprise the Toronto Academic Health Science Network (TAHSN) and the seven health science faculties that make up the University of Toronto's Council of Health Sciences have formed the Sustainable Health System Community of Practice. It will provide evidence, ideas, leadership and advocacy to reduce carbon emissions through coordinated action, research and education.
The first meeting was held on Sept. 25, 2020. The initiative is co-chaired by Professor Steini Brown, Dean of the Dalla Lana School of Public Health, and Dr. Joshua Tepper, CEO of North York General Hospital and a professor at the Institute of Health Policy, Management and Evaluation (IHPME).
"This project represents an opportunity for TAHSN, along with the Council of Health Sciences, to lead locally and beyond in building a more environmentally sustainable health system. The enthusiasm with which the initiative has been met across the leadership of our hospitals demonstrates an understanding of the importance of this issue and an appetite for real change. This is the kind of collaboration we need to see if we're going to meaningfully address climate change," says Tepper.
"It's imperative that every sector take responsibility for its contributions to climate change, and health care is no exception. Part of how we do that is by engaging health care executives to properly support and scale up existing and new efforts to reduce the environmental impact of care," says Brown. "The success of these efforts also depends on engaging the entire health sciences community to support the development of evidence, identify implementation pathways, and build capacity for change by providing educational opportunities for students, trainees, and practicing health professionals. The Community of Practice will do both."
One of the mandates of the Community of Practice is to share knowledge about low-carbon care to drive sustainable quality improvement. Examples include the use of anesthetic gases and asthma inhalers that are better for the environment, and expanding sustainable practices like virtual care.
Health care is a significant source of greenhouse gas emissions. There is no other public sector entity that is as carbon-intensive as health care, says Dr. Fiona Miller, a professor at IHPME and founding director of the Centre for Sustainable Health Systems, which is serving as the secretariat for the Community of Practice. The centre pursues research and innovation, training and networking to support high-quality, low-carbon care.
Members of TAHSN already have environmental sustainability offices or teams that have been working, in some cases for decades, to reduce their organization's carbon footprint. In joining the Community of Practice, senior leaders at TAHSN hospitals recognize the strategic importance of sustainable care and the opportunity to make advances by leveraging collective expertise, says Miller. "There is tremendous potential to do more together. The Community of Practice is about evaluating what we're doing, being able to build and share knowledge, and understand better the impacts of these initiatives when they are scaled up or spread."
Why does health care have such a big carbon footprint? "It's because we use a lot of carbon-intensive products. We're tucked into global supply chains that involve a lot of resource-intensive materials, and a lot of transportation and energy production are necessary to make the goods and services that we use in health care," says Miller.
The Community of Practice is comprised of Baycrest, Centre for Addiction and Mental Health, Holland Bloorview Kids Rehabilitation Hospital, Michael Garron Hospital, North York General Hospital, SickKids, Sinai Health, Sunnybrook Health Sciences Centre, Trillium Health Partners, Unity Health Toronto, University Health Network and Women's College Hospital. The Dalla Lana School of Public Health and the following health sciences faculties at U of T also comprise the Community of Practice: dentistry, kinesiology and physical education, medicine, nursing, pharmacy, social work. The Centre for Sustainable Health Systems will support the Community of Practice, coordinating evidence-based actions and initiatives that move health systems toward high quality, low-carbon care.

Sign up for IHPME Connect.
Keep up to date with IHPME's News & Research, Events & Program, Recognition, e-newsletter.
Get in Contact
---
Communications
TBD
Email Address: ihpme.communications@​utoronto.ca
Manages all IHPME-wide communications and marketing initiatives, including events and announcements.