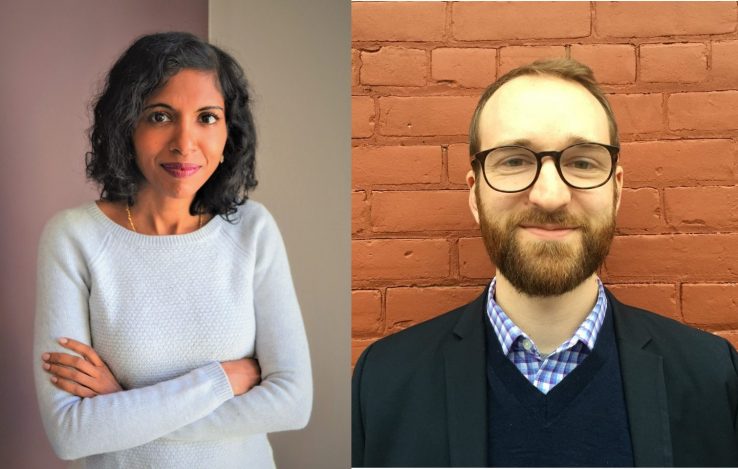 By Heidi Singer and Nicole Bodnar
Meena Andiappan and Jay Shaw received funding from the Social Sciences and Humanities Research Council, joining a group of DLSPH researchers who are claiming an increasing presence in the social science space.
Their success in the January 2020 Insight Development Competition reflects a strategy by the School's Research Office to build interdisciplinary studies and relationships — and support larger numbers of smaller grants that together have a significant impact for the School.
"DLSPH social scientists are passionate and creative and have a superb track record in building partnerships and long-term relationships with the health systems and community-based partners," says Professor France Gagnon, Associate Dean of Research. "We've wanted to unleash this potential by increasing participation in SSHRC funding competitions. I'm proud that our social scientists enthusiastically responded to the call."
Andiappan is exploring the impact of workplace-required necessary evils — tasks in which a person must knowingly and intentionally cause emotional or physical harm to another human being in the service of achieving some perceived greater good — on unethical behaviour. For example, when a health care worker causes physical harm when caring for a patient's injury.
"Understanding the unintended consequences of necessary evils is critical to health-care policy makers since these difficult behaviors are regularly required of health-care workers, but we actually know very little about them," said Andiappan, Assistant Professor of Organizational Behaviour at IHPME and principal investigator on the study.
"We are particularly interested in learning how enacting necessary evils at work affects employees both in their professional and personal lives. Our results can help health-care managers address these issues with their employees and can inform policy-makers about the importance of considering these factors when developing regulations surrounding the frequency and types of necessary evils asked of workers," she said.
Andiappan is working with a research team, including Tunde Ogunfowora from the Haskayne School of Business, that says in some cases, repeatedly being tasked with harm-doing for betterment may lead to harm-doing for selfish motives.
Shaw is also examining health care ethics, this time by exploring the values that may be overlooked — such as equity and informed consent — when integrating Artificial Intelligence (AI) technologies into health care.
His research team, including Jennifer Gibson and Alison Paprica, will describe the values ecosystems in three different environments in which AI technologies are designed for use in health care: a hospital, a start-up focused on health care, and a large technology company with a strategic focus on health. They will also inform practical strategies for the ethical design of AI technologies for health care.
"This project is intended to generate insights about how artificial intelligence technologies can be designed in ways that align with the goals of a publicly-funded health care system, including equitable access to innovations in care," says Shaw, Assistant Professor at IHPME and principal investigator in the study.
"The project will lead to practical advances in efforts to promote the ethical design of AI, and also to conceptual advances in understanding how values are built into technologies in a complex domain like health-related AI," says Shaw, who is also Research Director of AI Ethics & Health at the University of Toronto Joint Centre for Bioethics, and Scientist at the Institute for Health System Solutions and Virtual Care at Women's College Hospital in Toronto.
"We are very excited about the success of our principal investigators in the social sciences," says Lee Vernich, DLSPH's Director of Research. "Their success with SSHRC funding in recent years is particularly remarkable: our researchers have received more funding in the first three months of this year than in 2019."
The DLSPH grant recipients are: Professors Erica Di Ruggiero, Amaya Perez-Brumer and Arif Jetha. Click here to read more about their research.

Sign up for IHPME Connect.
Keep up to date with IHPME's News & Research, Events & Program, Recognition, e-newsletter.
Get in Contact
---
Communications
TBD
Email Address: ihpme.communications@​utoronto.ca
Manages all IHPME-wide communications and marketing initiatives, including events and announcements.