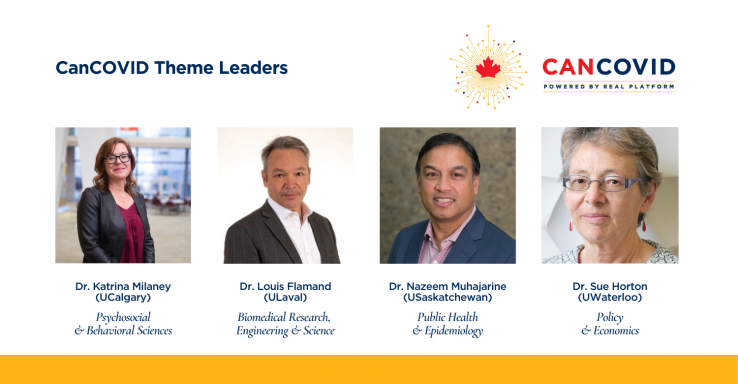 CanCOVID is delighted to announce the appointments of Dr. Katrina Milaney, Dr. Louis Flamand, Dr. Nazeem Muhajarine and Dr. Sue Horton as its new theme leaders.
"We are thrilled to welcome our new theme leads to CanCOVID to help contribute the best available evidence and expertise for the pandemic response," says Prof. Vivek Goel, Network Science Advisor to CanCOVID, and Professor at the Dalla Lana School of Public Health's Institute for Health Policy, Management and Evaluation (IHPME). "Working together, we will facilitate research collaborations based on priorities developed with the government. Drs. Muharajine, Milaney, Horton and Flamand will bring their diverse experience and knowledge to spearhead critical research and development alongside our Secretariat and CanCOVID Community," adds Goel.
The theme leaders will help accelerate the CanCOVID research community, facilitate research collaboration across Canada to gather evidence and respond to queries, and enable knowledge transfer and exchange. They will help to coordinate and contribute to responses from government regarding best available evidence and expertise within their theme areas.
Dr. Katrina Milaney is Associate Professor in Community Rehabilitation and Disability Studies at the University of Calgary.
Dr. Nazeem Muhajarine is Professor and Chair, Community Health and Epidemiology at the University of Saskatchewan.
Dr. Louis Flamand is Professor and Chair of the Department of Microbiology, Infectious Disease and Immunology at the Faculty of Medicine, Université Laval.
Dr. Susan Horton is Professor of Global Health Economics at the University of Waterloo, Fellow of the Canadian Academy of Health Sciences, and Fellow of the Royal Society of Canada.
Together with CanCOVID, the theme leaders, who assumed their positions in November 2020, will further the mobilization of credible knowledge for use in Canada's pandemic response.

Sign up for IHPME Connect.
Keep up to date with IHPME's News & Research, Events & Program, Recognition, e-newsletter.
Get in Contact
---
Communications
TBD
Email Address: ihpme.communications@​utoronto.ca
Manages all IHPME-wide communications and marketing initiatives, including events and announcements.