April 21, 2021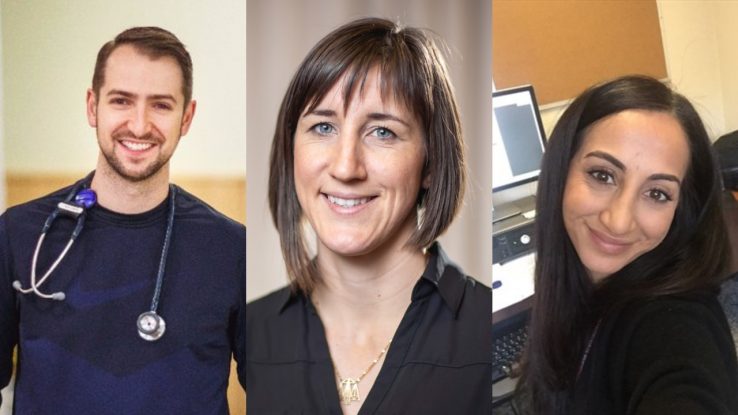 By Alisa Kim
When Dr. Seychelle Yohanna, a nephrologist at St. Joseph's Healthcare Hamilton, wants to consult her colleagues about an issue in quality improvement at work, they are a quick text away. Yohanna, who graduated from the master of science in Quality Improvement and Patient Safety (QIPS) program at IHPME in 2016, is in a group chat with friends she met in the program.
"It has opened doors and put us in positions where we're called upon to use this unique knowledge base. I still smile when I think about that year," says Yohanna, of her experience in the program.
Her sentiment resonates with Clare O'Connor, a registered nurse and a Continuous Quality Improvement Coach at Hamilton Health Sciences. "I'm still learning how to implement some of the things I have learned through the program. It gave me this amazing foundation that I continue to draw from," says O'Connor, who graduated with the program's first cohort in 2013.
Yohanna and O'Connor are working with Dr. Shawn Mondoux, an emergency medicine physician who also graduated from the QIPS program, to organize the inaugural McMaster University Quality Improvement and Patient Safety Symposium, which will be held virtually on May 20, 2021.
The theme of the symposium is equity in quality improvement. It features keynote addresses by IHPME faculty Dr. Tara Kiran and Dr. Edward Etchells. Kiran, who is a family medicine doctor at St. Michael's Hospital in Toronto, will describe disparities in health care and outcomes in Canada, and reflect on strategies to address equity in improvement work. Etchells, who is a general internal medicine doctor at Sunnybrook Health Sciences Centre in Toronto, will discuss features of innovative change and how to implement change.
The aim of the event, says Yohanna, is to provide a forum to expand quality improvement knowledge and highlight scholarship in this area for health care professionals and administrators in the Hamilton area. "We want to put a spotlight on quality improvement here for the people who are doing the work and for the people who might be interested in the work, but don't know where to start—to kind of see what people are doing locally, and who they can tag onto in terms of collaborations on projects," she says.
"We hope to share some of the knowledge that's locally generated," adds O'Connor. "Equity is a domain that I think a lot of us are struggling with in terms of how do we incorporate it into quality improvement? We're good at safety, and effectiveness, to some degree, and patient-centredness, but equity is still sort of elusive. The pandemic blew the roof off of that—there's a lot of inequity in health care."
Participants can submit abstracts and enrol in breakout sessions on topics including determining whether a project is amenable to a quality improvement approach; prototyping and design thinking; data collection and visualization in quality improvement; and virtual care.
The symposium is the result of a goal set by the Community of Practice in Quality Improvement and Patient Safety in the department of medicine at McMaster University, which Yohanna, O'Connor and Mondoux lead along with two other physician colleagues. "We're trying to create another place where quality improvement thrives and change the health care environment we practice in," says Mondoux.
He says they have been recognized by their institutions to lead quality improvement initiatives in part because of the training they received at IHPME via the QIPS program. Noting that he still keeps in contact with faculty members Dr. Ross Baker and Paula Blackstein-Hirsch, Mondoux reflects on how the program energized and inspired him despite the intense demands of his residency. "It was a year of optimism and a feeling that things can be better. It would make me feel a lot better about the system. The faculty still wants to engage with us and are willing to push forward our ventures and are still invested in us as individuals, which is super helpful in keeping us plugged in."