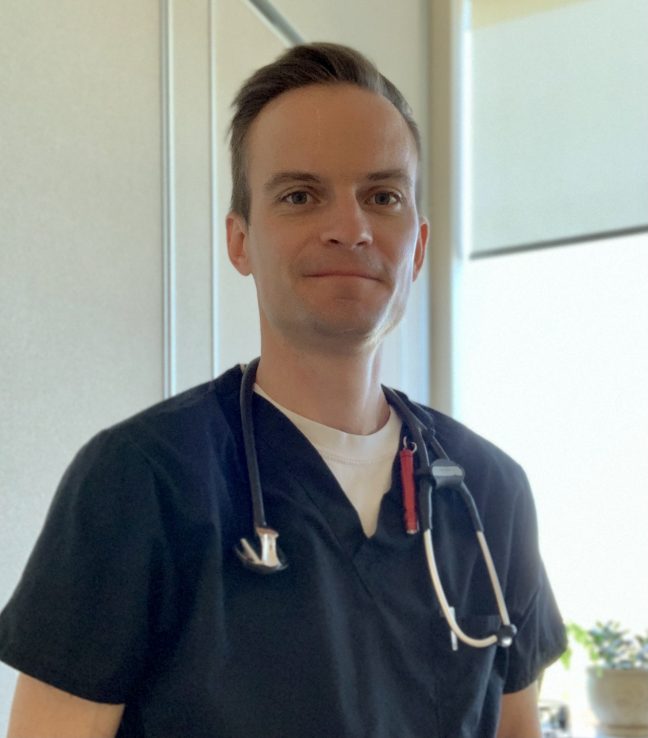 By Alisa Kim
Dr. Kieran Quinn was wrapping up a busy day of clinical service on the general medicine ward at Mount Sinai Hospital when his phone rang. On the other end was Dr. Chaim Bell, his PhD supervisor at the Institute of Health Policy, Management and Evaluation (IHPME), urging Quinn to check his email.
The message he read stopped him in his tracks: he was one of only three students in all the University of Toronto to win a Governor General's Gold Medal for highest academic standing at the graduate level. "I'm still kind of in shock, to be honest," says Quinn, smiling.
For nearly 150 years, the medals have recognized the outstanding scholastic achievement of students in Canada. The award takes into account the candidate's performance in degree courses, evaluation of the thesis and its defense, and the originality and importance of the research. Winning the medal puts Quinn in pretty stellar company; notable Canadians including Kim Campbell, Pierre Trudeau, Tommy Douglas and Adrienne Clarkson are among past winners.
Quinn recently completed his PhD in the Clinical Epidemiology and Health Care Research program at IHPME—all while juggling his duties as a physician and a dad of three young kids. "It's quite a balancing act. Between clinical work, research and having a family that I try to be there for as much as I can, it's always a constant challenge to manage my time," he says.
Quinn, who practices general internal medicine and palliative care at Sinai Health System, says he was compelled to do his PhD after witnessing the suffering of his patients and noticing varying access to palliative care services. "Observing this on a day-to-day basis really drove me to try and think about ways we can change our health care system to minimize these disparities and improve the quality of end-of-life care. I believe that research is one of the ways we can enact meaningful change," says Quinn.
His PhD examined how people who are dying of non-cancer illnesses like heart failure, dementia, chronic obstructive pulmonary disease and end-stage kidney disease receive end-of-life care. It also looked at whether people with non-cancer illness who received palliative care had lower rates of acute health care use like emergency room visits and admission to the intensive care unit as they neared death.
"Sadly, a lot of people, especially those with non-cancer illness, end up in hospitals and ICUs where some of those treatments are not necessarily going to improve survival or even quality of life, and in some cases, will detract from that. My thesis was trying to look at if we can make improvements to the quality of end-of-life care for these patients and whether palliative care is the mechanism to help them achieve those goals," says Quinn.
His research found that if people receive palliative care in their last year of life, there are better outcomes including reduced symptoms, enhanced quality of life and less use of acute health care. The next step in this research is to find out how to get people better access to palliative care.
Reflecting on the award, Quinn says he is deeply appreciative of the acknowledgement and grateful to his support network including family, mentors and colleagues. "I'm so honoured to have been put forward and chosen for it. It's really rewarding to be recognized for the hard work I've done, but I owe a lot to the people around me who've supported me. I think this honour is shared amongst all of them."

Sign up for IHPME Connect.
Keep up to date with IHPME's News & Research, Events & Program, Recognition, e-newsletter.
Get in Contact
---
Communications
TBD
Email Address: ihpme.communications@​utoronto.ca
Manages all IHPME-wide communications and marketing initiatives, including events and announcements.