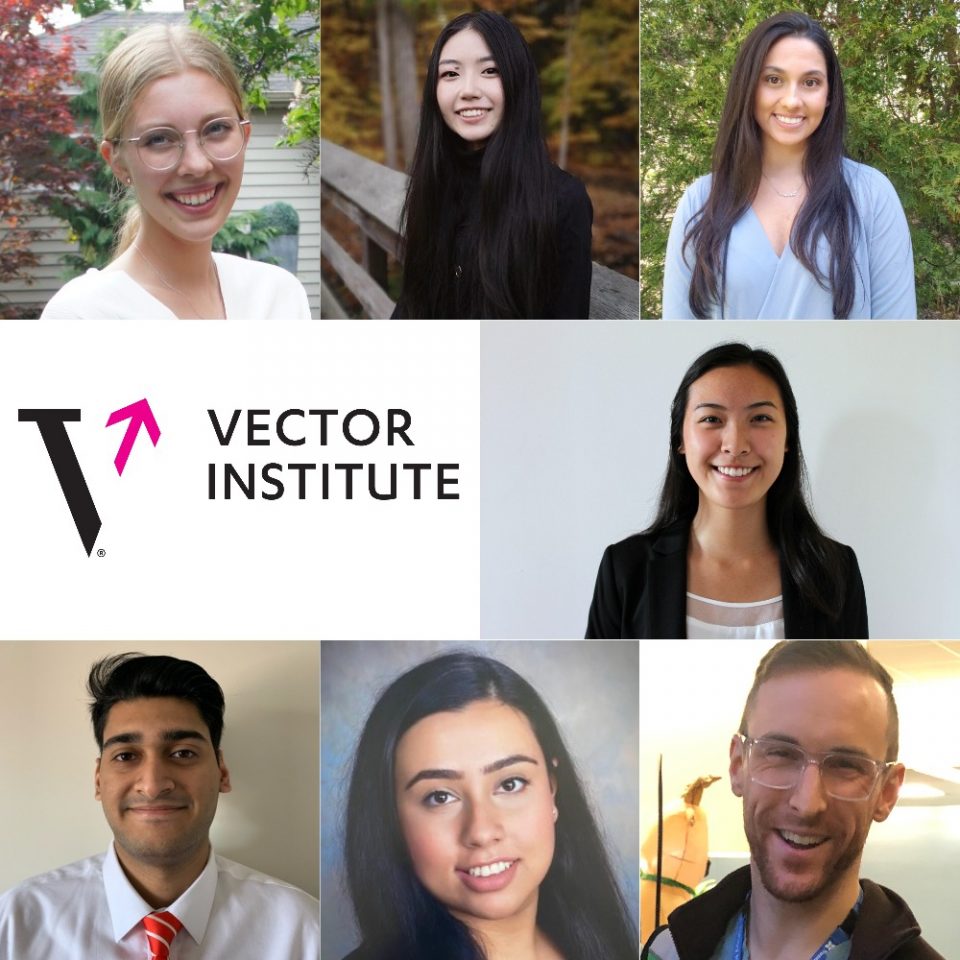 By Alisa Kim
Seven graduate students at the Institute of Health Policy, Management and Evaluation were awarded Vector Scholarships in Artificial Intelligence (AI). Given by the Vector Institute, the one-year award, valued at $17,500, recognizes exceptional candidates pursuing a master's program recognized by the institute or who are doing studies that are AI-focused.
In addition to financial support, the award provides recipients with priority access to research talks as well as career exploration and professional development opportunities to nurture excellence in AI.
The following students in the master of health informatics program are recipients of the 2021–2022 Vector Scholarships in AI:
Julia Guo says she believes AI has the promise revolutionize health care in the coming decades by improving outcomes and reducing costs. She is interested in applying machine learning to electronic health records to create a system that supports clinical workflows better. "Natural language processing and predictive algorithms can improve inflexible and complex electronic health record interfaces, a pervasive issue that leads to physician burnout and reduced quality of patient care. There is immense potential for incorporating artificial intelligence in EHRs and I am very excited to pursue this field," she says.
Julia Dietrich says it took a moment for news of the award to sink in. "I'm thrilled to have been selected as a Vector Scholarship in Artificial Intelligence recipient," she says. "I'm eager to see AI drive positive changes in health care." She is also interested in incorporating AI in electronic medical records to improve administrative and clinical workflow efficiencies. "Ultimately, I believe that AI can help prevent disease and improve health outcomes—a mission which I look forward to partaking in," says Dietrich.
Tanya Jain, an incoming MHI student who is beginning her studies in September, says she feels "extremely honoured" to have been chosen for the award. "With the support of this award, I hope to use AI innovations to leverage big data and address health inequities by holistically treating populations with a patient-centered approach across the continuum of care," says Jain.
Upon learning of her award, Tina Jiao immediately shared the news with her parents. "I am beyond thankful for the opportunities that were given to me in the past and the opportunities that will be given to me in the future through the Vector Institute. A career goal of mine is to utilize my health sciences knowledge to lead AI initiatives that improve chronic disease outcomes and promote shared decision-making between informed patients and providers," says Jiao.
Vagisha Pruthi says the scholarship will be pivotal in helping her achieve her educational and career goals. "Winning this award has instilled confidence in me that my ideas are meaningful, and I have it in me to make them a reality," she says. As a research coordinator in an obstetrics department at a tertiary care centre, Pruthi says she has become aware of the difficulties faced by pregnant people living in rural areas in accessing specialty care. "I believe AI can play a critical role in addressing rural health disparities and access gaps to achieve equitable care for all," says Pruthi.
Yusuf Sheikh was "elated" to be a recipient of the scholarship. He says he is excited at the prospect of using AI in health care. "I am mostly interested in using AI to provide patients and doctors with information to make more informed decisions when it comes to their health," he says.
Dr. Allan Kember, who is doing a master's in health services research with an emphasis in AI, says he was "blown away" by the news that he had won the award. As a resident in obstetrics and gynecology, Kember has recently shifted his career slightly toward AI in health. Kember says he wants to use AI to help patients overcome their health and wellness challenges. He also wants to tap into the power of AI to help his colleagues conduct the health research they are most passionate about. "I hope to bridge that gap between AI and real-world medical research and practice," he says.

Sign up for IHPME Connect.
Keep up to date with IHPME's News & Research, Events & Program, Recognition, e-newsletter.
Get in Contact
---
Communications
TBD
Email Address: ihpme.communications@​utoronto.ca
Manages all IHPME-wide communications and marketing initiatives, including events and announcements.