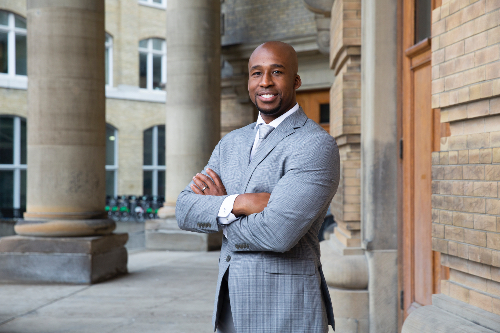 By Heidi Singer
Growing up in Toronto, Ryan Hinds always thought he'd become a physician, following a classic newcomer dream of what it meant to be successful in his new country.
But that ambition evolved after Hinds, who moved from Guyana to Canada at age 9, discovered football. The sport made Hinds a role model, and he used his platform to mentor youth from racialized neighborhoods.
The experience deepened his understanding of social injustice, and ultimately led Hinds to dream even bigger about how to make a difference in people's health. Now at only 35, Hinds is again taking an unusual turn as he prepares to become DLSPH's Director of Equity, Diversity and Inclusion (EDI).
"I want to have an impact on the School in the way it did for me," says Hinds, who will begin his new role on July 26. "And the opportunity to build something from the ground up is really exciting. You get a chance to shape an ideal environment for students, faculty and staff, to expand the impact of DLSPH across so many different communities. With so many issues relating to EDI and anti-racism impacting public health, there are opportunities where we can step forward and have the influence outside our own walls as we are already in so many other areas."
At first, football was just a ticket to an American university scholarship. Hinds loved the game, but knew the odds of turning pro were next to nothing. But after graduating from the University of New Hampshire with a degree in (pre-med) biology, he was drafted by the Hamilton Tiger-cats, and went on to play defensive back for the Edmonton Eskimos and winning a Grey Cup in 2015.
Still considering a future career in medicine, he and a teammate began mentoring at-risk Toronto youth. Although it hadn't been easy for his family when they moved to Canada, the experience opened his eyes to even harsher inequalities: he met kids who didn't have enough to eat, who were bouncing around in foster care, whose parents were working multiple jobs to survive and had little guidance.
"The majority of what was impacting them in the classroom came from outside," says Hinds. "They were dealing with all those other things, but  were being held to the same standards or expectations.  What were people doing to change that? Clinical care just didn't do it for me anymore — I wanted to make a larger impact."
Hinds completed an MHSc in Health Administration at DLSPH's Institute for Health Policy, Management and Evaluation (IHPME) and then went to work for the Toronto Central LHIN in strategic planning, then community engagement and health equity. He stayed involved with the School, helping to lead the Outreach and Access program, which introduces high school students from underrepresented communities to careers in public health.
When the opportunity arose to become DLSPH's first permanent EDI director, Hinds didn't hesitate.
"My experience at this School was definitely great but there are ways it could have been better," he says. "There wasn't a vast amount of racial diversity in my program."
Hinds gravitated to the few Black guest lecturers, finding that "they could speak to experiences I had. It's a big part of who I am. Being able to improve that experience for other students is something I'm looking forward to."
In addition to increasing opportunities for all underrepresented groups,  Hinds is interested in exploring social public health issues of great importance to racialized and other communities. With a number of other items on his radar, it's an ambitious agenda, but he has an optimistic mindset – drawn from beating great odds to become a professional football player.
"Once you do make it to that level it feels that anything is possible," says Hinds. "The fear of things being challenging or unlikely doesn't really deter me. Football is the ultimate team sport so partnership and collaboration is how I learned to work. Regardless of personality or other differences, on the football field there's just no way you can be successful without being able to work together, and I know that will be critical in this role."

Sign up for IHPME Connect.
Keep up to date with IHPME's News & Research, Events & Program, Recognition, e-newsletter.
Get in Contact
---
Communications
TBD
Email Address: ihpme.communications@​utoronto.ca
Manages all IHPME-wide communications and marketing initiatives, including events and announcements.