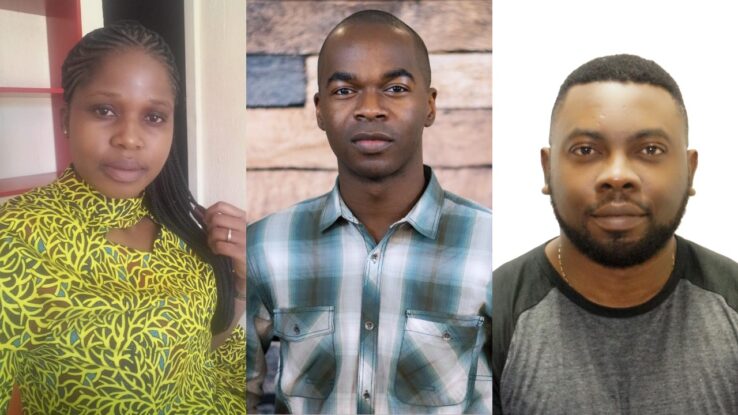 By Alisa Kim
Dr. Cyndirela Chadambuka has always had a love of learning. After completing her undergraduate degree in social work at the University of Zimbabwe, Chadambuka moved to South Africa to pursue her master's degree and PhD at the University of the Witwatersrand, in Johannesburg.
She chose a doctoral program with stringent publishing obligations—one that is less popular with trainees because of its difficulty. She was required to graduate with four academic papers—one published, one in press, one accepted and one submitted. Chadambuka graduated with five published papers and two under review. "I don't know how I did it," she says, smiling.
The newly minted PhD is preparing for another adventure. Chadambuka, along with Drs. Tegan Mosugu and Paul Wankah, will be joining the Institute of Health Policy, Management and Evaluation (IHPME) as postdoctoral fellows in the 2021–2022 academic year.
Chadambuka and Wankah will be funded through U of T's Provost's Postdoctoral Fellowship program, which also provides $70,000 per year for two years. The fellowships enable postdoctoral trainees to increase their scholarly profiles and strengthen the research environment of the university with diverse perspectives.
For her doctoral dissertation, Chadambuka looked at the experiences of women living in rural areas who faced intimate partner violence, and the influence of social norms on how this violence is promoted and carried out.
She became passionate about the issue while working with the organization Doctors Without Borders/Médecins Sans Frontières. "To us, [physical abuse] is a violation of rights, but to the victims it's not; it's part of marriage, it's acceptable. That's when the interest in this research area grew," says Chadambuka, over a Zoom call from South Africa.
Her postdoctoral research is an extension of her PhD but will focus on the impact of gender-based violence on the mental health and economic productivity of migrant women in Canada.
Chadambuka says she eagerly anticipates being mentored by her supervisor, IHPME associate professor Dr. Beverley Essue, and honing the skills needed to become an independent researcher. "I want to be able to lead my own research projects, apply for my own grants, and also learn the policy landscape—how gender-based violence is dealt with in North America through public policy. Maybe one day I might be able to use the same knowledge here in Africa because this is something I'm really passionate about. I'm about passionate about women and protecting their rights."
Dr. Tegan Mosugu will also be supervised by Essue. He grew up in Nigeria, Ghana, U.K., and the U.S. As an undergraduate student at Duke University in North Carolina, U.S., Mosugu discovered global health as a program of study and was hooked. "I was drawn to health care but I did not want to be a physician. I liked the idea of deciding the best [health] strategy, or the best course of action or being able to mitigate the effects of budgetary gaps or constraints. As an African, [global health research] is an avenue for me to give back to communities that resonate with me, and it also enables me use my skills to improve outcomes," he says.
He completed his master's degrees at New York University and the University of Pennsylvania. While in graduate school, Tegan worked professionally in global health and identified the importance of critical and topical research in shaping global health delivery. This motivated him to pursue a PhD in health policy at the University of Pittsburgh in Pennsylvania, U.S. His dissertation focused on evidence-based management approaches to HIV/ AIDS. "My research looked at how management perspectives can be juxtaposed—from organizations, stakeholders, practitioners and academia—to inform decision-making and strengthen approaches to service delivery," says Mosugu.
His postdoctoral fellowship will examine the effectiveness of priority setting on population health, and factor in current circumstances and life in a post-pandemic world. It will be funded through the Dalla Lana School of Public Health's Black Postdoctoral Fellowship Program. The award is worth $70,000 per year for two years and includes a research start-up fund of $10,000. In addition to providing a high-quality training experience, the award aims to provide Black doctoral students with an opportunity that could lead to tenure-track academic appointments at U of T or other academic institutions, or leadership positions in the public or private sector.
Mosugu will identify a country or a consortium of African countries to understand what is entailed in establishing a country's public health priorities. Priority setting, explains Mosugu, "means how countries set their agenda—how they set a budget for public health, prioritize one thing over another, and how they ensure the delivery of services—be it vaccines or key medicines. It requires stakeholders to understand how implementation, decision-making and planning resources can be used to achieve key objectives," he says.
Mosugu notes, however, that priority setting should not be limited to the distribution of vaccines or the creation of emergency response systems. "Prioritization is required to reduce socioeconomic inequities, strengthen health systems and protect quality of life for vulnerable populations," he says.
His goal is to influence health policy in Africa by informing decision-making and through public health research dissemination. He, too, is looking forward to learning how to become an independent researcher through the postdoc. "There's more freedom in your scholarly pursuits. It's the beginning of establishing expertise. That comes through knowledge, but also by getting feedback from your colleagues. I'm looking forward to joining the IHPME community."
Dr. Paul Wankah originally hails from Cameroon, where he trained as a general practitioner and worked as a clinical researcher looking at blood abnormalities in people with HIV. He immigrated to Canada in 2014 and began a master's degree in public health at the University of Sherbrooke in Montreal, Quebec.
"What I was doing was integrated care for older adults—how to improve connectivity, coordination and collaboration between all the different actors and organizations that are involved in the continuum of care for older adults," says Wankah.
His doctoral thesis, which he is also completing at the University of Sherbrooke, is a continuation of this work. Co-supervised by Dr. Jay Shaw, Wankah's PhD research is a comparative study of the integration of care for older adults in Quebec and Ontario.
Wankah notes that through his master's research, he began collaborating with Dr. Walter Wodchis, a professor at IHPME, who will supervise his postdoctoral studies. Wankah will research the implementation of integrated care models via Ontario Health Teams. "This is a complex innovation that needs to work across professional and organizational boundaries," he says. "What are the systemic enablers and what are the policy barriers? I will try to understand the conditions in which to implement and sustain collaborative practices."
His goal is to have a career in academia. When asked what he is looking forward to in the postdoc, Wankah says, "I'm really interested in economic evaluations. I'm also interested in understanding policy drivers and other macro institutional forces that impact the way in which Ontario Health Teams are rolled out."

Sign up for IHPME Connect.
Keep up to date with IHPME's News & Research, Events & Program, Recognition, e-newsletter.
Get in Contact
---
Communications
TBD
Email Address: ihpme.communications@​utoronto.ca
Manages all IHPME-wide communications and marketing initiatives, including events and announcements.