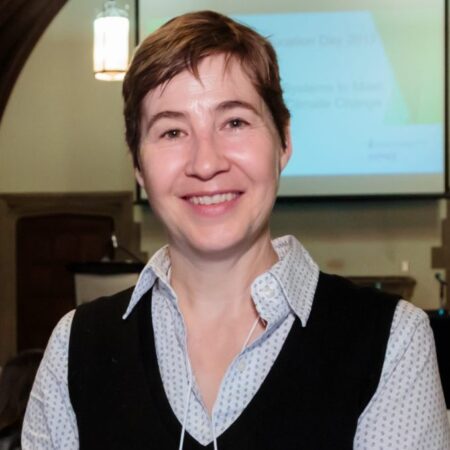 By Alisa Kim
Dr. Fiona Miller, a Professor at the Institute of Health Policy, Management and Evaluation, says the best way to study how to make the health system more sustainable is through a "deeply interdisciplinary" approach.
Miller was awarded a Connaught Global Challenge grant worth $250,000 to create new cross-divisional research and training capacity at the University of Toronto to produce the evidence, ideas and innovations needed to meet net-zero greenhouse gas emission targets and advance net-positive outcomes from health systems.
"Colleagues across the university have enormous expertise in sustainability and many are already making a tremendous difference across multiple sectors. To date, however, few have applied their expertise to the questions and concerns raised by the prospect of a truly sustainable health system," says Miller, who adds that U of T is ideally positioned to advance climate-positive care owing to its affiliated teaching hospitals and other clinical sites, and because it is home to world-leading experts across the physical, social and health sciences.
Reducing the carbon footprint of the health care sector is an urgent problem. Greenhouse gas emissions from health care account for almost 5% of global emissions. For Canada or any country to reach a net-zero emissions economy before mid-century, pollution from the health sector must be addressed.
To this end, Miller is collaborating with U of T faculty in engineering, architecture, geography and planning, environmental sciences, earth sciences, computer science, business, public policy, nursing, pharmacy, medicine and public health to bring diverse expertise to bear on questions related to carbon-positive care and to create research capacity by fostering trainee interest in this area. "That's central to the Connaught vision—leveraging the profound expertise that exists across this amazing university system to critical global challenges, like how health care systems can and must operate differently," she says.
Miller notes the transition to a sustainable health system is not just about reducing greenhouse gas emissions. "We need a regenerative sustainability vision that aims at something better than where we've been. A race to net-zero—a race to less—is not very motivating; we need to race toward something much more positive, which is also what we should expect of a socially responsible sector such as health care."
The team has organized its work across three themes. The first area of focus relates to the medical products ecosystem, to explore ways of reducing emissions from the pharmaceuticals, devices and medical plastics used in clinical interventions and to preserve sterility through packaging. "Health care's dependence on plastics and highly polluting active pharmaceutical ingredients will require new industrial, chemical and engineering processes, as well as shifts in the regulatory and clinical arrangements that support a growing reliance on single-use products and energy-intensive and polluting chemicals," says Miller. This area is a particular focus for Miller, who was recently awarded a Project Grant from the Canadian Institutes of Health Research worth $566,099 to study how the agencies that determine which products and services are made available to patients influence the environmental sustainability of drugs and medical devices.
A second area of focus will be on health care's built environment—the physical plant and the ways in which a building and its landscape are used, especially as part of urban environments. "We tend to think of a physical plant as a feat of engineering and architecture, which it is, but that's not all it is. For example, a big part of a building's emissions is a function of what its occupants do," says Miller. "Unless their lives are improved by a low-emissions building, they're going to work against you—open windows, turn on all lights, bring heaters from home—things that defeat your technical calculations because there's a human side to this."
Looking at the built environment also presents opportunities for health systems to be socially regenerative by integrating health care environments with urban planning. "Imagine a physical plant that is healthy in terms of technical emissions and the way it operates within its community—what it provides to its workforce and patients, the way the space is organized to be integrated with urban green space, reducing the urban heat island effect that we're increasingly going to see. How can health care do that more actively? What technical, political and social challenges will we need to solve?"
The third research theme integrates these focus areas into thinking about service and system innovation. An important aim is to improve care while reducing the climate impact of that care, by aligning the climate agenda with key elements of the health system reform agenda, for example through innovations like enhanced care coordination, expansion of virtual care and sustainable quality improvement.
Miller is excited by the learning opportunities afforded by the deeply interdisciplinary research efforts that the Connaught award can support. "To learn new things, gain new insights and find new collaboration opportunities—that is a great privilege," she says. "And to be able to do that in a way that is challenge-led and solutions-focused is enormously gratifying."

Sign up for IHPME Connect.
Keep up to date with IHPME's News & Research, Events & Program, Recognition, e-newsletter.
Get in Contact
---
Communications
TBD
Email Address: ihpme.communications@​utoronto.ca
Manages all IHPME-wide communications and marketing initiatives, including events and announcements.