We recently spoke with all five members of the team to learn more about the event, their project, the challenges they faced in their work, the organizers' feedback on their project, who has inspired them over the years, and advice they would give to others considering working in health informatics.
The Hackathon
As stated by the hackathon's event organizers, the event "connects efforts of diverse talent, skills, and micro-teams to jointly act to develop an AI-powered solution that addresses a social issue or gap in the market through the attainment of the UN Sustainable Development Goals (SDGs) 2030. Teams can choose to develop a conceptual program, product prototype, or business model."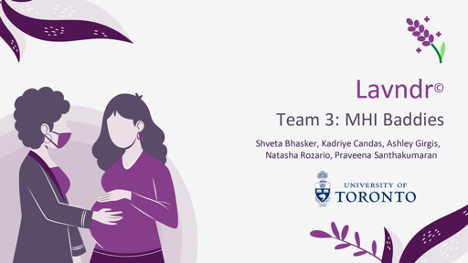 Winning Project
According to the members of the MHI hackathon team, they "created a mobile health app which predicted the risk of preeclampsia for pregnant women using machine learning. Currently, there is no way for providers to predict pre-eclampsia because of pre-eclampsia's multifactorial nature. Lavndr targets three of United Nations Sustainable Development Goals including gender equality, education, and industry, innovation, and infrastructure."
Project's Challenges
Like most projects, they faced some challenges along the way. They shared that "An effective AI algorithm requires good data however data regarding maternal health is sorely lacking. MIMIC (one of the most widely used health record datasets) has only a few thousand records involving pregnancy and the best dataset currently available is from Indonesia with limited diversity in ethnicity. This poses issues when trying to apply algorithms trained on this data to other populations. This is especially concerning as pre-eclampsia disproportionately affects Black women. This current gap was addressed in our presentation, but we also acknowledged the potential Canada's uniquely diverse population poses for future initiatives to create a dataset focused around maternal health."
Organizers' Feedback
Among the feedback that the team received at the hackathon was the "prominent barrier between machine learning technologies and clinician understanding. However, we were admired for our abilities to clearly communicate our problem and approach."
Inspiration from Others
We asked the members of the group if anyone who identified as female had inspired them to go into the field of health informatics. Their thoughtful responses follow…
"Dr. Andrea Boggild has been my mentor for the past 4 years. She is a Clinician Scientist in the Department of Medicine at the University of Toronto and the Medical Director of the Tropical Disease Unit in the Division of Infectious Diseases at Toronto General Hospital. As a first-generation student, it was hard for me to create a network that supported my dreams and invested in my talent. Dr. Boggild started mentoring me in my undergraduate studies and still does during my graduate studies. She taught me the importance of higher education in healthcare, how to relentlessly pursue my passion despite all odds, and how to become a leader in my chosen field of health informatics. I am forever grateful for all her support and mentorship." ~ Shveta Bhasker
"Dr. Melody Morton Ninomiya was my supervisor while pursuing my undergraduate degree. She is a researcher and professor at Wilfrid Laurier University with experience in Indigenous health and wellness, critical public health, mental health and addictions, community-based and decolonizing research methods and methodologies, and knowledge mobilization. Dr. Morton Ninomiya supported my education and taught me the importance of knowledge mobilization, community and public health, and community-driven research. Dr. Morton Ninomiya continues to inspire change in health care, inspiring me to follow in her footsteps." ~ Kadriye Candas
"Sandy Girgis, my sister, has been a huge inspiration to me in my health informatics journey. I truly see her as an extremely intelligent project manager in public health informatics. I love talking with her about the challenges her projects face then see her persevere and progress. She exemplifies someone who represents a core concept of health informatics: people, processes, and technology. She tackles problems with her strategic and collaborative nature to bridge gaps and meet end users' needs." ~ Ashley Girgis
"Unfortunately, coming from a background of computer science where female representation is still lacking, I didn't have many female mentors in my field, especially with my specific interest of applying technology to healthcare solutions. However, with my experience so far in the MHI program, I'm excited to see a new generation of leaders change the status quo." ~ Natasha Rozario
"For me, health informatics was a brand-new field, and I had limited knowledge on what it entailed. With the additional pressure of uncertainty of the future, my sister, Dr. Sangeetha Santhakumaran, motivated me to look into fields associated with healthcare technology. She is currently completing her residency in ophthalmology, and we have worked together in research dedicated to vision and auditory impairments. I am inspired by her work ethic and passion for her field, and I knew I wanted the same for myself in whatever field I chose. This allowed me to explore my passion to promote equitable healthcare delivery in a non-clinical manner. She continues to give advice to help me achieve my professional goals, but also sisterly support to encourage me to keep going." ~ Praveena Santhakumaran
Advice for Others
We also asked the team if they had any advice for those who identify as female and non-binary students considering entering the field of health informatics. Below is their collective response.
"Since health informatics is a combination of healthcare, information science, and computer science, it is important to note that many positions in this field may be male dominated and there might be a lot of barriers for women to reach leadership positions. Therefore, it is important to build a strong support system that will support your biggest dreams, and to continue persevering and believing in yourself despite all the challenges. We recommend gaining practical experience in health informatics and participating in internships, hackathons, or case competitions. This will allow you to work with professionals in the field and gain hands-on experience with the tools used in health informatics and build your network. Similarly, we think it is important to network by attending conferences, attending industry events, joining professional organizations, and connect with professionals in the field to build a strong network."
As we celebrate International Women's Day (IWD) today, we know that many in our community can relate to the importance of this year's theme of "DigitALL: Innovation and technology for gender equality." According to Dr. Matshidiso Moeti's message from the World Health Organization on IWD, this year's theme "highlights the role of innovative technology in promoting gender equality and meeting the health and developmental needs of women and girls."
In honour of International Women's Day, we are pleased to spotlight five students from our MHI program who identify as women, all of whom are members of the IHPME team that won first place in the 2022 WAI Canada Hackathon in November. Congratulations to Shveta Bhasker, Kadriye Candas, Ashley Girgis, Natasha Rozario, and Praveena Santhakumaran!
"We hope to become women leaders in the field of health informatics and to make a global impact. We aim to use our formal education in the MHI program coupled with experiences like the WAI hackathon to lead positive change in health information in Canada and worldwide."

~ Shveta Bhasker, Kadriye Candas, Ashley Girgis, Natasha Rozario, and Praveena Santhakumaran

Sign up for IHPME Connect.
Keep up to date with IHPME's News & Research, Events & Program, Recognition, e-newsletter.
Get in Contact
---
Communications
TBD
Email Address: ihpme.communications@​utoronto.ca
Manages all IHPME-wide communications and marketing initiatives, including events and announcements.