By Ciara Kilbride Amaral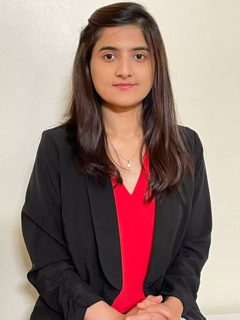 Anam Shahil, a PhD student in IHPME's Health Systems Research (HSR) program, was recently awarded the 2023 – 2024 Margaret McNamara Education Grant (MMEG); her third grant/fellowship for her work in maternal health and digital health research.
According to their website, the Margaret McNamara Education Grants (MMEG) is a "public charity that awards education grants to exceptional women from developing countries." Shahil was recognized for her contributions to Dr. Emily Seto's project involving Raabta, a mobile-based telemonitoring app they are working on at the Centre for Digital Therapeutics (CDTx) at the University Health Network (UHN). The app is intended for pregnant women at high risk for preeclampsia to monitor their high blood pressure and symptoms at home in Karachi, Pakistan.
Born in Pakistan, Shahil reflects on growing up seeing "Pakistani women face gendered imbalances in decision-making, restricted access to education and healthcare, and restricted mobility." This inspired her to complete an undergraduate degree in nursing, where she recounts "seeing countless pregnant women die of preventable maternal complications during bedside nursing." These experiences motivated Shahil and informed her work on the app with Dr. Seto.
"I am thrilled that Anam's hard work, perseverance, and dedication to research that supports underserved and high-risk pregnant women in Pakistan are being recognized. As a nurse with in-depth understanding of the many cultural, economic, and healthcare system factors that have led Pakistan to having one of the highest maternal and neonatal mortality rates in the world, she is uniquely positioned to introduce innovative solutions to help these women and their babies." — Dr. Emily Seto
Additional Recognition for Work in Digital Health Research
Shahil was awarded a Connaught PhD for Public Impact Fellowship at the University of Toronto for 2022 – 2023 for her "meaningful contributions to the public," and was also among the first fellowship cohort for the International Maternal Newborn Health Conference (IMNHC) in Cape Town, South Africa, where she presented her PhD work. According to the event's organizers, the conference was held to "accelerate solutions to improve maternal and newborn survival and prevent stillbirths in a coordinated and inclusive manner."
Shahil's Research Work
Shahil's PhD work includes a multi-phase study which aims to answer: "How can a mobile phone-based telemonitoring app (Raabta) be designed and implemented to empower pregnant women at high risk for preeclampsia in Karachi, Pakistan?"
"My doctoral research work aligns well with my overarching program of research of leveraging digital tools to support high-risk pregnant individuals." — Anam Shahil
Phase 1 (Completed)
Explored the use of digital health interventions to empower pregnant women at high risk for preeclampsia in low-middle-income countries.
Result:
Phase 2 (Completed)
Involved an assessment study to explore the need for telemonitoring of pregnant women at high risk for preeclampsia in Pakistan.
Results:
Phase 3 (In Progress)
Will involve the implementation of the Raabta app in Pakistan to support and empower high-risk pregnant women.
CIHR has awarded a grant for this work to be done.
The protocol paper was published in BMJ Open.

Sign up for IHPME Connect.
Keep up to date with IHPME's News & Research, Events & Program, Recognition, e-newsletter.
Get in Contact
---
Communications
TBD
Email Address: ihpme.communications@​utoronto.ca
Manages all IHPME-wide communications and marketing initiatives, including events and announcements.