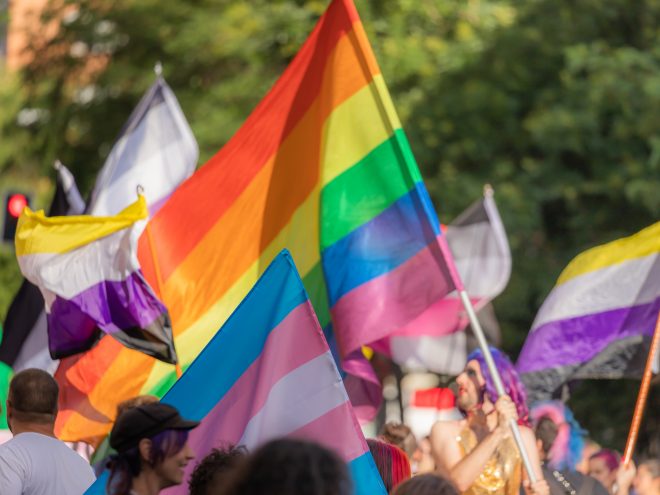 Dear Colleagues,
IHPME is pleased to recognize Pride Month and celebrate those in our community who identify as members of the 2SLGBTQ+ community. Pride festivities remind us of the beauty of inclusivity and the importance of resisting hate and bigotry.
To celebrate, there will be numerous events throughout the month of June:
U of T-wide events:
Rainbow Rendezvous, a 2SLGBTQIA+ Research Mixer, June 8th, 6 to 8:30 p.m.
U of T Pride Pub, June 9th, beginning at 4:30 p.m. in the Hart House Quad
Display your Pride, June 13th
Keyboard Fantasies: Celebrating the Works of Beverly Glenn-Copeland, June 13, 3 to 5 p.m.
With Wonder: Screening and Q&A, June 20th, 7 to 9:30 p.m.
DLSPH events:
2SLGBTQ+ Health Hub Lecture: Examining Peer Research Practices: Trans and non-binary people's experiences of harm as peer researchers: June 8th, 3 to 4 p.m.
Celebrating Sex and Practicing Safety, June 16th, 12 to 1:15 p.m.
This is also a time to reflect on the discrimination and harm experienced by people from this community and reaffirm our solidarity with them. We are committed to fostering a welcoming environment where all people feel safe and supported. Dr. Daniel Grace, 2SLGBTQ+ Health Lead at DLSPH, has written a powerful and inspiring message about how we can come together to advance the health of 2SLGBTQ+ people across our work.
I hope you enjoy the social and educational events happening this month.
Happy Pride!
Professor Audrey Laporte
Director, IHPME

Sign up for IHPME Connect.
Keep up to date with IHPME's News & Research, Events & Program, Recognition, e-newsletter.
Get in Contact
---
Communications
TBD
Email Address: ihpme.communications@​utoronto.ca
Manages all IHPME-wide communications and marketing initiatives, including events and announcements.